Like most women, I've been curious about THINX underwear for a while now. The brand was a total game-changer when they launched their period-proof underwear a few years back.
Let me back-up for those of you that may not be familiar with THINX. They make absorbent underwear that can eliminate the need to wear a pad or tampon while you're menstruating. Their styles—even the organic cotton and activewear options—are all designed with 4-layer technology that is super-absorbent, leak-resistant, odor-trapping, and moisture-wicking. Pretty incredible, right? Not only do their products help reduce waste, but they can also save you serious cash, too. Goodbye pink tax!
Buying pads and tampons is never something I look forward to, so I was thrilled when we approached THINX to put their products to the test and they actually said yes. While some women might be uncomfortable talking about what's usually a taboo topic, I was totally game to share my experience with THINX's panties. I know I had tons of questions, so why not do all the other women out there with the same questions a solid and get some answers?
As luck would have it, my THINX Hiphuggers arrived just as I was starting my cycle, so I put them to the test almost immediately.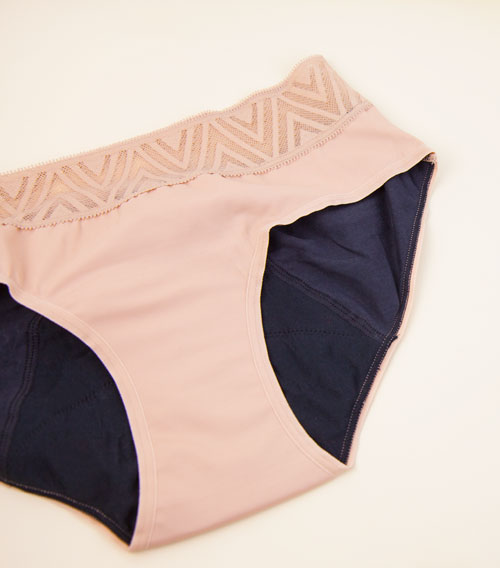 The Hiphugger style, which holds up to 2 tampons' worth, was the perfect option for the early days of my cycle when my flow tends to be the heaviest. I wore them for about four hours on my day off while running errands before feeling like I needed to change into a new pair.
As my cycle was winding down, I decided to give the Thong style a try. It's designed to hold just ½ tampon worth, which is just about what I use on the last day of my period. Full disclosure: I normally don't find thongs comfortable at all, but I actually didn't mind this one. You can definitely tell you have something on, but you get used to it, and I didn't have the urge to constantly adjust it.
Overall, I would definitely say that my experience with THINX was pretty positive. I never experienced any leaking and didn't feel uncomfortable in the underwear at all.
Here's the catch: THINX undies aren't exactly what you'd call cheap. Prices start at $24, which is pretty expensive for a single pair of panties. But let's not forget: These aren't regular underwear! Initially, you'll have to invest in a few to get yourself through an entire menstrual cycle, but think about how much money you spend on pads and tampons every month. In the end, you'll actually be saving yourself a ton of money.
Ready to give THINX a try, too? Click here to shop all their current styles.
* Note: THINX should not be put in the dryer, ironed, or washed with fabric softener or bleach.
The editors at SheFinds wrote this post on behalf of Thinx and received compensation as part of our agreement.