We go to fashion shows initially excited to see the collections up close, but sometimes it's not the clothes that make the experience. It's the hilarious, unexpected things that happen during the show that really make them memorable. Indeed, the catwalk is the perfect storm for all kinds of hijinks. Think about it: tall, skinny women in very tall shoes (that are usually too small) walking down on a slippery floor. Somebody's bound to trip and fall. The fashion industry can also be quite a political beast, drawing out its share of zealous activists and sartorially-conscious pranksters. It's a recipe for hilarious mishaps.
But even if you can't make it to the tents this year, we want you to experience some of our joy. From catwalk tumbles to topless protestors, we bring you 14 runway flukes that left us in stitches.
Don't forget to check out these throwback photos of models as kids, Selena Gomez's stint in rehab, and Gwen Stefani's leather pregnancy leggings.
1. Madrid Fashion Week 2010:
Poor Maria LaFuente. The girl just couldn't find her balance in those gold platforms… but that doesn't make her slow descent to the ground any less hilarious.
2. Elie Saab, Couture Spring 2014:
Model Jane Grybennikova took a spill in a gorgeous ice-blue gown just last month during Couture Fashion Week.
3. Charleston Fashion Week 2008:
We're not sure if this is a designer or a boutique owner who came out for a final bow during a show at Charleston Fashion Week, but somebody should have better reinforced that stage!
4. Arise Made in Africa Show, Spring 2012:
Lanre Da Silva-Ajayi caused a bit of a scare at Lincoln Center when she fell clear through the stage after coming out to take her bow. She says no one told her that the black parts of the stage didn't have anything underneath them. Watch her spill at 4:29.
5. Anthony Vaccarello, Fall 2012:

The shoes at Anthony Vaccarello's Fall 2012 show must not have been very comfortable. One model needed two other girls to help her make it down the runway during the final walk. Watch the whole thing starting at 8:07.
6. Dolce & Gabbana, Spring 2014:
Guests got an eyeful at the end of Dolce & Gabbana's Spring 2014 Men's collection, when a man, (later found to be from German fashion blog Dandy Diary,) streaked down the runway just after the final walk.
7. Nina Ricci, Spring 2014:
Two topless members of the Ukranian Feminist group FEMEN rushed the stage during Nina Ricci's Spring 2014 show to protest…something. We're still not sure what exactly they were speaking out against, but it certainly made for a memorable moment.
8. Hervé Léger, Fall 2009:
Skin-tight dress + impossibly high heels? Yep… it's the perfect storm for a runway spill. Check out this model's tumble at 0:35.
9. Versace, Spring 2012:
Lindsay Wixson lost her balance in the middle of Versace's Spring 2012 runway show. She handled her fall with utmost grace!
10. Newscaster can't stop laughing at this model slipping on the runway:
Who can forget this hilarious news clip of an anchor dissolving into a puddle of giggles after seeing a model slip and trip on the runway?
11. Vivienne Westwood, Paris 1993:
Naomi Campbell is the queen of the runway, but sometimes queens lose their footing! The model fell on her tush on Vivienne Westwood's catwalk back in 1993.
12. Chloe, Fall 2006:
Jessica Stam looked quite sheepish after tripping at the end of the catwalk during Chloé's Fall 2006 show.
13. Naomi Campbell's Charity Fashion Show, 2010:
Agyness Deyn fell quite gracefully after tripping during a charity fashion show held by Naomi Cambpbell in 2010.
14. Hervé Leger, Fall 2009: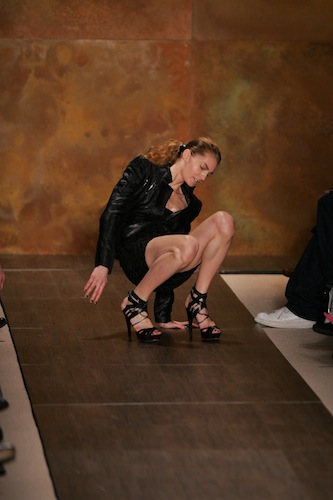 Here's a bonus from Leger F/W '09… we guess those platforms were really no joke!
15. Fashion For Relief Show, 2011:
And for the grand finale (let's call our version of a final walk,) we bring you 2011's Fashion For Relief show. There must have been something going on backstage because not one, but three models tripped on multiple occasions.