Have a concert coming up this weekend or soon? If you Googled what to wear to a concert, you're not alone. This  was one of the most-searched fashion questions, which means more than one of you wondered how to look effortlessly cool for a music event, while still comfortable enough to stand on your feet for several hours or dance all night.
Dressing up to see your favorite artist in concert requires more than just shopping for a new top. Every piece that makes up your look plays a key part in having the best experience ever. You paid money for this after all. So, we came up with some style tips on how to shop and dress for that next live show you're planning to see. The key takeaway? Have fun and be comfortable!
Here's What To Wear To A Concert For Optimum Style & Comfort
[Photo: Splash]
Shopping For A New Concert Outfit? Check Out Some Of Our Editors' Picks: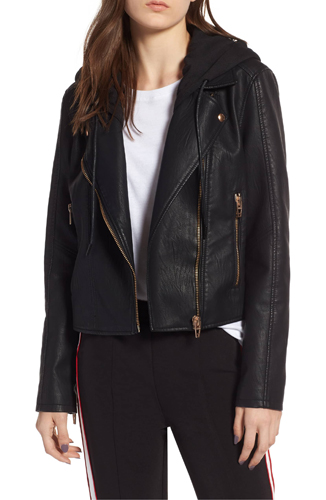 BLANKNYC Meant to Be Moto Jacket with Removable Hood ($98)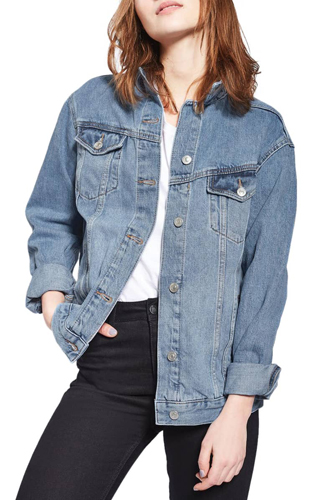 TOPSHOP Oversize Denim Jacket ($90)
VANS Old Skool Sneaker ($54.95)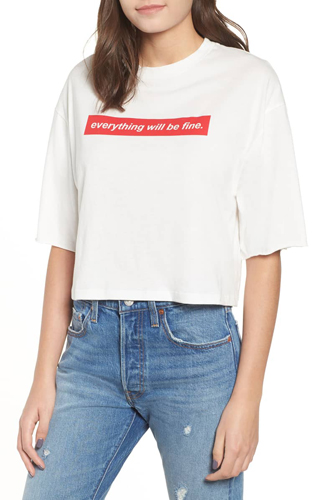 TEN SIXTY SHERMAN Everything Will Be Fine Tee ($29)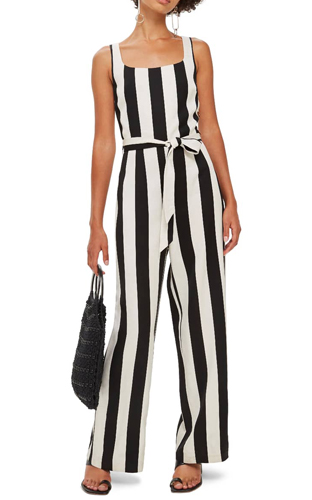 TOPSHOP Humbug Striped Jumpsuit ($95)
JANSPORT Hippyland Fanny Pack ($25)
Tips For What To Wear To A Concert
[Photo: Splash]
1) Plan for the location. Most of your concerts will take place indoors. But for those music events taking place outside, you might want to check your weather app. Especially if it's a rain or shine show. Or if you find yourself outdoors at the peak of summer, you should probably think twice before putting on your favorite denim jacket.
2) Wear comfortable shoes and pants. Flats are key for concert goers. You'll be on your feet the majority of the time, so put on a pair of fashion sneakers, espadrilles, or d'Orsay flats. If you must wear sandals, go for a closed-toe style–or be prepared to have your toes stepped on in the large crowd. Ouch! As for pants, now is not the time to break in those brand new non-stretch skinny jeans. You'll be miserable the entire time. Opt for chic trousers, joggers, wide leg pants, or jeans that have some stretch to them. You can't dance if you feel like you're going to rip your pants!
3) Don't be afraid to make a statement. Graphic tees and sweatshirts are not only fun but functional. How else are you going to find your BFF in the bathroom line if she wasn't wearing her "Flawless" crew neck? You should also go bold when it comes to beauty. Channel the concert's creativity through makeup. Experiment with a cat eye look, bright lip shade, or nail art. Extra style points if your mani was inspired by the music.
4) Ditch your tote and go for a crossbody. You're going to be clapping, dancing, and maybe wiping the tears from your eyes during that heart-wrenching love song. A hands-free is purse is a must. There's nothing worse than trying to balance concession food, your phone, and your wallet all in just two hands. Also, keep the size of your bag to a minimum. You'll only be out for a few hours, so all you really need is your wallet and phone. Less to hold onto and less to lose, just in case.
5) No hats, please! Unless you're outside in a giant field for a music festival, keep the hats at home. The people behind you will thank you and so will your hair–no hat hair, here.
6) Lightly layer up. If you intend on wearing a jacket or extra shirt for your trip to the show, then go for moto jackets, flannels, or denim shirts. Basically, anything you can wrap around your waist if you need to shed a layer. Sometimes indoor venues are kept at a chilly temperature but after a few hours of dancing, you can get pretty toasty. You'll want the flexibility of layers.
7) Go easy on the jewelry. You can still wear some bling, but keep it simple. Avoid layering or putting on bulky baubles that might be more bothersome than stylish.
8) Jumpsuits and rompers are a music fan's best friend. The one-and-done outfit, you won't need much else if you've found the perfect one. We're loving casual jumpsuits as the weather starts to cool down a bit. Layer a cute jacket over top and oyu have yourself an outfit in seconds.
SheFinds receives commissions for purchases made through the links in this post.