For Zara lovers alike, the store's notorious semi annual sale feels like the equivalent of Christmas in June. It's the perfect opportunity for bargain shoppers to ball on a budget and stock up on their favorite Zara picks. However, details about the sale are always kept under wraps until right before, so avid shoppers never know when to expect deals. The notorious sale is currently going on, so here's how to take advantage of it and prepare yourself for the next Zara sale that rolls around.
Shop Online And In Stores:
This sale rocks because you get the same deals both in-stores and online, which not all sales these days can boast. Find the off shoulder top of your dreams in the store but don't see your size? No problem. Check online and cross your fingers. As a new feature, if you see something in the store that's not your size, most locations can order it online to the store for you.
I personally prefer online shopping to in-store shopping, especially for the Zara sale. The stores tend to turn into a madhouse come sale time, so be prepared for long dressing room and checking out lines. Shopping online also shows you how the clothes look on a model, so you're not at a loss in terms of how to style them. I tried on this top in the physical store, and had no clue how to wear it correctly. Not to mention I looked like an idiot walking around with two massive pieces of fabric almost taller than me trailing behind me.
I waited a good 20 minutes in line for the dressing room, excited to try on my new striped find. I spent probably five minutes trying to figure out where to put my arms and how to situate the excess fabric, only to give up after I looked like a kindergartner swallowed up in one of her big sister's crop tops. But after looking online and seeing how it actually should look, I regret not buying it originally. I mean, look how cute and versatile it is! I'm having major buyer's remorse.
Newsletter, Newsletter, Newsletter:
Zara's email newsletters keep you in the know, so you get a heads up before anyone else a few hours before the sale starts. Unfortunately, this is the only advance Zara gives for the sale, which gives you limited time to mentally prepare and brace your bank account. But, it's better to know a little bit ahead of time than have it come as a complete surprise.
The sale usually starts online at 12 a.m. EST, so you can get a head start and scope out your favorite pieces before the physical stores open a few hours later. Finding out about the sale early from the newsletter also gives you first dibs on the best inventory and size selections. But don't stress out if you can't shop the sale ASAP—it usually lasts for a few weeks.
The newsletter won't overwhelm your inbox, either, so stay subscribed if only to know when the next sale pops up, which should be in late December.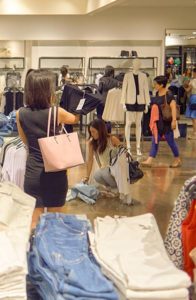 Download The App:
If you have a Zara shopping addiction, downloading the app could potentially be a dangerous decision because it makes shopping that much easier. Buy clothes directly from the app and save your information to waste no time in ordering your favorite clothes and accessories. The app can also send you clothing restock and event alerts.
Shop The Full Inventory:
The sale can overwhelm even the most savvy shoppers, but spend time looking at everything. You never know—you could find a must-have jacket stuffed in a rack of clothes, or a leather skirt you never knew you needed online. If you shop in the store, leave no square untouched. Online, search every category.
Happy shopping, Zara fans!
[Photos: Zara/Shutterstock]