Most brides are all about the wedding receptions–Who had the better band? The best desserts? The most fun after-party? But for me, I always remember the ceremonies–Whose made me cry? Who had the most special musical guests? Which couples seemed so head-over-heels in love that it's like they hired Nicholas Sparks to write their romance?!
Those are the moments (for me, at least) that make a wedding memorable. So my advice to you? Don't underestimate the power of this important ceremony. Your wedding ceremony needs just as much TLC as the rest of the day. We'll get you started with the basics—here are our 10 must-dos for saying "I Do."
1. Hold Hands
It's important that you two stay connected during the wedding ceremony. Hold hands, give loving looks. Heck, have a secret handshake for all we care—just be present with one another. The entire day is supposed to be just for the two of you, after all.
[Photo: Ryan Ray Photography]
2. Cry All Of The Happy Tears
It's definitely ok to cry–just not "ugly" cry. Crying smile tears are so a must for your own wedding. Don't be afraid to show some emotion.  Think authentic, but no crocodile tears! But also keep in mind it's ok not to cry if it doesn't feel authentic. Let your emotions show through however you want!
[Photo: Brookelyn Photography]
3. Include A Special Performance
Whether it's your best friend belting out Ave Maria or a favorite folk song played by a solo guitarist, make at least one portion of your entertainment more personal. Something meaningful to you as a couple will make the ceremony even more memorable.
[Photo: Ryan Ray Photography]
4. Have A Quiet Romantic Moment
Your wedding ceremony and reception will get a little hectic but make sure you set some time aside to be alone, just the two of you. Take two minutes alone with your groom right after you walk back up the aisle or head to the reception. Kiss, hug, laugh, breathe. You'll spend the rest of the day and night talking, eating, and dancing with your guests and time will get away from you quickly. Don't forget to cherish it in a personal moment.
[Photo: Yvette Roman Photography]
5 Write Your Own Vows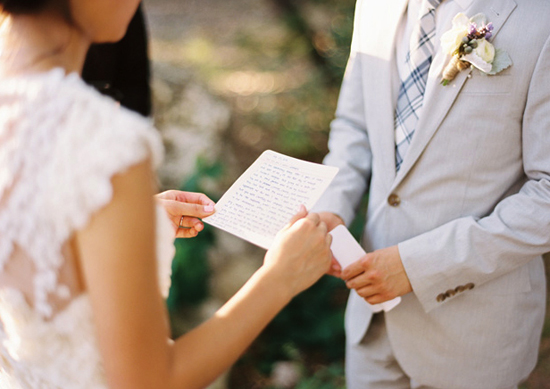 You can write your own vows in addition to conventional vows. Whether you're having a traditional religious wedding or completely customized ceremony, carve out some time to recite your own vows to one another. It will make your day all the more special.
[Photo: Ryan Ray Photography]
6. Laugh
This day is meant to be a happy one, remember?! Don't be afraid to share a few laughs during the ceremony. Keep the entire day's mood light, joyful, and easy. This will ensure you'll have a wedding ceremony guests will connect with and talk about for years to come. Show your guests just how happy of a couple you are!
[Photo: Ryan Ray Photography]
7. Kiss The Groom
Oh, forget all about the 'You may now kiss the bride…' stuff. Be the first one to lean in for that big smooch. Catching your groom off guard will be sweet and sexy. Just keep the kiss PG. No one wants to watch you two sucking face for an uncomfortable amount of time.
[Photo: Jenny Ebert Photography]
8. Have A Rockin' Recessional
Big band, marching band, Afro-Cuban jazz band–however you choose to usher in your reception, do it in serious style. This will make the reception more fun and really get the party started!
[Photo: Brookelyn Photography]
9. Celebrate!
#WeDidIt. Show-off your fun side with a little celebration (keep it classy, ie: skip the cartwheels and heavy booze) and get the crowd erupting in cheers. This is you and your groom's time to shine and bring in your first moments as a married couple with flare.
[Photo: Yvette Roman Photography]
For more wedding content, check out:
—5 Ways To Wear Sneakers Under Your Wedding Dress
—The Best Places To Buy Dresses For All Those Summer Weddings
—7 Last Minute Details Brides Always Forget