Wedding trends for what's in and what's out changes with each year–and 2018 was no different. Now that we're almost halfway through this year, wedding planners and experts are able to see which trends are rising above the rest. With that in mind, here are eight you'll want to seriously consider incorporating into your big day.
1. Lemons as decor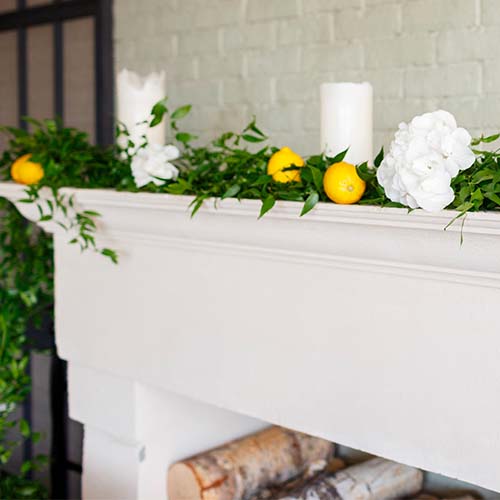 "Think beyond your color scheme when planning and be open-minded," celebrity party planner Marcy Blum exclusively tells us. "I recently hosted an Italian-inspired party for HomeGoods where the entire theme was born out of the amazing lemon-printed merchandise I saw in-store. The pieces reminded me of the Amalfi Coast and I built the rest of the décor around those colors. Also keep in mind that if you love a certain design but it may not be a good look for your wedding use it elsewhere like the engagement party, bridal shower or brunch with your bridesmaids!"
2. Mirrors in outdoor spaces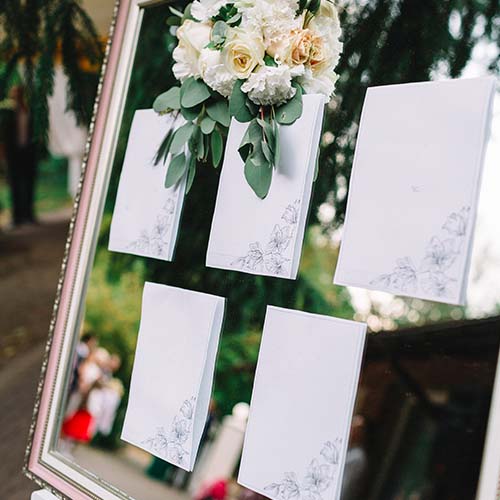 "Another big trend this year will be to add unique design elements, like mirrors, throughout the wedding space," Marcy tells us. "Mirrors used in a backyard or garden wedding make the area look larger-than-life. I like to pick out different sizes and shapes to liven up and add elegance to a space."
3. Food as decor
"Treat food as décor when outfitting your bar area and snack tables," Marcy advises. "Incorporate beautifully jarred items like party-olives, capers, nuts or peppers with florals for a detailed touch. HomeGoods has great ones, that are delicious too!"
4. Acrylic Serving Ware
"For an outdoor wedding, don't be afraid to use acrylic or melamine serving ware, like wine glasses, plates, serving trays, etc." Marcy says. HomeGoods has a huge selection heading into outdoor entertaining season. "Plus, you won't have to worry about items breaking, the clean-up is super easy and something you can easily use again for future parties!"
5. Mix-And-Match Tablecloths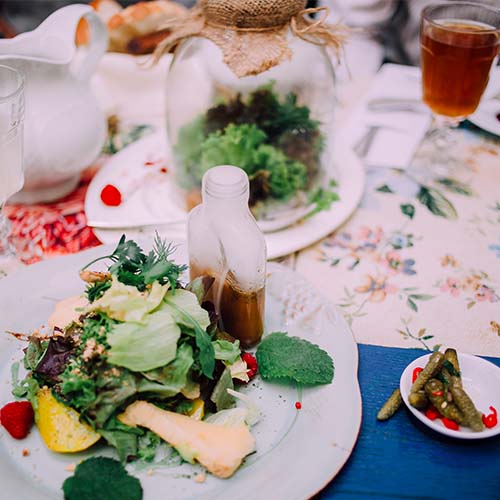 "Mix and match bright colors and patterns on tables," Marcy tells brides. "When grabbing tablecloths, I'll choose a bunch of different textures and designs instead of the same plain tablecloths at every table. It brightens things up and adds more dimension."
6. DIY Photo Booths
"Style your own photo area for guests," Marcy explains. "For less formal events like a wedding shower or engagement party, deck out an Instagram-able area with small signs and custom accessories for your guests to take cute selfies or photos together. For those DIY-ing their own photo area, pick up some fun curtains from HomeGoods to serve as the back drop!
7. Flower Walls
Flower walls, both live and paper creations, make for some beautiful photo opportunities with unique backdrops, says Amy Conrad, event Manager and onsite wedding expert at Enclave Las Vegas.
8. Unplugged Ceremony
"If there's a major trend we're looking forward to seeing more of at weddings in 2018 nationwide, it's the banning of cellphones," say the pros at wedding app Joy. "No one needs Uncle Joe with his iPad standing right in front of the (paid) professional photographer. Couples don't want their guests in the middle of the aisle, spoiling the ceremony's money shot, and they're increasingly demanding that certain points of their wedding be a safe haven from cell phones. The unplugged ceremony, meaning no phones (and definitely no iPads), will continue to take hold in the coming year."
9. Multiple Food Stations
Working with multiple chefs on site to provide distinct stations is a big trend right now, says Barrie Schwartz of My House Social. This will give you a chance to serve a variety of your favorite foods or celebrate different cultures at your reception.
10. Ball Sleeve Wedding Dresses
Bell sleeves are not just for the 70s, says Lindsey Nickel, founder and a wedding planner at Lovely Day Events. "The boho and rustic wedding design styles are now influencing wedding dresses."
11. Doughnut Walls
A doughnut wall is a fun and more affordable dessert to either replace or complement the cake, says Sebastien Sanges, head designer for La Bonne Cuisine Catering and Events in Oakland, CA. "The 'wall' can be highly personalized and designed to match the wedding color and elements."
12. Customized China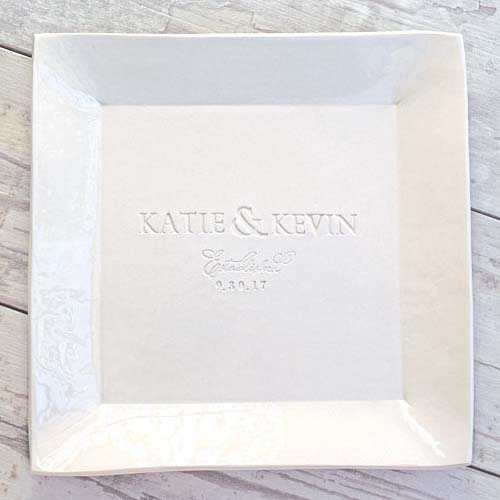 Rental companies now have the ability to produce their own designs affordably and within a short time frame, so you can design your own china, so it perfectly fits your theme, says Sanges.
13. Darker Colors
Due to Pantone's color of the year Ultra Violet, wedding colors will shift from what we have seen in the past several years, light blush, pinkish shades will become warm, dark and saturnine, says Dawn Stafford of wedding expert & creative director at Gathering Souls.
14. Neon Signs
Neon signs will replace marquee light signs, says Nickel. "A neon sign is eye-catching, personal and you can reuse it! Use it above the bar, at a cool lounge or to welcome people to the reception."
15. Illusion Neckline Wedding Dress
Colin Cowie tells Insider that brides everywhere are selecting dresses with illusion necklines. While this was definitely a popular trend in 2017, it appears to be many brides' go-to style well into 2018 too.
16. Millennial Pink Wedding Dress
Other brides want to do away with the traditional white wedding dress altogether. It's no secret that millennial pink, a light blush pink, has been trending. And some brides are deciding to include this popular color in their wedding. The color is light enough where it's not too bold, but it's still a unique hint of color for any wedding dress.
17. High Neckline Wedding Dress
Necklines will definitely have a moment next year from illusion necklines to high necklines. A high neckline wedding dress is the perfect option for brides that want a vintage feel on their special day.
18. Black And White Wedding Dress
According to Brides, black accents for your wedding dress will be trending in 2018. You can always switch up the traditional white wedding dress by adding black accents to it. As seen here, this bride opted to have a black sash to cinch her waist. Such an accessory creates a seriously beautiful contrast for any bride's wedding dress.
19. Berry Lipstick
According to Ashlee Glazer, global artistic director of Laura Geller, berry lipsticks will be trending for brides in 2018. "A bold or soft berry lip photographs beautifully and due to the blue undertones, brightens teeth on all skin tones making it the perfect lip color for a fall or winter wedding," Ashlee says in a press release.
20. Elegant Wedding Ceremony
Styles of wedding ceremonies seem to be on two different spectrums in 2018. Many brides are going to opt for elegant wedding ceremonies to accommodate a large guest list.
21. Outdoor Wedding Ceremony
On the other hand, some brides will continue to opt to have smaller more intimate wedding ceremonies. Outdoor ceremonies are also the perfect location for brides that want to have a rustic wedding theme. According to Bridal Guide, rustic weddings will be one of the hottest wedding trends for 2018.
22. Copper Wedding Décor
Any bride can easily stray away from typical silver or gold décor and silverware. And according to WeddingWire, some brides will be choosing to include copper or even marble accents in their wedding décor next year.
23. Wedding Guest Photo Booth
Photo booths for wedding guests have become increasingly popular over the years, and they're certainly not going anywhere yet. They're a fun way to make your wedding reception even more interactive for your guests. Plus, the pictures also make for a great wedding day keepsake.
24. Hanging Wedding Florals
It's no secret that wedding floral arrangements are one of the most beautiful components of any wedding. However, that doesn't mean that you can't add your own twist to them. Many brides are choosing hanging floral arrangements to truly decorate their reception venue from the ceiling down to the dance floor.
25. Naked Wedding Cake
Desserts are a must-have at any wedding, but you can stray away from the traditional wedding cake. Naked wedding cakes have their own sort of rustic feel to them and can become a beautiful focal piece at any wedding reception.
26. DIY Drink Bar
Another great way to make your reception interactive for your guests is by having your own DIY drink bar. While you can totally also have an open stocked bar, an additional DIY drink bar is a personalized way for wedding guests to create your favorite drink. Plus, you can even make it tailored to the kids at your wedding so they feel that they have their own fun bar to visit too.
27. Donut Tower Wedding Cake
Let's be honest, not everyone likes wedding cake. And if you're a bride and groom who want to do without a cake, you can go for a fun donut tower instead. You can achieve the same wedding cake tier look by having dozens of delicious stacked donuts for your guests instead. According to WeddingWire, donuts are here to stay for wedding receptions in 2018.
[Photos: Shutterstock]