It's so difficult to dress nicely when it is raining, isn't it? When all you want to do is lay in bed and sleep the day away, it takes every ounce of strength in your body just to get dressed. It's so tempting to throw on a pair of leggings with a hooded sweatshirt and call it a day. Unfortunately, when you have to go to work in the rain, you can't show up looking like a hot mess, even if the weather is. We all know that rain boots aren't exactly the most glamorous shoes to rock on a work day–or any day, for that matter. But, if you style them properly, rain boots can actually look really cute. Keep on reading for four different ways to style rain boots this spring.
1) Rain Boots With Jeans
I know what you're thinking–this one is a bit obvious. But, there are unique ways to pair jeans and rain boots that can look really stylish. Jeans are by far the easiest thing to pair with rain boots because they are versatile and match with virtually any style of rain boots. You can go the casual route and wear rain boots and jeans, with a simple, cute t-shirt and cardigan. Or you can dress your rain boots and jeans up a little bit with a knit sweater. If your rain boots are black or blue, it's best to wear lighter wash jeans so the colors don't clash. But, if your rain boots are another color, such as bright red or yellow, you can pair any shade of denim with them.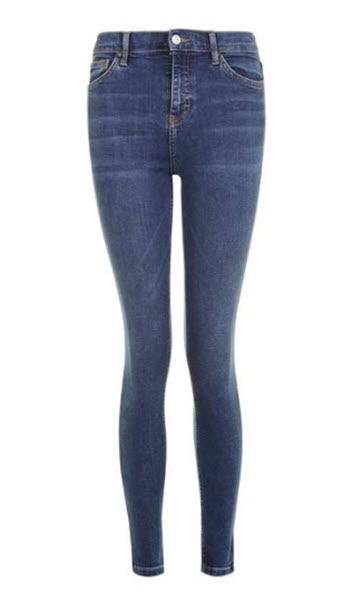 Topshop Indigo High Waist Skinny Jeans ($70)
2) Rain Boots With Socks & Leg Warmers
If you want to switch things up and make your outfits look more put together without sacrificing comfort, layering socks or leg warmers under your rain boots is definitely up your alley. Wear neutral-colored socks, like black, white, or grey, with your rain boots to create the ultimate comfy, layered look. Take note–it's important to not have too much of the socks or leg warmers showing. If they go up to your knees, they will make your legs look shorter than they are, and no one wants that.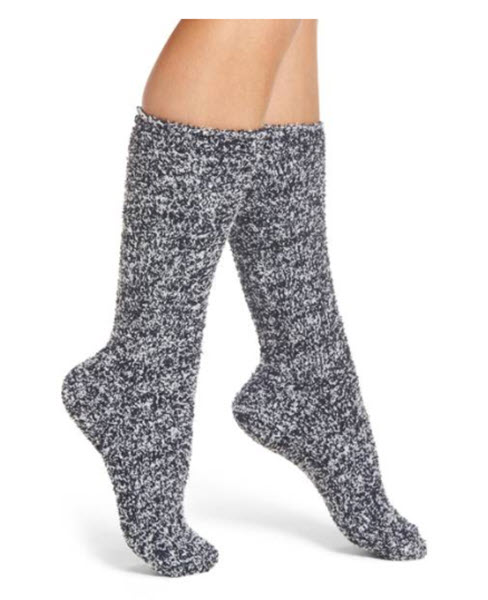 Barefoot Dreams CozyChic® Socks ($15)
3) Rain Boots With Leggings
If you're looking to be as cozy as possible on a rainy day while still looking presentable, leggings and rain boots the perfect combo. Sometimes committing to a pair of jeans all day is just too much to ask for–especially when the weather is nasty outside. The pairing of black leggings and rain boots make for a great outfit base. Because your pants and shoes are neutral, you can experiment with any style of top you want. Try wearing a chunky sweater, patterned blouse, or casual t-shirt on top.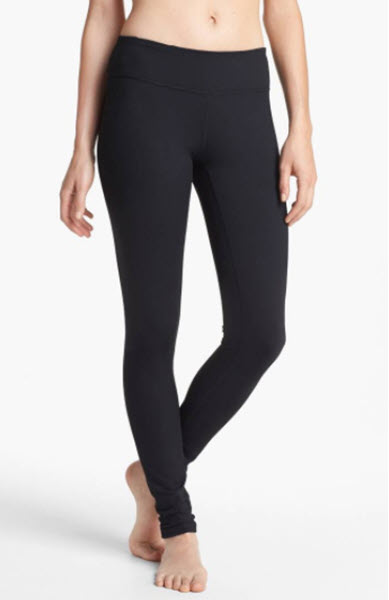 Zella Live In Leggings ($52)
4) Rain Boots With Dresses & Skirts
Don't be fooled into thinking you can't wear a dress or skirt when it's raining. Rain boots with skirts or pretty dresses make a great ensemble. Since rain boots are a bit clunky on their own, you should avoid wearing a tight fitted dress or skirt because it will draw too much attention to your feet. A fit-and-flare dress or shift dress is the perfect option. Also, don't be afraid to wear a patterned dress or skirt! A playful, bright pattern will perfectly balance out your simple rain boots and lighten up the gloomy day.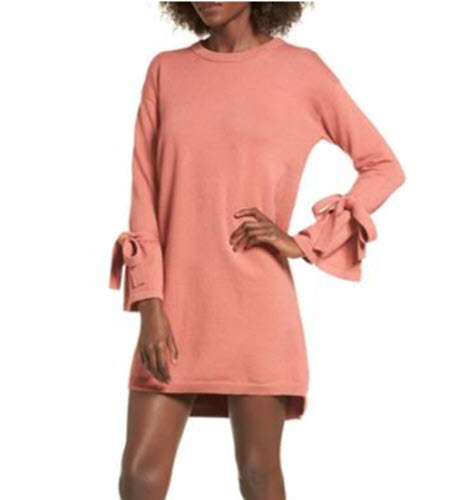 Cotton Emporium Tie Sleeve Sweater Dress ($49)
5) Rain Boots With Tights
Not comfortable with wearing a dress and rain boots with bare legs? Try wearing a pair of tights with your dress instead. They will instantly take your outfit to the next level because it takes more thought in pairing them together. A pair of colored tights is the perfect complement to your plain rain boots. Of course, keep in mind the color of your boots and tights to make sure your outfit doesn't clash. Obviously, you want to match!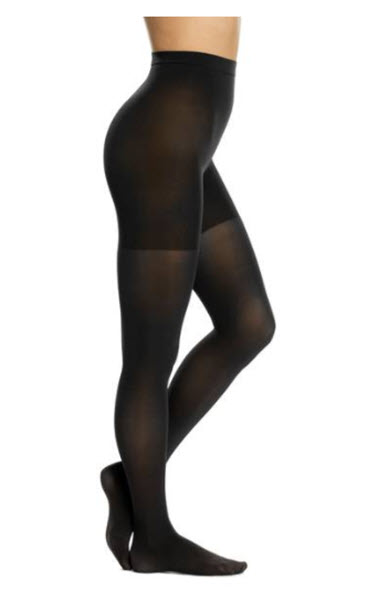 Spanx 'Luxe' Leg Shaping Tights ($28)
Now that your outfit is looking on point and your rainy day is looking up, go jump in some puddles! Just kidding…kind of.
Don't these Hunter Rain Boots for only $65!
SheFinds receives commissions for purchases made through the links in this post.