It's so difficult to dress nicely when it is raining, isn't it? When all you want to do is lay in bed and sleep the day away, it takes every ounce of strength in your body just to get dressed. It's so tempting to throw on a pair of leggings with a hooded sweatshirt and call it a day. Unfortunately, when you have to go to work in the rain, you can't show up looking like a hot mess, even if the weather is. "Everyone's first inclination on rainy days is to always go for the sweats," celebrity stylist Jeni Elizabeth tells SheFinds. "Everyone should have a space set out in their closet for what I call 'rainy day style.' You can still be super cute and rock a fun look on those dreary days and add a bit of sunshine to peoples lives."
READ MORE: 9 Trendy Rain Boots You Need In Your Closet For Spring
We all know that rain boots aren't exactly the most glamorous shoes to rock on a workday–or any day, for that matter–and that it can be hard to figure out what to wear with rain boots. But, if you style them properly, rain boots can actually look really cute. Stuck on how to wear rain boots and still put together?
Our Favorite Rain Boot Outfits For Spring
Keep on reading to find different ways to style rain boots this spring and learn how stylists recommend creating cute outfits with rain boots using pieces that are already in your closet.
1.  Rain Boots With Jeans
I know what you're thinking–this one is a bit obvious. But, there are unique ways to pair jeans and rain boots that can look really stylish. Jeans are by far the easiest thing to pair with rain boots because they are versatile and match with virtually any style of rain boots. You can go the casual route and wear rain boots and jeans, with a simple, cute t-shirt and cardigan. Or you can dress your rain boots and jeans up a little bit with a knit sweater.
If your rain boots are black or blue, it's best to wear lighter wash jeans so the colors don't clash. But, if your rain boots are another color, such as bright red or yellow, you can pair any shade of denim with them. For personal stylist Vanessa Valiente, founder of V-Style, opting for a pair of neutral rain boots like Kensington Chelsea boot by Cougar is the way to go. "Beyond being comfortable and cool, I love them for their versatility. You can pair them with long leggings and skinny jeans, but you can also wear them with cuffed jeans and pants, many women's favorite look right now," she says.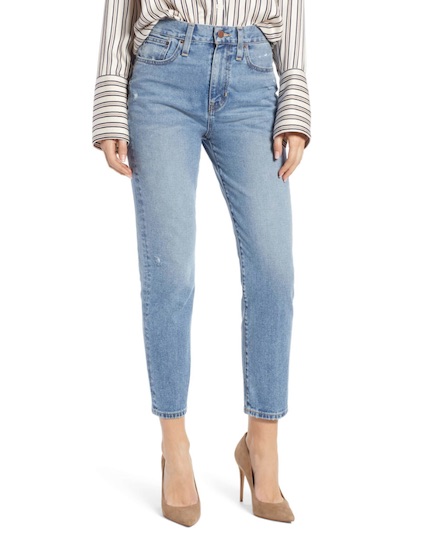 Something Navy Cigarette Jeans ($53.40, originally $89 — 40% off) 
These flattering high-waisted jeans are the perfect cool-girl jeans with their slim legs and distressed, vintage wash.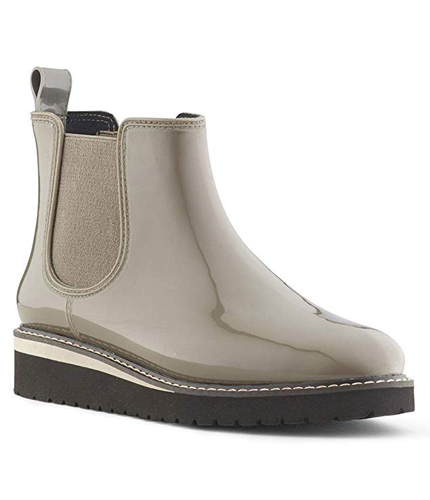 Cougar Women's Kensington Rain Boot ($32.39)
These versatile rain boots add a polished touch to your rainy day wardrobe.
2. Rain Boots With Socks & Leg Warmers
If you want to switch things up and make your outfits look more put together without sacrificing comfort, layering socks or leg warmers under your rain boots is definitely up your alley. Wear neutral-colored socks, like black, white, or grey, with your rain boots to create the ultimate comfy, layered look. Take note–it's important to not have too much of the socks or leg warmers showing. If they go up to your knees, they will make your legs look shorter than they are, and no one wants that.
Valiente says there's nothing chicer than pairing rain boots with tall socks because they create the perfect "cozy chic look" and keep you warm in the process!
Lian LifeStyle Women's 5 Pairs Pack Knee-High Crew Cotton Boot Socks ($22.29)
These socks are super warm and cozy and will keep you looking chic even when the weather isn't.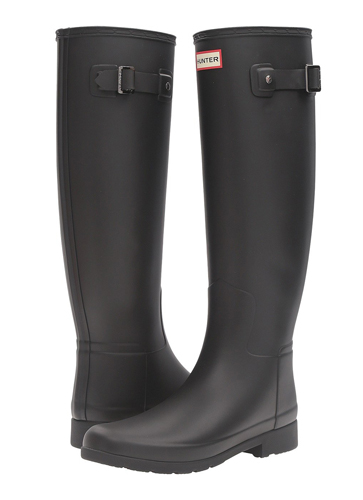 Hunter Original Refined Rain Boots ($165.00)
Hunter's Original Refined Rain Boots are the internet's highest-rated rain boots and known for being super stylish.
3. Rain Boots With Leggings
If you're looking to be as cozy as possible on a rainy day while still looking presentable, leggings and rain boots the perfect combo. Sometimes committing to a pair of jeans all day is just too much to ask for–especially when the weather is nasty outside. "Pairing a great legging with a cozy long sleeve shirt, topped with a fun vest is a great look for gloomy days," Elizabeth adds, who notes that her A-list clients always request cute "rainy day looks" to set aside in their closets.
The pairing of black leggings and rain boots make for a great outfit base. Because your pants and shoes are neutral, you can experiment with any style of top you want. Try wearing a chunky sweater, patterned blouse, or casual t-shirt on top.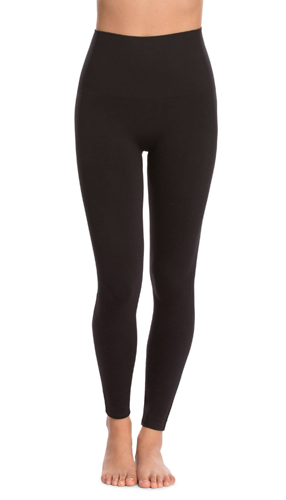 SPANX® Look at Me Now Seamless Leggings ($68.00)
These stretchy knit and seamless offer a flattering fit and a figure-smoothing waistband.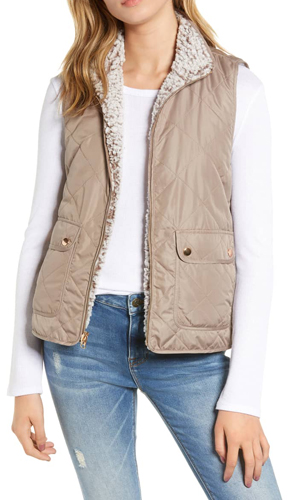 Thread & Supply Reversible Fleece-Lined Quilted Vest ($68.00)
This dual-sided vests can be worn with the fleece showing for ultra-plush whimsy, or flipped around to the diamond-quilted face to keep that coziness all to yourself.
4. Rain Boots With Dresses & Skirts
Don't be fooled into thinking you can't wear a dress or skirt when it's raining. Rain boots with skirts or pretty dresses make a great ensemble. Since rain boots are a bit clunky on their own, you should avoid wearing a tight fitted dress or skirt because it will draw too much attention to your feet. A fit-and-flare dress or shift dress is the perfect option.
Also, don't be afraid to wear a patterned dress or skirt! A playful, bright pattern will perfectly balance out your simple rain boots and lighten up the gloomy day.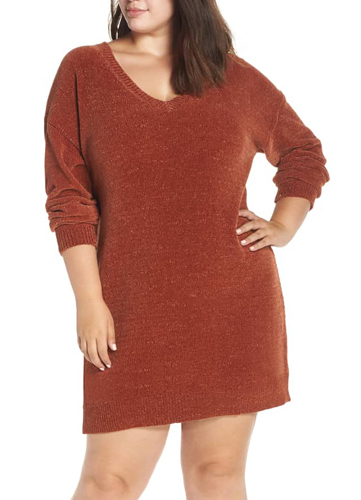 BP. Chenille Sweater Dress ($32.98, originally $55.00 — 40% off)
Nothing is cozier than a sweater dress, and this one from BP. is knit from plush chenille yarn and velvety soft.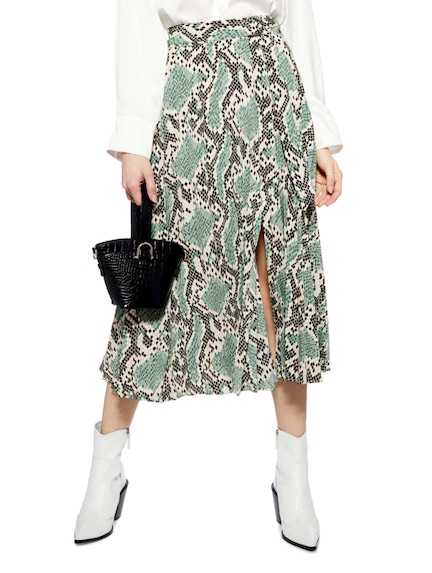 Topshop Python Print Pleat Midi Skirt ($75.00) 
Add a little edge to your rainy day outfit with a printed skirt, like this trendy midi skirt from Topshop.
5. Rain Boots With Tights
Not comfortable with wearing a dress and rain boots with bare legs? Try wearing a pair of tights with your dress instead. They will instantly take your outfit to the next level because it takes more thought in pairing them together. Valiente stresses that accessories like sweater tights, wellie warmers, or tall socks are vital when going for a dress-rain boot outfit, especially when the weather is chilly.
A pair of colored tights are the perfect complement to your plain rain boots. Of course, keep in mind the color of your boots and tights to make sure your outfit doesn't clash. Obviously, you want to match!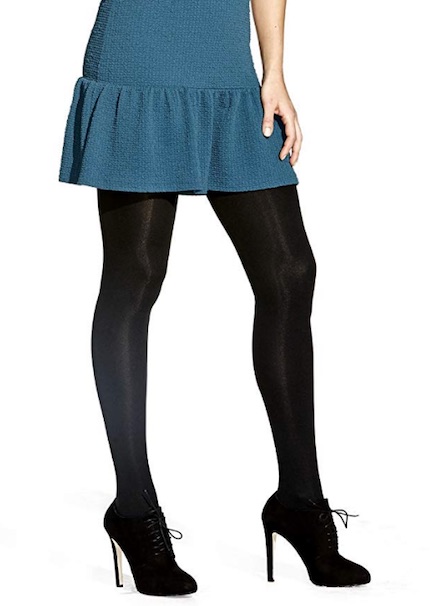 No Nonsense Women's Super Opaque Control-Top Tights ($6.57) 
These top-rated, opaque control-top tights will give you the perfect fit every time.
HUE Women's Cable Sweater Tights ($12.21)
Stay warm and chic with these best-selling cable knit sweater tights. They're also available in black!
6. Rain Boots With Coats
You're going to need a coat if it's raining! When it comes to choosing the perfect raincoat to wear with rain boots, Valiente says you can never go wrong with following the trends. "When thinking about outerwear with rain boots, I recommend a unique waterproof jacket or coat, canvas jacket, trench coat, faux fur, leopard coat, or a thick long cardigan," she explains. Valiente says it's best to opt for structured and refined silhouettes to prevent looking sloppy, listing puffers as a no-no. "Try to stay away from puffer jackets or stereotypical raincoats when wearing rain boots to avoid a tired look," she advises.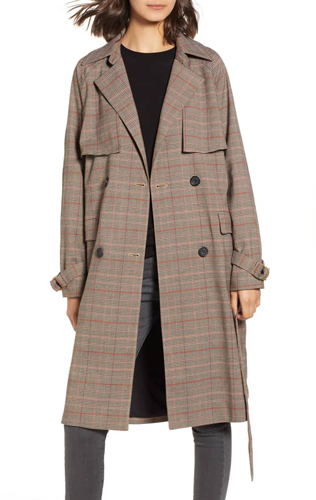 Chelsea28 Plaid Trench Coat ($89.40, originally $149.00 — 40% off)
This drapey longline trench boasts a waist-defining tie and belted cuffs, creating the perfect, polished rainy day coat.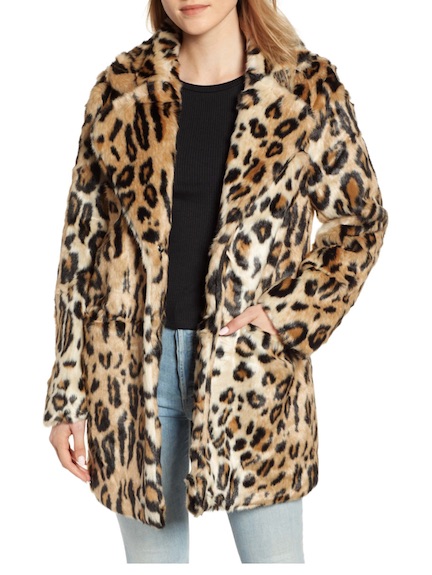 APPARIS Margot Leopard Print Faux Fur Coat ($280.00)
Leopard print is sooo in this season, and this bold, faux-fur coat will help you look effortlessly chic.
Now that your outfit is on point and your rainy day is looking up, go jump in some puddles! Just kidding…kind of.
READ MORE: These Are The Best Rain Boots, According To Thousands Of Customer Reviews
READ MORE: These Cute, Affordable Ankle Boots Also Happen To Be Really, Really Comfortable
SheFinds receives commissions for purchases made through the links in this post.