SHEfinds receives commissions for purchases made through the links in this post.
It's so difficult to "dress up" when it is raining. It takes every ounce of strength to not throw on a pair of leggings with a hooded sweatshirt. Unfortunately, when you have to go to work in the rain you can't show up looking like a hot mess. Rain boots aren't exactly the most glamorous shoes but if you style them properly they can look really cute. Keep on reading for four different ways to wear rain boots.
With Jeans
This one is a bit obvious. Jeans are by far the easiest thing to pair with rain boots because they are versatile and match virtually any style of rain boots. You can go the casual route and wear jeans and rain boots with a laid back sweatshirt or dress it up with a knit sweater. It's best to wear jeans that are on the darker side because they blend in easier with your dark rain boots. On the other hand, light-colored jeans look cool with bright rain boots.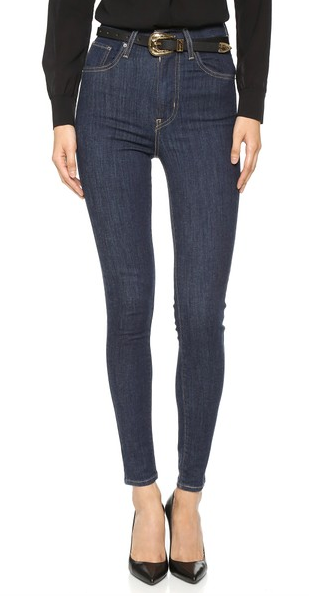 Levi's Mile High Super Skinny Jeans ($78)
With Socks/Legwarmers
If you are into layering then wearing socks or legwarmers with rain boots is definitely up your alley. Wear neutral-colored socks, like black, white or grey, with your rain boots to create the ultimate comfy, layered look. It's important to not have too much of the socks or legwarmers showing. If they go up to your knees then your legs will look shorter than they are. Only let a few inches show from the top of your rain boots.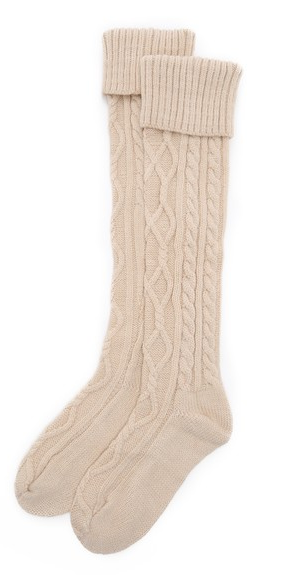 Free People Cozy Cable Socks ($19.60, down from $28)
With Dresses and Skirts
Don't be fooled into thinking you can't wear rain boots with dresses or skirts. Since rain boots are a bit chunky on their own, you should avoid wearing a tight fitted dress or skirt because it will draw more attention to your clunky boots. A fit-and-flare or shift dress is a great option. Also, don't be afraid to wear a patterned dress or skirt! A playful, bright pattern will perfectly balance out your simple rain boots.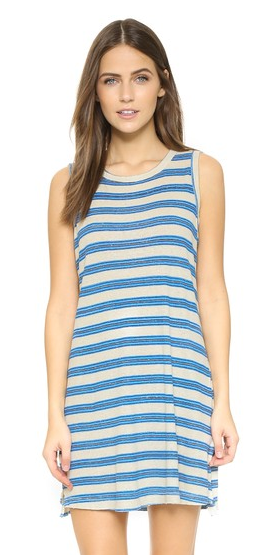 Current/Elliott The Muscle Tee Dress ($158)
With Tights
Want to wear leggings with your rain boots? Try a pair of tights with a dress instead. They will instantly take your outfit to the next level. A pair of colored tights is the perfect complement to your rain boots. Of course, keep in mind the color of your boots and tights. Obviously, you want to make sure they match! Wear a simple fit-and-flare dress with tights and a statement piece, like a leather jacket or collar necklace.

Commando Matte Opaque Tights ($36)
Now go put on your rain boots and jump in some puddles! Just kidding…kind of.
Don't miss 26 midi skirt outfit ideas perfect for spring and find out what your favorite swimsuit style says about you!
[Photo: Gal Meets Glam]