Pulling off animal-prints with taste (while skipping the cheese factor) can be a challenge. Particularly leopard, which–having already cycled through at least nine lives in fashion seasons past–is poised for yet another revival this fall.
But fear not–the beast isn't as scary as it might seem. The trick? Moderation. Add just one of these five pieces to your outfit, and you'll punch up your look without looking like Jersey Shore's Snooki.
1. Case in point: this cool Into The Wild trench by Marc Jacobs ($249 down from $498) has a classic, movie-star style that will look equally great with a simple black dress, or jeans and boots.
2. This Tolani leopard-print scarf ($99) is half-pashmina, half-silk, and 100-percent "wow" (without being too "meow").
3. Trust Ralph Lauren to strike the right balance between classic and fierce. This wide leopard-print belt ($299 down from $475) will look amazing over a black tunic top or a white blouse. Or try using it to add oomph to a khaki trenchcoat.
4. This textured print satchel by Spiegel ($39 down from $49) looks like a much pricier piece of shoulder-candy. We love its understated patent-leather trim.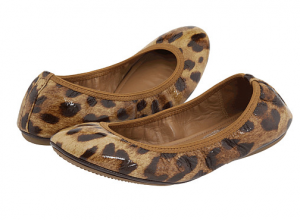 5. These leopard-print flats by Tahari ($168.40 down from $198) have a perfect, flattering cut and are super-comfy to boot. We can't think of a better footnote to your favorite boyfriend jeans or jeggings.
For more great vintagey accents check out our sneak peek at QVC's "Mad Man" lineup for the fall. Or surf our shopping guide to trenchcoats to find the best timeless take on raingear for your personal taste and budget. Not ready to take on fall yet? Browse our picks for summer fashion trends and tips.