For the uninitiated, Pretty Little Liars is an ABC Family series about a group of high schoolers who are terrorized via text messages by an unknown person called "A." I know it sounds kind of ridiculous (like, just shut off your phone/get a new number?), but I can't stop watching. I remember when it premiered in June 2010. I had just finished my freshman year of college and wanted a guilty pleasure summer show (aka, something to do at night in the 'burbs.) My friends who read the books that the show is based on convinced me to watch the first episode with them. Also, I heard Lucy Hale, one of the show's stars, was tryin' to steal my look so I had to see this for myself.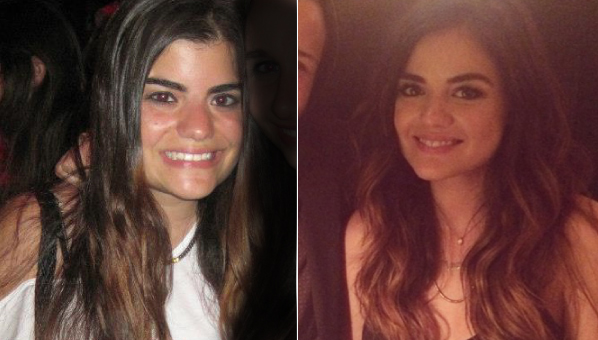 Who's who???
There's no way I could have guessed that 4 years and 5 seasons later I would be so hooked. Even though I started watching as an 18-year-old and the characters are younger now than I even was then, I feel like we have grown together as the series has progressed. Looking back on the show as a 22-year-old, I totally get why I still watch week after week and truthfully, I have no shame. Here's why:
1. Technology is its own character.
Technology is a legit character–and it doesn't seem absurd at all. Since millennials are the first generation to be born into a world with technology, we know first hand how it can be used and abused. PLL just validates this real-life phenomena by portraying it on screen.
Let me back track. The main characters are four best friends, Aria Montgomery (Lucy Hale), Hanna Marin (Ashley Benson), Emily Fields (Shay Mitchell) and Spencer Hastings (Troian Bellisario), who think the fifth member/leader of their clique, Alison DiLaurentis, is dead–or was she murdered? ***SPOILER ALERT*** She is alive. But the four-now five-some still receives threatening texts, emails and phone calls from the mysterious "A." To this day, us viewers don't know exactly why this person (if that's even what "A" is) has a grudge against these chicks.
Not only do the messages acknowledge that "A" knows every single secret these girls have (even ones they don't tell each other), they are also usually blackmail. "Make sure this doesn't happen, otherwise your mom is toast." is pretty much how "A" operates. "A" does not have any lines, so these messages are the only form of communication the character has. See? Not so farfetched to say technology is its own character.
2. It kills it on social media.
PLL was named the most-tweeted show for the second year in a row at the end of 2013. Then the second half of the fourth season premiered in January 2014 and it completely crushed any previous record. According to Deadline, it "generated more than 1.3 million tweets by nearly 700,000 contributors, peaking at a rate of 30,000 tweets per minute." It also ranked as the number one show for women between 12 and 34, even though the demographic technically is 18-34, which proves you don't have to be a certain age to get into this series.
But besides the stats, there is another element to this show's social media dominance. It has its own hashtag: #PLLArmy. Every Tuesday, a group of six or so people connected to the show come together to live tweet the episode. If you search #PLLArmy on Twitter, you'll find the discussion led by producers, writers and sometimes even one of the show's stars. Not going to lie, I was late to the game with this and only started following the hashtag for recent episodes. Little did I know that #PLLArmy is just one of many tags the show has. In fact, they create new ones each week based on what is happening in the moment on the show. For example, the season 5 premiere got #EzraAwake trending when the character woke up from his gun shot wound. I was able to search what people were saying in real time about this turn of events. My reaction was similar to Tom Cruise's Oprah couch incident (too far?!), but there were definitely viewers who did not want to see Ezra live. I enjoy and feel even more connected to the show when I read the fans tweets during a commercial break, not some lame recap from a TV writer who just does it because "it's a job."
3. It has plenty of hot dudes.
If anyone knows a place like Rosewood, PA where the good looking dude ratio is off the charts LMK. I'll sacrifice my phone battery (and possibly my life) to live in the same town as these hotties. Lets just say if Ezra Fitz (Ian Harding) was my teacher, I would never skip class. And if bad boys with long hair are your thing, they don't come any better than Caleb Rivers (Tyler Blackburn). Here's a ranking of the best eye candy to ever grace the halls of Rosewood High (and our TV screens).
@iamharding, so hawt right now.
@tylerjblackburn, long hair don't care.
4. The actresses are just as interesting in real life.
Like I mentioned above, the show kills it on social media, but so do the actresses when it comes to their personal Instagram accounts. Ashley and Shay are the kind of girls you'd want to hang out with as a twentysomething. Their feeds feature food photos, #ootd inspo and pretty vacay pics. Just follow @itsashbenzo and @shaym for a peak into their double-tap worthy lives.
Just two besties brunchin'
True PIC take trips together.
Troian actually uploads pictures with her fiancee, Suits actor Patrick J. Adams, doing normal couple-y things, like like trying a new lunch spot and hanging at a lake on a summer weekend. We know, shocking. So you can be jealous and Insta-stalk their relationship.
Then there's Lucy, who shares pretty much everything she does on the 'gram. There's backstage pictures of her concerts (she's breaking into the counrty music scene, ya'll!), behind the scenes snaps from the PLL set and #selfies with friends. Plus, the girl knows how to laugh at herself. I'm not just invested in the characters these ladies play on TV, but they also sucked me into their personal lives. K, I'm kind of obsessed, alright???
5. The plot lines are mostly insane but also relatable. 
In 104 episodes, there have been murders (all kinds), attempted murders (all kinds), affairs, secret love children, stalkers, houses blowing up, mysterious disappearances and a lot more craziness than can ever possibly happen in one town. Showrunner I. Marlene King knows exactly what stunts to pull to get us screaming at our TVs when an episode ends, and have us back in the same spot next week watching to (maybe) find out WTF happened.
However, the sub plot lines of the show are actually things people go through in real life, and not necessarily just during the four years of high school. Aria deals with her parents splitting up, Hanna is an only child raised by a single mother, Emily comes out, Spencer struggles with ADD. These aren't just teen issues, but things that can happen to someone at any age.
Personally, I connect most with Aria. No, not just because we could be twinsies. She is the oldest of two with a younger brother, just like me. Her brother goes through a rough patch in high school where he acts out violently, sneaks around his parents and keeps secrets from his family. Clearly, he does not take his parents' divorce well. Aria does everything in her power to protect her brother, even when he is on the wrong side of a fight. She stands up for him at school when he is being teased and keeps him out of trouble with their parents. While my brother did not act the same way in high school, I did and still do feel like I need to protect him as the older sibling. I would totally pull an Aria if my brother ever got into a situation where he needed defending.
6. The mystery never ends. 
The writers know how to keep us coming back week after week. Part of that has to do with the creepiness of PLL. (Seriously, do not watch alone at night in your bed.) But it is mostly because we still don't know who "A" is–and we want to find out who is behind all of the antics going on in Rosewood. So, we will keep on watching until the series finale when that person is (hopefully) truly revealed once and for all. As long as it doesn't end with a "B" texting the girls. Unless of course, that B is Blair Waldorf and then we can just go ahead and say PLL is THE GREATEST SHOW OF ALL TIME.
Are you as obsessed with PLL as me? Comment below if you love the show!
And don't forget to check out: August collaborations you need to know, J.Crew's 25% off sale and Reese Witherspoons's dress