Applying undereye concealer or concealer of any type (ie. on a monstrous zit) can be really difficult. First, you have to choose the right shade, then the right texture/consistency–and then there's application. Everyone has their own little tricks, but most of us aren't really sure what we're doing and sometimes it can feel like the concealer actually makes things worse (ie. the zit it just more red and obvious on your face). We're here to teach you how to apply concealer correctly–including under eyes, for dark spots and zits.
The Hot Butter Rule
It's something called the 'Hot Butter' rule and we learned it from José Rivera of Benefit Cosmetics. Yes, it's took the Makeup Master himself to finally teach us at the ripe old age of 32 how to finally apply concealer correctly (I really could have used this in my teen years, José…). Regardless, it all starts with the first touch.
"What happens when you put cold butter on toast?" José explains. "It tears up the bread. Same with your skin–if the concealer is too cold, it's not good for your skin."
So, what's a girl to do? I don't want my skin to be toast!
José explains that dotting the concealer to the skin and then leaving it there for a few minutes or (or as many seconds as possible, if you're in a rush) causes the concealer to warm up on your skin like butter melting on toast. This makes applying the concealer much smoother. YAS!
So, here's a step-by-step breakdown for those of you that have been skim-reading until now (no shame!):
Step 1: Choose a concealer. We love Benefit's Boi-ing Airbrush Concealer and IT Cosmetics Bye Bye Under Eye. This is really all about what's best for your skin/budget. Generally speaking, you want a concealer that's just one or two shades lighter than your skin (no more or you'll look like a racoon!). For zit concealer, you'll want a shade that perfectly matches your foundation. So, yes, that means you need at least two types of concealer in your makeup bag. This is an essential!
Step 2: Apply the concealer in dots on the skin. DON'T BLEND! If you blend at this point the concealer is like COLD BUTTER ON TOAST. You'll tear up your skin, so to speak. Yes, I'm sorry–you've been doing it wrong all along! Here's me getting ready, when I've first applied the dots: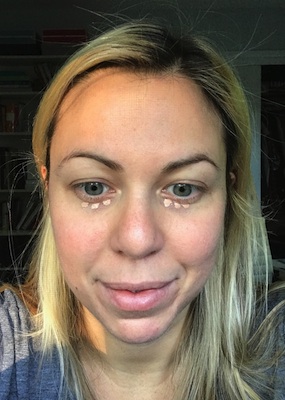 Step 3: Let the concealer heat up on your skin. This only takes a few minutes–go about your getting-ready routine (brush your teeth, fill your brows, stand on your head–I don't care what you do). After a few minutes, the concealer will have melted a bit/spread out to bigger circles. This is when you know it's ready: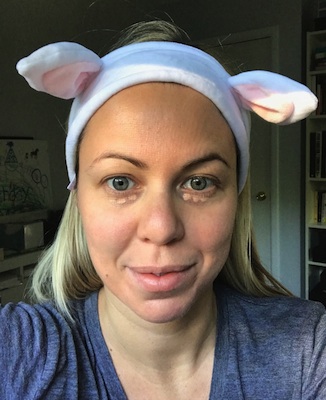 Step 4: Blend away! The concealer will be like buttah on your skin. At this point it's perfect for smoothing out and covering any blemish or dark spot you've got. The fact that the concealer has heated up and melted a bit means you don't have to pull or tug on the gentle under eye skin as much–which we all know is terrible for wrinkles and sagging. I literally just dabbed the concealer a few times *very gently* with my finger and it completely blended: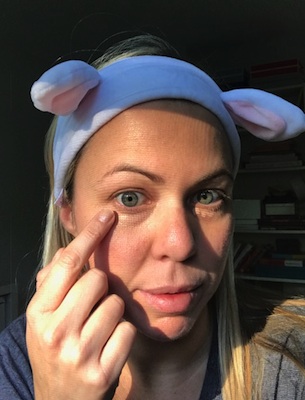 Step 5: Voila! You've applied the concealer gently and evenly without having to tug on the skin–or "bread"–giving a smooth appearance. Seeeeeee: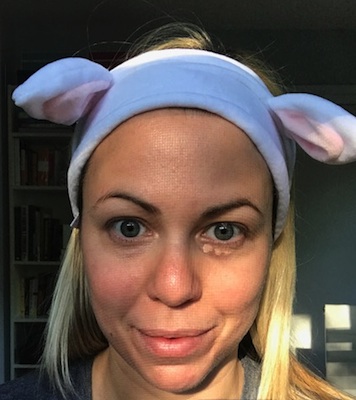 So–how do you feel about applying under eye concealer now?? Try this trick then leave us a comment below! Okay, that's all for now from this bunny :)
READ MORE: A Beginner's Guide To Color Correcting Concealer: How To Use Each Shade