I have a fun riddle for all of you! What's yellow, green, purple, pink, tan, brown, and something that you'd want to put on your face? If you guessed "unicorn mask" then, well, I guess you're not technically wrong, but that's not exactly the answer I had in mind. Nope, I'm talking about one of the more amazing, albeit initially confusing, beauty products I've used in a long, long time: color correcting concealer.
I got Nyx Cosmetics' Color Correcting Concealer ($12) a little while back, because if there's a new buzzy beauty product out there, you know I'm going to add it to my already too-large collection. The palette has six shades: yellow, mint green, purple, peachy-pink and two neutral shades, one of which is a relatively good match for natural skin tone, and the other that I like to use as a light contouring shade. After a hot minute of applying it like face paint for chuckles, I spent some time testing out the different colors and researching the basic info behind color correcting concealer on the Almighty Google. As it turns out, mastering these palettes is a lot easier than I thought it would be. Here's what I learned about each color:
1. The yellow shade is good for hiding purple or blue bruises, veins or under eye circles. This color generally works on all skin shades, and it's great for evening out the skin tone to give a bright base for foundation. The yellow shade generally works better at covering dark circles or bruises on tan skin.
2. The green shade is good for neutralizing any redness. That means breakouts, irritation, sunburn, anything that gives your face a lobster-y appearance.
3. The purple shade is good for neutralizing any yellow undertones in the skin. It can also add a nice glow to dull or pasty complexion.
4. The peachy-pink shade is good for brightening the skin around the eyes, or generally masking the visible effects of fatigue. In other words, it does pretty much the same thing as the yellow shade, but works better on fair skin than yellow does. This palette really has a little something for everybody.
5. The tan shade works as a good standard concealer color for me, personally. It's blendable, has great coverage, and works for me when I'm just trying to make my face look like a normal face instead of the monster mask I wake up with.
6. The tan-brown shade is good for contouring! Seriously, for those of you who are wary of using bronzer to contour your face, this is the shade for you.
Nyx Cosmetics Color Correcting Concealer ($12)
Since getting hooked on the NYX color corrector, I've learned that e.l.f makes a really good $3 dupe: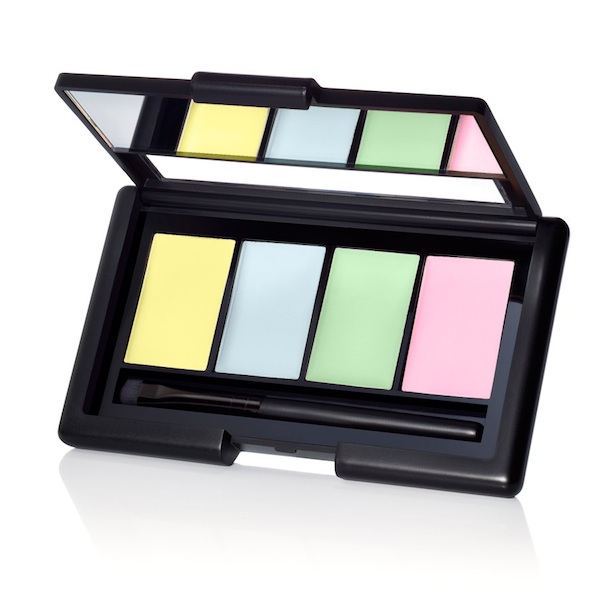 Get it now: e.l.f. Corrective Concealer ($3)
Urban Decay also makes excellent individual sticks for each color-correcting problem (redness, discoloration, etc). (Psst–more on Urban Decay's new monthly product launches here. I know you makeup junkies can't get enough of their new product roll-outs.)
Urban Decay Naked Skin Color Correcting Fluid in Deep Peach – a new color as of March 2017 for deeper skin shades ($28 each)
READ MORE: How To Apply Concealer Correctly Under Eyes