Global Trendsetters: In Argentina, The Ladies Go Loco For Converse Chucks
Off the runways of Paris, Milan, and New York, you'll rarely see such a fashionable people as the residents of Buenos Aires. Porteños, as they're called, have an impressive eye for style, and watching these beauties strut their stuff in their cutting-edge wares can make even the swankiest American girl feel, well, a bit underdressed. But if you can't beat 'em, join 'em--at least, that's my motto when it comes to fashion. So what's taking Argentina by storm right now? Converse sneakers. These classic shoes will never really go out of style for good--but they certainly have their ups and downs. And it looks like right now, Chucks are on the upswing in Argentina. After a local band featured a pair of Converse on their cover last year, everyone's started wearing--and, more importantly, talking about wearing--these All-Star sneakers. Fortunately, the shoes hitting the streets look a little better than these worse-for-the-wear zapatillas. In fact, Converse got word of their popularity and has flooded the Argentine market with Chucks of every color, make, and model. You can do pretty well in the States, too, though.  The porteñas tend to rock their Converse with skinny jeans, sort of like Giselle here:   You get the idea. Chucks look great with skinny jeans and a cool top. And if the Argentines are doing it, you know it works. Get Yours: zappos.com and converse.com ($79 - $100)
Happy Hour Quick Fix: Office Drawer Essentials
It's Thursday at 5:56 p.m. You look haggard, feel exhausted, and have a 6:30 social engagement. What do you do? If you live within walking distance from work, you probably hit home for a quick dress-down-and-make-up session. If you call the suburbs home, however, or live in a major US city, there's no time for such luxuries--you'll have to drag your bedraggled workself straight from desk to drinks. In New York City, where everyone commutes to Manhattan from an outlying borough, this potentially unsightly scenario unfolds before every happy hour, hot date, or business dinner. That's why it's crucial to keep certain makeup essentials in your desk. Here, the six products that will save your face before it hits the town: Smooth away those dark circles and make your blemishes disappear with the Tarte Eraser smooth concealer ($19). Vitamin E, safflower oil, chamomile, arnica, aloe, and other wholesome ingredients promise to address any beauty issue plaguing your 9-to-5 face. Quickly skim this Becca Soft Touch Blush ($29) across your cheekbones to brighten your look. The extra-soft matte finish is perfect for evening events. Reapplying mascara without first washing your face will only lead to clumping, but you can retouch your eyes with Tarte Indelible Wink liquid liner and shadow set ($22). Play it safe for a business dinner with a dark, straight line, or catch your date's eye with a smudged, sexified look. A dime-sized dab of Citre Shine miracle anti-frizz serum ($4.43) will leave your hair shiny, smooth, and smelling wonderful. Keep coffee stains at bay with Sexy Smile ($28.50). It's a teeth whitener and lip gloss in one, so your teeth will be bright and your lips will be feel smooth, but your drawer will stay miraculously uncluttered. 6 pm, and you're done! Now, just rub your wrists against a magazine perfume add, pop a breath mint, and hit the town!
Get It Before It's Gone: Elaine Turner Patent Leah Clutch
A few months ago we attended the launch of Elaine Turner's Spring 2009 handbags--but we ended up more taken, in many ways, with the designer's current collection. Turns out we aren't the only ones crushing on her style: these Leah clutches are flying off the shelves. With its adorable rose decoration, the patent version ($195) is perfect for a night out in the city; the more staid lizard-skin embossed clutch ($195)would make an impression at a dinner event. Also, don't forget your loved ones this holiday season: these darling numbers are a perfect present for the fashionista sister or best friend in your life. Get them before they're gone at ElaineTurner.com.
Ask SheFinds: How Do I Keep Suede Boots Safe In The Winter?
A reader recently asked us a really, really good question that couldn't be more appropriate for this time of year: I just bought a pair of cute suede boots--so cute, in fact, that I never even stopped to consider that snowy streets would probably ruin the suede. How can I winterize my boots? We totally feel you on this one. For even in all our wisdom, SheFinds sometimes falls for the "too cute for practical concerns" purchase. Case in point: last month I ordered the Minnetonka Moccasins boots ($80) only to realize they wouldn't make it through a nasty New York winter without disintegrating in the salt and slush. Fortunately, there are ways to minimize--though not entirely eliminate--the possibility of damage from brutal weather. First order of business is waterproofing the boot. Try ReviveX Nubuck Suede and Fabric spray ($7). Since it's made especially for porous fabrics like leather and Gore-Tex, it won't darken or stain the fabric. Spray from about 12 inches away, wait for the boot to dry (about five or six hours), then spray again. That's a double coat, ladies--don't scrimp on this detail. To make sure your tootsies stay not only dry but warm, get some fleece insoles ($9), which will immediately make your boots feel more cozy. Have a question for SheFinds? Post it in our forum, and we'll get on the case!
Botox For Eyelashes? Thanks, But We'll Stick To The Mascara.
Yesterday the New York Times published an article about how the makers of Botox will soon release a non-cosmetic (read: medical) product that stimulates the growth of longer and thicker eyelashes. Latisse, as this concoction is called, derives its formula from the company's glaucoma eyedrops, which reduce pressure and swelling in the eyes--and as a side effect tend to send patients' eyelashes into overdrive. However, other, less pleasant side effects include red itchy eyes, darkening of eyelid pigmentation, and permanent change of iris color from light (blue, green, hazel) to brown. And at $120 a month for this creepy alchemy, we'll stick to the mascara, thank you very much. Lash wands have come a long way, baby (maybe not as far as glaucoma eyedrops or wrinkle-freezing chemicals, but still), and they're among the beauty products that give the most bang for your buck. Here are some of our favorite mascaras: When Maybelline came out with Define-A-Lash ($8) last year, we wondered if anything could really improve on Great Lash. But we soon fell in love with the spiky brush that makes clumps a thing of the past and reaches even your teeniest lashes to create a clean, long look. I switched to Define-A-Lash last year, and my own mother (a Great Lash user, I might add) actually noticed the difference in lash-length and definition. Speaking of Maybelline, makeup artist Carmindy from TLC's "What Not to Wear" swears by the company's Lash Stylist Comb ($6), whose extra small brush allows you to get in deep and hit every lash (including those little lower ones) without painting your skin black, too. If you can wait to blink while it dries, Rimmel Super Lash Mascara ($3.49) is a great everyday product. Its liquid formula allows for unlimited applications that give incomparable length to lashes, and the extra-black color creates an intensity we haven't found with any other product. Plus, did you see that price? I can barely find a Diet Coke for under $3.50 these days. And check out our latest Lip Balm Guide for more beauty products that will keep you looking your best.
MomFinds: New Law Threatens Small eco-labels, So Buy Your Baby Green While You Can
A new law intended to protect children by testing for lead in products made for kids is in fact threatening eco-friendly labels that already produced chemical- and pesticide-free clothing for tots. The regulation sound good in theory, but in reality testing for lead costs a mint--upwards of $15,000 depending on how big the clothing line is--and many fledgling green designers fear that the Consumer Product Safety Act will put them out of business when it goes into effect in February. MomFinds supports companies that produced safe products for babies before the government required them to, and we think you probably do, too. Hit up these small and socially-responsible business while you still can! Can You Dig It? Organic Apparel makes 100% organic clothing for babies and toddlers, including adorable onesies like this "organically grown" number ($24), which comes in sizes that fit kids up to 24 months. Tiny two-pieces like this camping tee and red-striped shorts ($39) are emblamatic of the Garden Kids look, which started when a handy-crafty mother began sewing nature-inspired designs onto her kids' (all-organic cotton) birthday party outfits. Massachusetts-based Toby + Rei designs a full clothing line for kids, all hand-dyed and made of sustainable fabrics like bamboo, including pants ($24), hats for infants ($9), and grafic tees ($24-$28).
Alternative Earth's Tees Are Incredible – And Not Just Because They're Eco
You know that t-shirt that makes your boobs look hot, your stomach tight, and your look the perfect combo of casual and cool? Well, in 1996 designer Greg Alterman founded Alternative Apparel to produce just that--infinite versions of a classic American garment. And while he'd probably say they've been fulfilling that mission quite well, thank you, ever since then, we think that only in 2007, with the launch of the eco-label Alternative Earth, did the company finally achieve perfection--with the 100% organic tee that not only flatters your form but looks after Mother Nature, too. The Organic Tunic ($28) is sheer and extra-long, and comes in short-sleeve as well as tank options. The Raw Edge Tee ($22) is pre-fabricated to look like that favorite top you cut the neck out of when you were fourteen. I wear it to yoga (sans headband) or over a colorful tank-top for an 80s night out on the town (also sans headband. Always sans headband). A portion of proceeds from Alternative Earth purchases (which are, admittedly, pretty darn affordable) go to fund the Wildlife Trust, so you're not only helping Mother Nature, you're helping her creations, too. Check out the website to see other shirt designs, and the 2009 line of hoodies, sweats, and other organic loungewear.
The Beauty of Mother Nature–All Up On Your Skin
If Santa duties trumped current events on December 25th, you may have missed the New York Times' fabulous piece on produce-inspired beauty product. Apparently, the latest miracle ingredient in cosmetics doesn't come from some far-flung jungle but from the supermarket: carrots, apples, spinach, tomatoes and other fruits and veggies have all been reinvented as key players in the industry's new skin-care lines. SheFinds thoroughly approves of this idea--because isn't it comforting to really know what you're putting on your body? And isn't it just so darn green to use the Earth's bounty for all it's worth? Here are some of our favorite natural-products suggestions:Yes To Carrots Face and Eye Make-Up Remover ($9.99). This gentle cleanser combines Vitamin-C-rich carrots with Dead Sea mud to effectively remove make-up and infuse skin with all kinds of mineral goodness. The company also makes shampoo, face cream, and body lotions--all natural, all cruelty-free. Too Faced Lip Injection ($18.50). Chilli pepper is another ingredient enjoying a new-found non-culinary fame, according to the Times. When applied to skin, it increases circulation to the area, dilating blood vessles and causing plumpness. Rumor has it that celebs are loving this secret technique for creating killer pouts. Apples aren't just for slicing up and smothering in peanut butter anymore. Now the extract of this classic fruit is a key ingredient in gentle make-up removers like Dr. Brandt Lineless Foaming Cleanser ($40). According to a scientist reporting to the Times, apple essence "helps soften the skin, brighten the skin and even out discoloration." Which is good news for everyone here in the Big Apple--and other major cities--where pollutants in the air can do a real number on skin.
Get That Warm, Fuzzy Feeling: Give A Doctors Without Borders Charity Gift
Donating to charity in a loved one's name is easy, and a good deed as well. Choosing which charity to give to, however, can be tough. Is the organization reputable? How much of your money is actually going to find its way to help people in need? What cause needs the most support right now? Since 1971, Doctors Without Borders/Medicines Sans Frontieres has dispatched thousands of doctors to 60 countries to assist people whose physical survival is threatened by circumstances of war, neglect, violence, and catastrophe. In the world we live in, providing thorough healthcare ranks among the most crucial humanitarian efforts out there.Send an e-card to loved ones to let them know a contribution to Doctors Without Borders has been made in their name. Peruse our Last Minute Guide for other charities that need your support.
A Strapless What? G-String? But How…?
No one can argue that SheFinds is a fan of panty lines. We've told you about Jockey's Modern Brief ($8.50), a silky-smooth, seamless underwear; the C-String which is held up by a just small wire in the back, and nude underpinnings to keep it neat under white. So you'll understand why our immediate reaction to Shibue's Strapless G-String ($25-$30) sounded something like, "Yeessss!" rather than, "Huh?" It wasn't until we read the company's advertising of the product as being "perfect for form-fitting dresses, pole dancing, and sunbathing" that we started to wonder if we're really the kind of clientele who'd enjoy such a product. Before we talk about our experience with the uber-bizarre strapless g-string, though, let's take a little look-see at it: A little creepy, right? Like a pretty maxipad, or the most popular panties of a magical stripper. Here's how it works: the front and back of the panties are stuck to the body with double-sided tape (one just hopes it's super adhesive). But before you judge Shibue Couture's little oddity, check out the reported improvements in panty line exposure: BEFORE AFTER SheFinds knows that g-strings sometimes show - they escape from your jeans when you bend over, or they squeeze your lovey-dovey-handles just a wee too much, giving you two sets of hips. And in that sense, Shibue Couture has invented a smart ware for the modern woman. On the other hand, I'm wearing my strapless g-string right now, and evaluation in the mirror reveals that I look...kinda kinky, and more than a little absurd (though we imagine hubby will really dig the new skivvies). Whether you simply want fuller coverage or just need more skivvies options, check out our guides to the best underwear, the best sexy underwear, and the best bras out there.
Jewelry From Green Karat For Your Tree-Hugging Loved One
Last week, we shared a few green gifts you could buy instead of non-eco items. This time around, we'd like to show you some jewelry that'd be ideal for your environmentally aware friend, spouse, or famly member. What: Green Karat Recycled Titanium Sylph Earrings, $250Why: Green Karat makes exquisitely hand-carved jewelry that's so lovely we don't really need to mention its green credentials to sell you on it. But we will, because it will really be the icing on the cake for your tree-hugging loved one. All GK products are created from 100% recycled post-consumer materials. We love these modern titanium Sylph Earrings, whose price includes a voluntary carbon offset tax. Or opt for the 18-karat gold Lobe earrings ($175) - a careful and delicate rendition of a natural shape. And Green Karat offers second day shipping, so you're guaranteed to receive in time for the holidays. Get Yours: greenkarat.comCheck out our Jewelry Staples Guide for pieces that every stylish woman should own.
Heading To Reykjavik? What To Wear So You Won't Freeze Or Look Bad
I just booked a trip to Reykjavik. I know, sounds crazy, right? In fact, there's plenty to do and see in Iceland in the winter, but...what will I wear? This trip has brought up some real wardrobe issues. For one, it's gonna be cold there--real cold--but since I'm traveling with a new boyfriend, I need to look good. And, my clothing needs to be supremely comfortable since we'll be walking around all day. So how do I plan to stay warm, cute, and cozy? Hint: it's all about the outerwear.On a trip you can only bring one coat, so make sure it's one that goes with everything in your suitcase. A dark, solid color like chocolate or black is not only sophisticated but also infinitely matchable. This Tommy Hilfiger Down Anorak Jacket ($129.50, was $185) has a flattering cut that keeps it out of the fat puffer category. Since I'm going with simple on the jacket front, I want to complement the outfit with something eye-catching, and a little funky. These fabulous and affordable Minnetonka Moccasin boots ($80) are perfect for exploring both Iceland's frozen frontier and Reykjavik's stylish streets. All Minnetonkas come with a padded insole for comfort, and the fact that they're lace-up means I can sport them over jeans or with a dress and tights. This Striped Felix Rey Scarf ($75, was $150) breaks the monotony of the black jacket/black hood--and it's made of uber-soft cashmere. Or I could brighten up the ensemble with a Ruffle Scarf from the Gap ($24.95).Looking cute on snowy streets may be all about outerwear, but staying warm out there requires smart layering. I eschew the awkward long john in favor of a snug-fitting cotton tank from Bella ($15). It will keep my core nice and warm, and when I finally settle into a toasty restaurant for dinner and strip off all those extra layers, I won't end up having to dine in skiwear. These 66 Degrees North Long Johns ($90) are made of 100% merino wool, meaning they're incredibly warm and incredibly soft at the same time. The company is Icelandic, so I trust them to know about layering against the bitter cold.
Favorite New Rolling Suitcases
A few months ago, in our piece about packing for a weekend getaway, we showed you our favorite duffle bags with wheels. Now we've moved onto rolling suitcases--amazing new ones have come out this Fall. Some of these pieces are small enough to bring on a plane, while others can comfortably fit your entire wardrobe; but all of them are just cute as can be. Props go to Travel + Leisure magazine for trying out a bunch of rollaboards and choosing the best, cutest ones. Inspired by their piece, we wanted to bring you a few of our favorites; and check out the full T+L article for the top ten rollaboards to keep your journeys fashion-forward. The lightweight, 24", polycarbonate Titan XL hard case has a removable toiletry bag, as well as wheels that rotate 360 degrees for easy mobility ($680 at Bloomingdale's). Announce your arrival in style with this Kate Spade DeGaulle Check-in ($695)--a crisp, clean clothing organizer with 14-karat gold hardware. Diane von Furstenburg, obviously a big-time traveler herself, makes this sophisticated leather Retro Fog carry-on ($27), which expands 2.5 inches to accomodate that fourth pair of shoes you know you shouldn't bring...but will.
Until They Come Out With A Wii Eco, We'll Have To Settle For These Earth-Friendly Gifts
You may love the holidays (who doesn't enjoy gifts, decorations, family celebrations?) but they're not always Earth-friendly. Think about all that wrapping paper, Christmas trees, and highway and air travel back to the ancestral home--that stuff hurts the environment. Badly. But since there's little you can do about the trappings of gift-giving, focus your efforts on making your purchases as eco-friendly as possible. Here are a few green gifts we really like. EcoTools Bamboo Five-Piece Brush Set ($11) includes tools for applying eyeliner, blush, shadow, and lip color - each with sustainable bamboo handles and cruelty-free synthetic hair bristles. At 15 inches wide and 7 inches deep, this Heather Heron Acacia Clutch ($375) holds all of your essentials while maintaining a sleek, modern look. And, don't tell, but it's made of European hemp, a favorite fabric of not only earthy kook Woody Harrelson but also of everyone who knows anything at all about green fashion. As the first cosmetics company to receive USDA organic certification, Origins knows something about eco-friendly bath and body care. Their products are made from organically-grown farm products, which means there's no toxic chemicals or pesticides in the stuff you're smearing all over your face. The Alternative Roots gift set ($48.50) contains ginger body products that offer an unexpected and refreshing scent for the holidays.
Laundry by Design On Sale and Going Fast At Your Mother's Favorite Department Store
This weekend I did something I haven't done since I was a ten-year-old living in the suburbs and shopping by force at the whim of her mother - I went to Lord & Taylor. Most of the clothes are what you thought they were (old-lady-like, uninteresting), but Laundry by Shelli Segal surprised me with some fabulous winter coats and flirty cocktail dresses. Plus, they're on sale for up to 60% off! I fell in love with the Melton Spread-Collar Jacket with Wide Belt ($215, was $430). The store was running out of sizes and colors, and the saleswoman told me that online's the way to go. This sleeveless embellished v-back dress ($220, was $275) is an ideal alternative to black for those upcoming parties. For less than $100, this office-appropriate belted empire-waist dress ($95.40, was $265) is a steal. And you'll have cash left over to score some new work shoes to wear with it.
TOMS Wrap Boots Are Ethical, Charitable, And Weird-Looking
What: TOMS Wrap Boot, $118Why: Slide your foot into the sole, wrap the elastic around your calf, fasten the 100% cotton top with velcro, and voilá! You have one bizarre and cruelty-free boot. Plus, for every shoe you buy, TOMS Shoes gives a pair to a child in need. But Would You, Really: The question remains, however, would you be willing to spend over $100 on a DIY shoe that resembles an ace bandage? And how exactly does it stay in place? We haven't had the pleasure of trying these out yet, but if someone out there has, please write to us and let us know if you like them, and more importantly, if they stay up! Get Yours: tomsshoes.com
How To Dress For A Date With An Environmentalist (In Eco-Friendly Clothes That You'll Actually Wear)
Gotta love those environmentalists: so good, so aware, so responsible. And if you're going on a date with one--like I did recently, no lie--you'd better be ready to defend your green creds. There's no easier way to practice sustainability than to wear it. Here, SheFinds shows you how to prepare for your date so that you show up looking sexy, stylish, and absolutely righteous. Toggery just released a gorgeous fall collection of all-organic dresses, tops, and jackets in rich colors. And they're softer than you could possibly imagine, made of innovative new fabrics like bamboo and micro modal. We loved this Chloe Cowl Dress ($92), which falls beautifully over the body (Toggery puts special emphasis on fit) and has stylish 3/4-length sleeves. Or top a little black dress with this burnt orange Halrow Cropped Jacket ($149). Simple, elegant clothes demand big, funky accessories like this Verderocks gold bracelet ($140) and Rachel Essex recylced chain necklace ($120) from fashion-conscience.com. They're all ethcial, recycled, vintage, or otherwise sustainable pieces. I saw a handbag by Vegan Queen at a green fashion show last year, and couldn't believe it wasn't leather. This small bowling bag ($695) boasts antique brass details and Louis Vuitton-style embossing, and is the perfect complement to your stylish - and 100% sustainable - outfit. So when your eco-crusading date details all of his proud achievements, you just let him know that you're the greenest and best-dressed gal in the room.
The His Is Hers Shirt Makes More Sense Than Taking His
What: Clairidge + King His Is Hers Shirt, $89 Why: Is there anything sexier (for a man, anyway) than a woman wearing his collared dress shirt, padding around the apartment barefoot, too-long sleeves casually rolled up and too-long shirttail just barely covering her bum? Claridge + King thinks not. In fact, they've built an entire business on that supposition. Their foundational product, a made-for-her dress shirt, looks like his, but is modified for her: a softened collar, an additional mid-sleeve button to keep rolled-up cuffs in place, and an extra-long cut to flatter the female form.Get Yours: clairidgeandking.com And check out our suggestions on what to pair with another menswear fave: the boyfriend cardigan.
What to Wear to the Gym: SheFinds Gets in Shape for Fall
Everyone talks about getting in shape for the Summer, but today I had a revelation: if I keep myself fit right now, I won't have to work so hard to get that bikini body back come April. Plus, the beach isn't the only place a gal hopes to look good; there's also the bedroom, where you want to feel confident there all year 'round. And what about winter getaways to Caribbean countries? To inspire myself for my all-Fall-long, three-times-weekly workout plan, I went shopping for athletic gear that is both functional and cool (because as a particluarly image-conscious ex-boyfriend of mine once so wisely declared, "You gotta have style, baby--even at the gym."). So here are my recommendations for anyone who's ready to get/keep her herself in shape.First you gotta stop the jiggle. This Nike Revolutionary sports bra ($49) may be more expensive than their original Determination model ($35), but its innovative new support system (there's a strap between the cups that increases motion control) keeps me comfortable even at a sprint. For anyone who runs or uses an eliptical machine, this is a must. Save cash and trust these Champion activewear tanks from Target ($9.99). As long as you're not a marathoner or tri-athelete, you don't need any of that high-tech wickaway stuff they try to sell you. A lightweight loose-fitting top will do. These Adidas Essentials capri workout pants ($49.99) will keep you cool throughout your workout, whether in the weight room or on the track. And they're cuter than athletic shorts--you won't look half bad on your way home, either. After I sprained my ankle for a third time back in high school, the kind folks at my local runners' store recommended a superb, little-known brand of sneaker that I've used ever since. Unlike some major companies, Brooks actually takes the particular build of female bodies and joints into account when designing their women's line. My current favorite for jogging is the Axiom 3 ($90), which are lightweight, flexible, and cushy; but for athletes with low arches or a tendency toward rolling ankles, the Adiction ($100) is the sturdy sneaker that finally kept me on my feet as a kid.
Where Can I Find A Monogrammed Tote?
SheFinds Reader Question: I am looking into maid of honor gifts, and I am interested in finding a monogrammed tote. The only ones I've seen and liked are what is featured at Lands End, but I want something a little more stylish than what is offered there (more glamorous than preppy). Do you happen to have any recommendations? Lillian Vernon monograms their totes ($25) for no extra cost, and these leather bags--particularly the black version--are quite sophisticated. If you're looking for something a little more fun, Pottery Barn will personalize their leopard or zebra-striped tote bags ($49) for no additional cost. But here's another idea: pick a stylish tote you love, like this Stella McCartney LeSportsac Everyday tote ($350), and get it monogrammed. It really doesn't matter whether the design includes a special spot for monogrammed initials. You can be creative! Embroidery companies across the country specialize in monogrammed initials onto everything from sheets to bags. I'm sure there's one near your hometown, but just in case, here are a few services to get you started: The Monogram Shop (East Hampton, NY), Amazing Monogramming (Wheatland, WY), A Little Bit of This (Chicago, IL), and Michelle's Monogramming (Cypress, TX).
Eco-Dent Toothpowder Saves You Money, And Won't Get Confiscated At The Airport
What: Eco-Dent Toothpowder, $6.50Why: In these times of burgeoning economic recession, stringent airport security, and new-found environmental awareness, certain products are struggling to keep their niche in the market. Others, forgotten over the course of time through no fault of their own, are suddenly coming back into vogue. Today, we bring you one such item, so brilliant we can't believe it almost faded into non-existence: toothpowder. New developments are giving Americans compelling reasons to re-remember this time-tried product. For one, it's not a liquid--so, unlike toothpaste, you can take it on the airplane with you. It's far cheaper than toothpaste, and lasts for over 200 brushings. And it's eco-friendly for the same reason - instead of buying four tubes of toothpaste, you can purchase just one little bottle.Get Yours in mint, cinamon, anise, or lemon-lime at eco-dent.com. And check out our Teeth Whitening Guide for at-home ways to get and keep a brighter smile.
OPI Likes The Earth, We Like OPI …. It All Works Out
What: Sephora by OPI nail polish, $9 Why: Let's face it, cosmetics aren't always eco-friendly. Ever since humanity began caring about such things (when was that? In 2007, I think), its record on animal testing and toxic ingredients has been problematic at best. But now, some companies are taking steps to eco-ify their products. Foremost among them, OPI nail polishes, who in 2007 replaced three harmful chemicals in its famous lacquers with more environmentally-friendly substances.SheFinds has always loved OPI's bright, bold, high-quality polishes (we inducted their long-lasting, no-chip, quick-dry, funky-named formula into our Hall of Fame in March)--and now we're pleased to report that none of the ingredients will kill baby seals in the Arctic--or give your nails that stripped, dull, poisoned look when you remove the polish. Get Yours: Sephora
Halloween Costumes: Be Heidi Montag…In Her Own Tacky Clothing
Why dress up like Heidi Montag for Halloween? Because it's so simple, fun, and cheap--just like Heidi herself! (Sorry, I had to say it.) First, buy yourself a hideous Heidiwood-esque garment. Her collection isn't available online, but Wet Seal, always a reliable vendor of garish wares, sells fabulous imitations. Particularly evocative of Montag's--um--unique style are this zebra halter top ($22.50) and foil animal print dress ($22.50). Then, add some simple black pumps -- get an affordable version that you'll also be able to use at the office, like these Kenneth Coles ($40). Accessorize with an unattractive metal-studded plastic purse ($14.50) and an over-the-top pendant necklace ($8). Don a honey-blonde wig from Ricky's Costume Shop ($20), apply lots of dark eyeliner, and BINGO! You're Heidi. And not that semi-fictional Heidi from The Hills, but real life Heidi in all her glory - the gal who thinks patent leather is all the rage and animal prints are haute couture.
Week Of Hair Help: Fix Split Ends Without Running To The Salon
In these rough economic times, we've all had to rethink our spending habits, finding creative ways to save money without sacrificing fun, food, or style. One expense that I've recently been considering: haircuts. For one, they're pricey--fixing your 'do can cost anywhere from $40-$150. And, if you have long hair (like me) or bangs (like half the population), it's a frequent expense, too. After about six weeks, even if my style is still holding its shape, split ends ruin the look, sending me back to the salon for a trim. Who can afford so many haircuts?Fortunately, three products -- Citre Shine's Split End Mender ($5), Herbal Essences' Long Term Relationship ($3), and White Sands' Porosity ($16.95), -- are as anti-split end as I am. Split ends and breakage occur when hair is dry or brittle from styling, or simply damaged by being brushed and pulled back into a ponytail. Both of the leave-in "laminates" (Herbal Essences and Citre Shine) keep your hair healthier for longer by strengthening the follicle and protecting it against the effects of heat. And they're both fabulous. Choose by smell: the Herbal Essences' cream boasts a typically strong and fruity aroma; Citre Shine's version gives off a more citrus-y scent. White Sands is a spray that controls porosity--the measure of void spaces in a material, like hair--by penetrating the follicle and filling in those voids, thereby evening its texture. It's a pretty penny for something that goes on your hair, but it certainly gets the job done (and can cut down on frequent trips to the salon). Get Yours: Drugstore.com and beauty-mart.com.
Cool Boots – And Comfortable, Too! Shhh…They're Aerosoles
OK, I know I posted about this same topic, with some chagrin, almost a year ago. But I'm going to do it again, because in these past several months, I've become an even bigger Aerosoles fan than before. Winter's on its way, and you all know what that means: BOOTS! I recently hit up an Aerosoles store to see what their surprisingly adept designers are offering for autumn. These suede Sarasota Flats ($160) come with the requisite trappings of comfort: flexible rubber sole, extra foot cushioning, and a flat-but-not-too-flat 1-inch heel. But don't let that stop you from buying them. Check out that three-buckle detail. And all those funky colors. These 3" wedge Gather Round Boots ($120) are exactly the same as last season--and for good reason! I bought my chocolate brown beauties at the end of last winter, and fell so hard in love with them that I wore them well into spring. Get Yours: Aerosoles.com
Celebrity Denim: SJP And Katie Holmes In Current/Elliott Jeans
Am I the only gal who, with these dropping, fall-like temperatures, has felt a little confused about what to wear? I mean, what's the deal with jeans this season? Is it skinny tight? Boyfriend slouch? Boots on top? Or are boots on the bottom now. I just haven't been able to decipher the latest trend for denim. Until now. SJP and Katie Holmes have come through this fall 2008 with Current/Elliott jeans. Here's Tom Cruise's recently redesigned wifey rocking the company's Skinny Slouch ($216) and Wide Leg ($282) jeans. Katie has been favoring Current/Elliott since at least August, when we included her in our post about the trend of women wearing their husbands' jeans (or at least $200 scruffy lookalikes). And here's Sarah Jessica Parker styling Current/Elliott's Hickory Stripe jeans ($206). So how's denim looking this fall? Well, like a pretty open field. We've got 2008 hipster, 1970s hippy, and casual stripes. Just remember - as long as your boyfriend can wear your jeans, you're on the mark. And check out our latest Denim Guide for SheFinds readers' favorites.
Solution: Not Your Run-Of-The-Mill Dry Skin Savers
In some ways, I've been blessed with good skin. I don't break out, and tend to tan rather than burn. But I also suffer from very dry skin. Like, the kind of skin that makes me the kind of girl who puts on hand lotion after every wash, sees her legs get ashy if they go a few hours without hydration, and goes crazy if moisturizer is not at my disposal every minute of every day. For those of you who know my pain and sorrow, here are a few dry skin helpers you might not know about. What's On My Desk Now and Always. Only upon locating its online retail locations did I realize Soft and Beautiful SKIN Hand Cream ($6.38) is aimed primarily at African American women. But this is one white girl who loves the almond, cocoa, and shea butter moisturizers in this lotion. I use it at least seven times a day. No exaggeration. And it smells great, too. When I'm Stressed at Work. I spray Prana Refresh Mist ($26) mist on my face and neck and whatever other skin is exposed. This cool, refreshing, and moisturizing spray feels great, and hydrates as well. The Best Moisturizer Out There. On the backs of my arms, I have such rough, dry skin that I asked a doctor about it for the first time when I was seven years old. It's that rough. Ever since then, I just put up with it, doing my best to exfoliate and moisturize, using all kinds of "high-potency" creams, but without any success at all. Until now. AmLactin XL ($33.75)--once prescription-only, now available to everyone--has a patented blend of three alpha-hydroxy moisturizers that works better than other products. Way better.
She Finds Was There: 1407 Broadway Party With Lydia Hearst…
...and it was swanky, swanky, swanky. Fashion week is only as good as its after parties, and last night's shindig, which celebrated the 58th anniversary of iconic Fashion District building 1407 Broadway (yes, in Manhattan, buildings have birthdays, too) was quite the scene. America's Next Top Model winners Jaslene Gonzales and Caridee English were guests, though honestly I couldn't distinguish them from among the crowd of other incredibly good-looking, well-heeled folks. Someone I did spot: Tommy Hilfiger, who arrived late in the game, flanked by large men in dark suits. Anyway, as you can imagine, I was snapping shots left and right. Here, some of my favorite outifts from the night.How great is this burnt orange, vintage Pierre Cardin coat? Obviously you can't find it around these days, so try wearing this bright (slightly less-bright, but bright nonetheless) Cole Haan ($389.99) over a dark or neutral-toned fitted dress. The way this woman so naturally strolled over to the photo wall and struck a pose, I'm going to have to assume she's a model for the designer Zahra Saeed (also present last night), whose clothes she was sporting from head to toe. Saeed's collection comes out in February, but until then you can get a similar look with a light-colored super high-waisted pencil skirt like this one from Roberto Cavalli ($1,275).I noticed these chunky gladiator sandals from far away and even abandoned my gin and tonic to catch their owner as she walked away. Believe it or not, they're from Forever 21--and they're not available online anymore. Linea Paolo makes a similar version - on sale for $65 at Nordstrom.
She Finds Was There: Elaine Turner Spring Collection Launch
SheFinds was at Elaine Turner's 5th Avenue showroom this week to check out the designer's new Spring designs for handbags and shoes. Her style is often described as "usable resortwear", meaning that it's simultaneously chic, summery, and (at least in theory) pragmatic, too. The 2009 Spring line is more structured than the Fall collection you'll see below, and reflects the bright colors we've been seeing on the runway recently. All items include the sort of woven/wicker material in their designs, which is what gives them that undeniably resort look. The 2009 shoes were also darling, very feminine ballet flats and sophisticated sandals with metal hardware details. All quite nice. Unfortunately you won't be able to see this stuff until January, when it comes out. Until then, here's a selection of Turner's current Fall 2008 collection, which is, after all, what you should be thinking about now. (Personally, that 6-month anticipation period between Fashion Week and next season is a little baffling to me).I love the fuschia of this Lainey Voyager Croc Model ($595), which has a custom bamboo turnlock, copious interior accessory pockets, and a groovy pink lining. And this Andie Distressed Leather Carryall ($198) looks to me less like resortwear and more like a travel item, with its detachable shoulder strap, exterior and interior pockets, and--again--that groovy signature pink lining. And you'll be the belle of the glam ball in these gilded wedges ($250). No pink lining on these, though, I'm sad to say.
Fashion Week Diaries: Gottex Shows Caped Swimwear, Audience Gets Rowdy
Before the lights went down for the Gottex swimsuit show last night, the tent was a mess. It was chaotic, crowded, and, eventually, downright vicious. Somehow, the seating just didn't seem to work out as people expected. Front row folks found themselves forced into second or third, late-arriving celebrity types found a full front row, and lowly fashion blog writers found themselves...standing in the back.And it was a long show too, ranging from bikinis to one-pieces to bikinis with ruffles to bodysuits with capes. A lot of time for this girl to be perched atop the new four-inch heels she bought to blend in with the crowd.The suits were haute couture, often metallic, always architectural in form. The preponderance of black and white again proved what I noticed in the audience at the Terexov show the other day, which is that two-tone is still a strong trend. But my favorite outfits from the crowd last night weren't structural black-and-white dress versions of the swimsuits onstage, but rather bold, colorful, sometimes even frilly dresses. I counted at least five people sporting these solid, textured, eye-catching dresses, all in bright colors - yellow, green, orange, and bronze. Susan Monaco makes a nice collection of similar dresses ($165): For the more ambitious - and affluent - among you, so does Valentino ($3,490): And the braided neckline on this Tory Burch dress ($495) is a nice take on the ruffled collar. And I just love this color! Even the night's most lovable front row attendee, Dr. Ruth, was feeling the colorful vibe in this vibrant turquoise shirt:
Fashion Week Diaries: Lindsay Loved Terexov … But I Didn't See Her
Forgive me SheFinds readers, for I have sinned. I failed to see Lindsay Lohan at yesterday's Terexov runway show. There was a small hullabaloo before it began--cameras flashing, a huddled group entering, some hushed whispering in the crowd--and I heard LiLo's name thrown around. Then the lights dropped, the music pumped, and for the life of me I just couldn't see her! Alexandr Terexov is an up-and-coming Russian designer whose flowing, feminine dresses wowed the audience...so I'm not surprised she dropped by. OK, so I missed Lindsay, but I did spot a few trends while I was there - and it didn't look much like what was going on on the runway.Black and White. It's still in. Despite the generally colorful outfits the majority wore, black and white was still a frequent sighting, from a bizarre modernist pants-suit like this one from International Concepts ($60), definitely not my favorite ensemble of the day,... ...to the now standard white shirt/black vest combo (Aqua makes a nice version for $54), which I assume to be the refuge of girls who forgot they had to hit the tents today so they stole an undershirt from their man and went running to Bloomingdale's to snazz it up... ...to the black-and-white evening dresses interspersed among Terexov's otherwise pastel-inspired collection. This Elaine dress from A.B.S. ($229) is reminiscent of his elegant creations. But the most noticeable outfit at the Terexov show? NYC stylist Rosemary Ponzo's fuschia tunic with Shriner-esque headress:The woman was sitting near me (no, I'm not in this picture, alas), and I couldn't take my eyes off her getup. Or maybe it was just the pink-and-green hat that was blocking my view. In any case, I wouldn't know where to find clothes like this, nor would I recommend wearing them, so I'm just going to leave you with her image (and not a link to look like her).
Two For The Price Of One: Necklace Shirts Return
As someone who favors giant, flashy necklaces--I've got massive amber ones from Morocco, vintage ones from the Sunday flea market around the corner, blinged-out chains from street vendors --I actually kind of love the new trend of necklace shirts. You've actually seen this before, a few years back: a decorative chain or chains woven into a shirt, like a permanent necklace. But the style seemingly sold only at low-cost retailers like Forever 21 and Wet Seal, making it both tacky and short-lived. Now it's been reincarated, way bigger and better. Check out this Flounce Tbd Necklace Trim Top ($78). I particularly like this stylized version from Delerius ($155), who also sells a similar necklace dress ($160). The trend even includes embedded chunky beaded necklaces that I so adore, as in this Prairie Eyelet Racerback Top ($185) from Luv Charlie. The only problem I see with this style is that you have to wear the same "necklace" with the same top every time. No switcharoos, no jazzing up that black Prairie top with a big red beaded number, or making the Flounce tank more sophisticated with a simple silver pendant chain. But all in all, I think it's a pretty hot look.
Guy Friday: Pierre Hardy's New, Elusive Man Bag (And A Few You Can Actually Find for Him)
I know we all get annoyed when guys ask us to stow their wallets, keys, books, and other items in our purses--and I also know it's near impossible to convince them that they should just carry a bag themselves. But I spotted something today that gave me hope --hope that YES WE CAN change the tepid relationship between man and bag.What: Pierre Hardy Fall 2008 Bags for Men Why: The City bag (left) and Sport bag (right) are simple, sophisticated, and, most importantly, masculine without being at all athletic. The leather is of superb quality, and you can tell just by looking that it is soft and supple to the touch, yet because hasn't been distressed in any way, the look is still clean. And not only are they handsome, but they'll give your man a place other than your purse to put his iPod, magazine and other brawny man-on-the-go items. Unfortunately, though, according to his representatives, Pierre Hardy's hot bags will likely not be sold online. You'll have to find your way to the designer's Paris showroom, or make the trek to your nearest Nordstrom, which just got them in stock. Like many dreams, this one--of a world where men don't feel like ladies just because they carry a purse--too, is elusive.But there is good news. While Hardy is the only guy we know desgning men's bags with such innovative shapes, more familiar alternatives do exist. If you're determined to make your man realize the joys of mobile storage space, try one of these great options: Christian Dior makes a mean messenger bag ($900). And the worn leather of Dolce & Gabbana's version ($708) is reminiscent of Hardy's bags. While this dark brown Cole Haan duffel ($273) offers a different--and far more affordable--take on the murse.
What's In My Bag: SheFindsCatesby Packs Flip-Flops For The Road
Having grown up with a mother whose "purse" (it'd more accurately be dubbed "black hole with straps") was cluttered with makeup kits, unpaid bills, half-eaten packs of peanut butter crackers, infinite credit cards, and anything else she could shove into its overflowing abyss, I'm pretty minimalist when it comes to handbags. So what you're about to see is, as far as I can tell, the bare minimum that a busy New Yorker who leaves her house at 8 and doesn't return til 11 can carry (embarrassingly unsightly wallet excluded).First of all, this is my bag: It's a vintage Italian leather purse that a dear friend from Milan once generously gave to me. I love it more than any bag ever! (For other great handbag finds, peruse our Guides to Really BIG Bags and the Best Bags Under $250.) Inside you'll find my on-the-go makeup kit. I love the Escama Studio Chica Rosa clutch ($39), hand crocheted in Brazil from 100% recycled materials, which I use to carry the basic cosmetics that help me transition from office to out at the end of the day. My essentials consist of Great Lash mascara ($4.49) and bronzer ($7.49) by Maybelline, pressed shimmer blush ($38) and eye shadow ($24 - mine's bronze, but it comes in 11 varieties) by Becca, tinted moisturizer with SPF 20 from Shiseido ($36), and some tinted lip gloss (not sure who makes mine, but I'm only using it because my beloved NARS ran out). I love vintage 1960s shades. I got mine at the Chelsea Flea Market in Manhattan--and while they didn't photograph well, they look an awful lot like these. For other vintage-inspired shades for cheap, check out 80spurple.com . Flip-Flops. You think I'm kidding, but I'm not. Carrying an alternative to heels keeps my feet happy when I'm walking to and from the train, which ends up being quite a lot of walking. And since they're Switch Flops ($37), I can change the straps from gold to silver to and funky colorful pattern as needed. I usually keep them in a plastic bag and stuff them in my purse.
Rompers 2008: No Longer Just For Babies
Here's the scene at my office yesterday. Two girls came in wearing similar shorts-and-top one-piece outfits. "Nice romper," Girl Number One said as she walked past the other girl's desk. "Nice romper you, too," Girl Number Two replied. "Oh!" cried our fashion assistant from across the room. "I have a romper in my closet, too! I'll wear it tomorrow!" Then I really charged up the conversation with my brilliant contribution of..."Uhh, what's a romper?" Welcome to Romper 2008. When you hear the word "romper,"you probably think--as I did--of the adorable onesie that small children wear to, well, romp. But my, how out of touch we are! Adult rompers are in right now, big time. Here's the Yumi Kim version ($129) that Girl Number One rocked yesterday: Yes, that top is connected to those shorts. Girl Number One looked fabulous in this little number, pairing it with gold platform wedges (though she says she also wears it with gladiator sandles). Girl Number Two work-ified this summery Diane von Furstenburg Lynnia Romper ($255) with a brown cropped jacket and flats. Sans jacket,it would turn heads at a garden party or Sunday brunch. Look--even Marc Jacobs has gotten into the romper action. Here's his Marc by Marc Jacobs Aster Stripe knit version ($138). I fear that this garment is one of the many that only looks good on thin girls with narrow thighs. That description--sigh--excludes me. But then again, I thought I'd never wear skinny jeans, either, and now my drawers overflow with last season's tighter-than-tight denim. And they're such cute little outfits--grab it from the closet in the morning and voilá! You're dressed for the day.
Brazilian Butt, No Implants Needed: The Ass Bra Debuts
I used to live in Argentina, and whenever I had a long weekend coming up, I'd travel to Rio, the most beautiful beach city in the world. It has lovely architecture, great music...and the most beautiful asses ever. Everyone has these big, round, perfectly-tanned butts, which they refuse to cover with swimsuits -- they exclusively rock thongs. It's ass city, all the time. I felt silly and inferior with my modestly-sized, fully-covered, totally mediocre derriere. But now I may just have to return to Rio. Because now I can go with a new, improved ass. How, you ask? With the Ass Bra. You just climb into this S&M-style device (that our friends at Styledash turned us on to), and voilá! Gravity-defying ass! Get that bubble butt you've always wanted. Take Copacabana by storm! Believe it or not, they make all kinds of this bizarre product. They even have ones that include a tummy-tucking panel in addition to the booty-boosting back. Below are options for women on the go--  just slide them up over your legs and you and your newly perky ass are ready for anything. Think this trend is bizarre? Check out the new butt-cleavage panties that entered the scene a few months ago, and the Brazilian Butt Lift phenomenon that caught on with women around the country.  Are backsides the new boobs? For less intimidating sculpting options, check out our Shapewear Guide.
A Remedy For The Awkward Moment You Never Wondered About: Life Elements Tela D'Amour Towelettes
Let me start this post with a caveat: its topic is sensitive, its content rather embarrassing. But SheFinds has never shied away from embarrassing questions (remember our bad breath and butt pimple posts?) and the gritty details of feminine hygiene merit discussion. So here it is.What: Life Elements Tela D'Amour disposable towelettes ($10) Why: Because, and I'm quoting the packaging here, "Moments of ecstasy are meant to be relished, not rushed. Instead of dashing off to the bathroom, extend the enjoyment of intimate moments by reaching for a Tela D'Amour." For the more literal-minded among us, the fine people at Life Elements have created a sweet-smelling moistened towelette for that inopportune instant right after gettin' down and dirty when things actually get, well, dirty. Being, as I am, a candid, tactless, and (I hope) amusing kind of gal, I usually try to offset the awkwardness of such moments by standing up and loudly declaring, "And now, Ladies and Gentlemen...the least sexy part of sex!" But while forthrightness has its place in the bedroom, so, too, does discretion. In the name of subtlety, sensuality, and ease (and, I'm sure, to the joy of all those sensitive men out there who just crave the post-coital cuddle) try keeping a pack of Tela D'Amour by the bed. Get Yours: C&M Couples website And for more answers to not-always-talked-about problems, check out our Guides to Embarrassing Questions 1 And 2!
Swimming's Good For You– Here's How To Keep It From Turning Your Hair Green
As a kid I swam every day in the summer, the slowest Mini-Mite on my sports club team, and observed my hair go from soft and silky to dry and crunch. My more tow-headed teammates had it even worse. Their locks turned from blonde to green from all the chlorine. As kids, of course, hair health didn't really matter to us. But I've recently taken up swimming again (it's too damned hot to jog!), and so I asked my hair dresser to give me a few tips:1. Chlorine is a drying agent, so apply a leave-in conditioner before you get in the pool, like Kiehl's panthnon and coconut oil-based product ($17), which moisturizes and protects your locks from nefarious chemicals. 2. Wash your hair thoroughly after every dip, using an anti-chlorine shampoo and nourishing conditioner like TriSwim. The vitamin-rich shampoo ($10.99) removes copper residue that causes the dreaded green tint, and the conditioner ($13.95) deeply hydrates without leaving a buildup.3. Don't forget your body! Chlorine doesn't just dry out hair--it can do a number on your skin, too. After you wash thoroughly (and don't forget to pay attention to the parts that--ahem--might collect chlorine and keep it tucked away) using your regular soap or shower gel, use Barracuda's Aquia Body Lotion ($9.95) which is designed by swimmers for swimmers to counteract the effects of repeated exposure to hard water, chlorine, and other chemicals.
Curlism Rears Its Ugly Head Again On Good Morning America. SheFinds Fights Back.
Again? Really? So soon? 'Twas a mere 6 months ago that SheFinds decided to celebrate curly hair after Millionaire Matchmaker chastised two spiral-locked contestants, telling one woman that "men prefer long, silky hair." SheFinds was outraged--as were our readers. One of you wrote in, "Go Team NaturallyCurly!" after our Celebrate the Curl post, pithily adding "Men like women who love themselves."And yet curlism has once again reared its ugly head on television, this time in a Good Morning America segment in which a curly-haired correspondent decides to "determine" whether she looks more attractive with a straightened or natural style. In a completely unscientific experiment, she asks five random white guys which 'do they prefer. Their responses: universally anti-curl. "Frazzled", "wild", and "distracting" are three particularly unflattering adjectives they use to describe the GMA reporter's curly hair. Oh, so problematic. Where do I begin? How about with the Anglocentric slant? The reporter says she has chosen "five average guys", but in my America "average" is definitely not white and middle-aged. It's doubtful that an actual cross-section of society--one that included, say, Puerto Rican, black, and Jewish men--would react so disdainfully to the GMA correspondent's curly hair. Afros and braids and close-shorn cuts, to name a few styles excellently rocked by the naturally curly, are the opposite of "long and silky"--but that does not make them un-beautiful! So who are these TV people taking it upon themselves to define what men do and don't like? Down with curlism! Long live the spiral! And here's how you can care for your curly hair, making it so undeniably gorgeous that you'll never doubt your luscious locks again, no matter how many short-sighted TV personalities try to bring you down.The most fundamental treatment for curly hair is a de-frizzer. John Frieda's Frizz-Ease Extra Strength Hair Serum ($9.09) is a standard, or you could try the higher-end salon product Sebastian Potion 9 ($14.99). Get yourself one or both--just remember that a de-frizzer is a must-have! If you've already got a de-frizzer and are looking for a more comprehensive hair regimen to tame your mane, the best products are from Ouidad. The company has a whole line of specialized products, designed to boost, tame, quench, remedy, and finish your style. We particuarly like the idea behind this Clear and Gentle Shampoo ($13) which cleans deeply enough to get rid of product but delicately enough not to damage curly hair. Or this Botanical Boost Spray-in Conditioner ($16), which seals in mositure and infuses hair with aloe vera, one of nature's best healers.
Solution: It's Still An Oven Outside – Get Products That Work In The Heat
It goes without saying that your beauty routine, like your wardrobe, should change seasonally. Summer heat and humidity means that your skin and hair have different needs, and that your makeup starts reacting differently to the sticky weather. Here, a few easy ways to get through these dog days of August. Body Lotion. Many folks don't even use lotion in the summer, since the humidity often does the trick for regular skin. But if you have dry skin, you probably still need a little added moisture to get through the day. We suggest a light lotion with added glow, for some two-in-one action. Olay's Touch of Sun lotion ($8) is infused with just a bit of self-tanner, which will make your skin look even more summery. Face Wash. In August, you need something that will refresh the face, unclog pores, and wash away dirt, makeup, and sweat. The Body Shop's Tea Tree Oil Daily Foaming Face Wash ($13) combines the naturally antiseptic and soothing powers of Tea Tree Oil and the tingle of peppermint to make a refreshing and effective liquid-to-foam formula--the best way to wake up your face. Face Lotion. While many reputable labels make self-tanning facial moisturizers, you may not feel comfortable with any kind of semi-permanent staining of your visage. And in summer you must be particularly careful about your face care, as heat, wind, dust, and sun exposure can do a lot of damage. That's why we recommend using a light facial moisturizer with SPF proection like Neutrogena's Healthy Defense ($12.99), which boasts an SPF of 45. Bronzer. Just because you protect your face doesn't mean you can't have a summer glow, too. Try CK's Summer Affair Bronzing Powder ($22). The micro-fine powder of this bronzer blends into skin, which is especially important when the possibility of slight sweating comes around. Give yourself an authentic sunkissed look by brushing across the areas where the sun would naturally hit: cheekbones, nose, forehead, and chin. **And don't forget to add primer. Again, the prospect of sweating makes makeup smudging all the more likely. So in summer it's crucial to use a primer, like Sephora's Urban Decay ($16). This totally nude product will keep your eyeshadow out of the places it's not supposed to be (like those pesky creases) and make it smoother and longer-lasting where it is.
Bizarre Beauty Treatment: Soothing Massage With…Dead Sea Salts? Exotic Oils? Nope – Snakes
What: Snake MassageWhy: An Israeli spa promises to relax sore muscles and ease tension by releasing six non-venemous (but quite squirmy) snakes onto the patient's back, where they slither their apparently smooth and soothing skin across aching areas. Seriously. You can check out the video here. According to the spa owner, once clients get over their fear of these colorful serpents, they find physical contact with the animals actually quite soothing. According to one client, "I'm actually afraid of snakes, but the therapeutic effects are really good." Sounds like pretty lukewarm praise to me. Notice that she doesn't specify exactly how the snakes helped her? My guess is that's because they didn't--and she just felt too silly and grossed out to admit she'd paid $70 to be molested by reptiles. Personally, I don't even like when I run across snakes while hiking, so I certainly don't want them running across my back. As far as Middle Eastern therapies for sore muscles go, I much prefer the now-standard Dead Sea bath salts ($8.95) to give me a "recharged sense of well-being". Or virtually anything from Bliss Spa, my absolute fave. Just no snakes, please.
First Murses, Now Mantyhose. What Do You Think Of Pantyhose For Men?
When I was in high school, a boy who wore a skirt to class one day was sent home to change into more "appropriate" clothing. The next day, in protest of this arbitrary decision, every forward-minded man in the school came to class in a skirt. Their logic: if women can wear jeans in public, why can't men wear skirts? The result of the mini-movement was more than a few suspensions, as well as an interesting array of outfits: men wearing kilts, wraps, miniskirts, dresses, all with an inherently masculine aura around these traditionally female garments.I tried to keep this experience in mind when I saw that lingerie companies were starting to aim some shapewear products at men. I wanted to feel as progressive as I was back then, willing to embrace garments as gender-neutral. But now it's come to this: Yes, pantyhose for men. This is a trend Buzzfeed turned us on to (if it can even be considered a trend) that I can't even begin to understand. For why do women wear hose? To hide hairy legs, keep bare ones warm in winter, or make wearing a skirt at work an utterly non-sexual act. So what reason to men have to sport nylons? According to Comfilon, one retailer, "This is NOT your mother's panty hose! ACTIVSKIN tights for men and pantyhose for men are designed for male dimensions and anatomy. In sports they will help increase your lower body power and stamina, making them ideal for running, biking, skiing, football, soccer, and golf." But...aren't there already sports products for that kind of stuff? I gotta say, this trend has nothing to do with gender equality in clothing or open-mindedness about gender roles. It's a marketing ploy, pure and simple--trying to sell men one of the few products they've never been a buying public for. And I'm not a fan.What about you? Are there any redeeming qualities to men wearing pantyhose? Would you want your man stealing your No Nonsense?
Marie Claire Brings Grunge Back: But You Can't Afford It
I can proudly state that I'm not a Marie Claire reader--at least, not since I was 16. But, I do sometimes like me some Gawker (for those of you who don't know, Gawker is a mean-spirited, Manhattan-centric, media-obsessed, celeb-stalking blog...that totally fills my empty minutes with wondrous laughter). So I cannot tell a lie: Gawker (via their sister site, Jezebel )is how I found out that this month's Marie Claire has tossed a new/old trend back into the mix: Grunge. Yes, you're thinking right: Nirvana, plaid on plaid, oversized sweaters, long stringy hair, ripped trod-upon jeans kind of grunge. Only this time around, MC is endowing this unfortuante fashion with a new context, shooting skinny-mini model girls as they "fix" pipes, "operate" heavy machinery, and "relax" atop oil barrels, among other laborious tasks. The brown leather Hurley vest (above left) is 145 big ones--and all gone to waste when combined with the clashing plaid flannel and tote. And that gold patterned headscarf (far right) that a steam pipe is this close to exploding onto is $70 from Frank and Kahn. This time around, grunge isn't second-hand (even though it looks it). It's high-end. And it's not inspired by those frivolous musicians and aritsts - it's coming straight from the people who wear these clothes: factory workers, of course! As Gawker says about this photo of these two visions in plaid, laughing over a hot cup of joe: "Haha, isn't it fun to pretend to be blue collar?...OMG totes, I'm gonna eat Hamburger Helper tonight. Kidding! I've got a reservation at Masa." It's not so much the clothing itself that bothers me--I could probably get used to plaid again, if I had to (though hopefully I won't have to. I much prefer flirty dresses and gladiator sandals). It's the idea of paying thousands to play proletariat. First off, can't I just pay $2 at Salvation Army? Secondly, is there no line the fashion industry won't cross? On the other hand, millions of underpaid American workers just sky-rocketed into the couture class!
Oregon's Got Style – And Eco-Sense, Too
Since we know how important environmentalism has become, SheFinds tries hard to bring our readers the best of eco-chic design. We can't think of anything better than looking great while knowing you're doing good. So when this month's Travel + Leisure magazine chose the city of Portland's eco-fashion scene as the reason to visit Oregon this year ("50 Reasons to Love the U.S.A. Now"), we figured we should follow suit and check out what green design looks like out in the Northwest. Here are some of the new names that their reporters sniffed out (and since not all of you live within driving distance of Portland, we've also done some sleuthing--to make sure you can get all this gorgeous stuff online):Anna Cohen. With their "Italian street couture" look and environmental grounding (you won't believe the brilliant and cotton-soft materials she uses, including hemp and bamboo), Cohen's dresses have been wowing this year. We love the Soy halter dress (was $281, now $84), a fresh take (and fabric) on the classic little black dress. Suzi Johnson. Her cashmere sweaters, dresses, and even bikinis are hand-loomed from organic Tanzana cotton. This off-the-shoulder tunic ($446) is comfortable enough to wear while you lounge around the house--and hot enough to show-off on a night out with the girls. Julia Barbee. For the Frocky Jack Morgan collection, Barbee bedazzles vintage finds, adding sparkle and flair--and recyled material--to her wares. This Green Leaves necklace ($73) combines vintage charms and found objects to create a unique, whimsical accessory that will get lots of attention at the office. In fact, it'd go great with the above off-the-shoulder tunic!
Essie's Knockout Neons Will Knock The Wallflower Out Of Anyone
As SheFinds realized a few weeks ago, Neon is coming back in a big way--and it looks like it's here to stay the season. We think that's just dandy, because summer is no time for drab outfits, and it's certainly no time for nude nails. Just take a look at trendsters Lindsay Lohan and Mary Kate. China Glaze's Wow Factor Knockout Neons nail polishes prove surprisingly versatile - complementing an array of summer patterns, colors, and styles. Shocking Pink will make your toes the sexiest ones strolling the sand this July (perhaps in these comfy and cute Bernardo Milly sandals that SheFinds thinks you should already have by now). In the Limelight will definitely win you the "who's greenest" award (even if you've never put the prefix "eco" before a word in your life). and can you imagine a better fit for this color than Rogan Gregory's zebra suit for Target? We don't even know what natural phenomenon to compare Purple Panic to, but we do know that we've never seen a better or more serendipitous color match than with this Old Navy Georgette Halter Dress. Find Wow Factor Knockout Neons at amazon.com for $39.
What To Pack For: A Weekend Beach Getaway
Summer is--gasp--one-third gone already, so if you haven't escaped for your first weekend beach getaway, now's definitely the time. But remember: airlines are charging up to $20 for checked bags, so if the threat of lost luggage wasn't enough, now you have even more reason to fit all your goods into a carry-on. Your best bet for maximum overhead bin usage? A rolling duffle. They're squishy and compact, but have wheels like a suitcase. We like Samsonite's Hommage II ($300).You can carry it by hand when you don't want to wheel, or stop, drop, and roll when you do. And the 29.9"x12.6"x14.2" dimensions are airline approved. Now that we've outsmarted the aviation industry, the question is how to fit in everything you need for a weekend beach getway into this relatively compact space. Here are the essentials:1. Swimsuit: If you're digging the current one-piece trend (à la Sex and the City), try this retro Diane von Furstenberg design ($220). Or peruse our Swimsuit Guide for more trendy picks 2. Sandals: If anyone knows beaches, it's the Brazilians--which is why their preferred brand, Havaianas ($13.99-$20), is popular both there and around the world. Plus, flip-flops are so flat and malleable, you can shove them into whatever free space you've got left after packing. 3. Saress: Don't you dare show up on the beach this summer in that tired old sarong. This season's craze is the saress ($35). You don't have to worry about it getting wrinkled during travel--but unlike its outdated cousin, you can walk to the bar (or even dinner) in it later on and not feel foolish. 4. Travel Toiletry Kit: Carry bath and body products in this clear plastic travel kit ($10.49). It comes with four reusable bottles, which you can fill (and refill) with the products you use at home. 5. Sunscreen: A new product from L'Occitaine en Provence is their "do Brasil" ($30) line. It's organic and highly protective, and entirely manufactured and developed in Brazil - the only country where my mediterranean skin has ever gotten burnt to the point of peeling (i.e., I trust their sunscreen more than ours).And be sure to enter this week's travel-themed Freebie Friday - Tell us what the TSA took, and you could win a box of beauty booty from the SheFinds closet!
There's Money Sitting In Your Closet–Find Out How Much Thanks To Ztail
What: Ztail.com Why: Remember the Sex and the City episode where Carrie realizes that her shoe collection is worth $40,000--the exact amount she needs to put a down payment on her apartment? While Ms. Bradshaw's shopping addiction may be more severe--and pricier--than yours, I'm sure all of you SheFinds readers have at one point speculated about the same thing. How much, exactly, have you spent on clothing and accessories over the past few years? What's your closet worth? Perhaps, in these tough economic times, the pack rats among us have glanced at their stuffed wardrobes and wondered: what could I buy if I sold all this?Well, SheFinds has good news for you. Ztail.com has compiled a huge database of pricing information for new and used clothing, accessories, shoes, and anything else you might have sitting around at home. Ztail hopes to become the source for assessing the worth of everything in your closet. The site also links through to eBay, so you can sell your Manolos when you need to make rent. Or if you discover that your old jeans are priceless (literally), you can also donate those Luckys to some lucky kid.
Global Trendsetters: South Africa Loves Leggings
According to our sources in Cape Town and Durban, South Africa's trendy chicks are keen on mid-calf leggings topped with flowing, knee-length cotton dresses. South African fashion blogs show us how the locals rock this trend. Below, purple leggings are paired with a light cotton dress, and gray gladiator sandals. And pictured to the right, a brown sixties shift is made modern with leggings but kept authentic with the Alice band and brass earrings. You can get the South African look easily: throw on a gorgeous flowing dress like this one from Sue Wong ($330) or this appropriately named Capetown frock by Tibi ($355) and then pull on a pair of mid-calf leggings to complete the look.
Matisse Summer Shoes To Stretch Your Dollar
In an ideal America, we'd all have disposable income to splurge on the occasional luxury items (Marc Jacobs, Manolo--I'm looking in your direction). But these days, when just filling up your gas tank and buying three days worth of groceries constitutes a spending spree, affordable alternatives to big name labels have become more appealing (and necessary). Recently, I hit TJ Maxx, a long-time favorite (don't laugh!) for its reduced-price designer clothing, and was surprised to find some very cute sandals scattered among their generally mediocre shoe selection. All of those cute sandals, it turns out, are from the same company, Matisse Footwear, specifically their Coconuts line. I exercised restraint, buying only two pairs of these fresh, original sandals for a grand sum total of $56, and have since fielded so many inquiries about their label and availability, that I decided to share the information with the SheFinds community. If anyone deserves to save more and look fabulous, it's you. This green snakeskin Fusion sandal costs just $49, but would look like a million bucks with a white summer dress. It also comes in maroon. For a slightly dressier look, opt for these flashy Natalia sandals ($77.95). This black strappy number ($52.95) is like the LBD of sandals - wear it with anything for any occasion. And be sure to check out Our Guide to Comfy Summer Shoes for more chic and affordable options.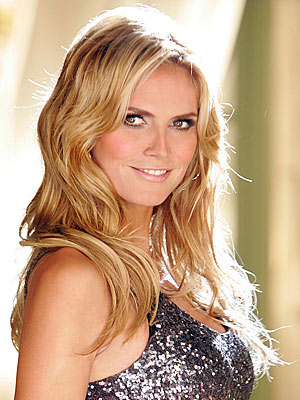 Someone Else From Project Runway Should Have Designed Heidi Klum's New Jordache Jeans
We don't hate Heidi Klum--even though she is beautiful. She's married to Seal, and he's pretty awesome. They have adorable little babies, so that's awesome. And Heidi actually managed to say "auf Wiedersehen" every week on Project Runway without it becoming the most annoying catch prase ever, so that's kinda awesome, too. What's not awesome in the least--and we use "awesome" here in the original sense of the word, as in "something that fills one with wonder"--is the new line of jeans she designed for Jordache, recently and exclusively on sale at Bloomindales. With this collection, themed Naughty and Nice, the German model-cum-businesswoman has added denim design to her already impressive Klum-brand caboodle of jewelry, lingerie, and shoes. But this time, her pieces fail to impress. We like the gold Lurex detail and high-ish waist on these Elli Bootcut Jeans ($160), but the leg looks way too stiff. And the back pocket logo reminds us of cowboys, which is not exactly the effect we like our butts to have. But then again, take away that flying v pattern, and you have these Heidi Flare Jeans ($140), which look more sophisticated, and could definitely be work-appropriate - but that's because they're so simple and - dare I say it? - a little boring. The flare isn't enough to have the pizazz of the wide-legged trousers we saw last winter, and without any special detailing, there's nothing to make these jeans stand out in an ever-growing crowd of designer denim. And what is the deal with these Heidi Bleach Flares ($140)? Did the clock turn back to 1996 without us noticing? Sorry, Heidi - nothing personal. But we expected more from a woman who listened to her Project Runway judges ream contestants for errors far less grave than these. What we do like from Heidi's collection are these fabulous little jean shorts ($98) and two-button top ($168). It gives us hope that her next collection for Jordache will prove to be something far more awesome than these first few pieces from Naughty and (not so) Nice.