10 No-Fail Tips To Conquer Black Friday Sales (Without Leaving The House)
We all know that Black Friday is no time to casually stroll through the nearest Best Buy, Target or your nearest mall, but even the most seasoned shoppers can feel a little they entered a war zone complete with line cutters, pepper sprayers, and elbow-throwers. And in recent years, Black Friday is now preceded by, well, Thanksgiving shoppers looking to get their paws on "doorbuster" deals just minutes after fueling up on turkey with mashed potatoes and gravy. If you're anything like us, you're not willing to risk broken bones and black eyes for this year's must-have gadget, so instead of venturing out into the unknown, grab the leftovers out of the fridge and get comfy in front of your computer -- some of the best deals are hiding in plain site (ha!). 1. Go big or don't bother: 75% off a brand new LED TV is worth way more than 75% off a wallet. Don't waste your time on the small stuff that'll go on sale later anyway. 2. Make a list: Sometimes the online deals are too great to pass up, but you're not saving any money if you end up buying things you don't need. Have a tangible list nearby so you're not constantly swapping screens -- and stick to it. 3. Ditch the family: Most of retailers debut their sales on Thanksgiving now, so while everyone else is basting the turkey, grab your laptop and spend quality time with all the best online deals. There'll be leftovers, right? 4. Rid yourself of distractions: There will be lots pop-ups trying to catch your attention, so research specialty sites that report on all the Black Friday deals first, like blackfriday.com and bfads.net, and make your game plan from there. This way, you won't be tempted to click through on something that offers a free iPhone5. Sign up for the SHEfinds newsletter–we'll send out a summary of sales at midnight that day. 5. Beat everyone to it: If you haven't already downloaded, Google Chrome (the fastest browser by a long shot), get on it! When shopping sales, hit "view all," scroll all the way down and start shopping at the bottom up. You'll be more likely to get the stuff people haven't seen yet–it's like shopping from the back of the store! 6. Coupons are cool again: Shamelessly use as many coupons as you can find–that's the best part of no checkout line. For promotional codes, head to RetailMeNot.com or Google the name of the shopping site with the words "coupon code" or "promo code." You can start doing this on Thanksgiving, as some of them post early. 7. Speed Up Check Out: Pretty much every site lets you store your your credit card info and shipping address(es) securely to speed up checkout. If your browser doesn't offer the option to save this info, use tools like roboform. 8. Triple check your game plan: Your quick pre-purchase checklist: will it ship before Christmas? Is it returnable? Is the shipping cost reasonable? (Sometimes it's as much as you 'saved' during the sale–might be worth it to head to the store instead.) 9. While you're at it, make some money, too: You're spending enough this year, so may as well make some money, too. Bank of America's Add It Up or Ebates.com allow you to earn up to 20% cash back on online purchases on top of retailer discounts. #win 10. Our super sneaky tip: Fill your cart the night before with items you're pining for, and when you wake up at the crack of dawn, get the discount! We did this a couple years in a row and saved ourselves a ton of time and heartbreak. Another great idea is add your wishlist on Shopstyle, choose "sale alert" and get emails when the prices drop. Check out ALL of our favorite sales and deals (there are TONS!) plus the best coats, leather jackets, gloves and hats for the season, too.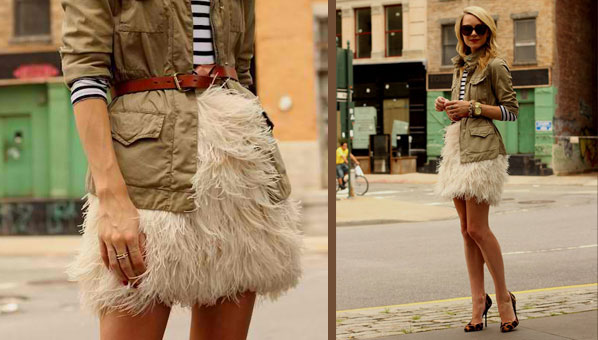 Ruffle Your Feathers: 6 Ways To Try Out The Voluminous Fall 2012 Trend
For the past few weeks, we've been up in arms about this season's most wearable fashion trends like colored leather, ox blood accessories and all-baroque-everything, but we seem to have forgotten one of fall's soon-to-be MVPs: feathers. I know, I know, feathers caught a bad rep because they can tend to look tacky and cheap, but this season, designers really stepped up their game with everything from marabou feather-detailed heels to ostrich skirts and dresses. But before you dive head first into the trend, remember that one gust of wind will ruffle your feathers and add some volume à la last season's peplum craze. To offset the seemingly weightless bulk, be sure to pair it with other form-fitting pieces. For instance, if you opt for a feather-fringed skirt, pair it with a tight camisole or blouse and a tailored blazer. If you go for a full-feathered dress, make sure your accessories are boxy with straight, clean lines. Want to get your hands on more fall 2012 trends? Check out our favorite collar necklaces, get your hands on some baroque pieces or find out which rich hue is the new black. [Photo Credit: Atlantic Pacific]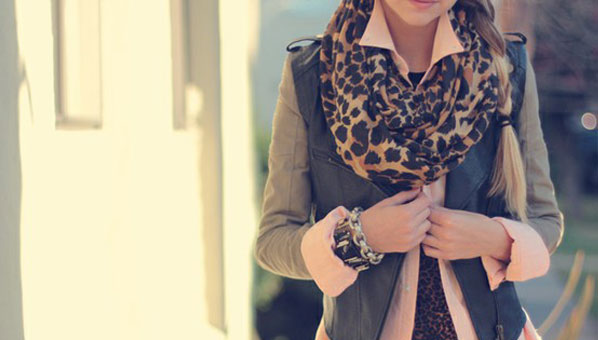 How To Wear Leopard Print Without Looking Like You're From The Jersey Shore
Animal prints may have been steadily infiltrating stores for the past few years, but some women are still hesitant to get in on the print game (we can probably thank Snooki for that). All it takes is a tiny big of guidance and a shot of confidence to wear the bold looks, so take a cue from our new book, Wear This Now, to find out how to rock animal prints like leopard, zebra, cheetah and snakeskin! 1. Scale animal prints to your size. Tighter prints like cheetah and leopard look great on most people, but larger prints like cow and giraffe have lots of white space, so they're harder to pull off. It's best to try them in small doses like belts, shoes or small handbags. 2. Pair animal prints with neutrals like black, khaki, camel, cream and white, and they'll always be in style. 3. If you want to try leopard in a big statement-making way, we love a leopard look in fall. The rest of your outfit should be understated, though. 4. Remember that you'll be calling attention to wherever you put the animal print, so put it on your best feature. 5. If you want to ease into leopard, try lining a coat or a bag or choose a great pair of shoes with just a touch of leopard as an accent so it's not overpowering. Now that you're feeling at least a tinge more confident, flip through our favorite animal printed styles and get shopping! For more tips and tricks on how to dress for any occasion, pick up our new book, Wear This Now, or check out the 5 fashion commandments to live by, what to wear to fashion week, or read up on the best styling tricks for when you're sick of your closet. [Photo Credit: Late Afternoon Blog]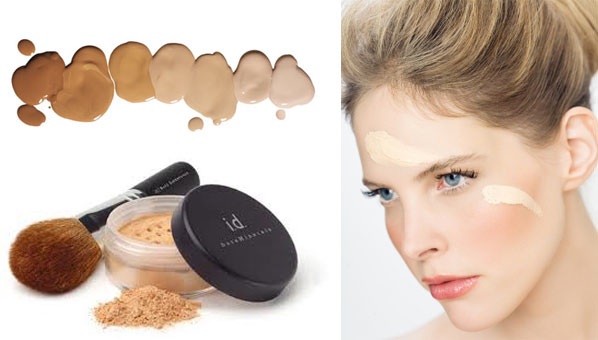 High-Low Beauty: Should I Splurge On My Foundation?
Here at SHEfinds, we're all about snagging a good deal, and while it feels a-mazaing to get 50% off a new pair of cap-toe flats, sometimes it's clear to tell when you skimp on your beauty routine. Foundation, my cosmetic savior, was made to hide small imperfections, even skin tone, and keep your skin moisturized all day long, and with all the choices out there, it's hard to tell if you should splurge on a luxe formula or save on a drugstore brand. The best way to tell? Survey your biggest skin problems. 1. Is your skin prone to breakouts? 2. Do you have uneven skin tone as a result of acne or sun spots? 3. Do you have oily, dry or combination skin? If none of these describe your skin, you can probably get away with a drugstore brand, though you may need to buy two products (which means double the money) and blend to get the right formula. And because it's impossible to try on foundations at the drug store—for the love of all things good, do not use any testers unless they're disposable!—it's hard to find a perfect match until you get home. Asking drugstore workers always proves futile, too, so for questions about individual brands, check out online reviews from places like MakeupAlley. If you answered yes to any of those questions, read on. There's almost nothing worse than wearing foundation that's two shades too-orange or—even worse—super drying, so it's definitely worth heading to a makeup counter to talk to someone skilled at keeping your skin in tip top shape. If you're a victim of too-dry, too-oily or combination skin (lucky you!), talk to a professional about brands that will cater to your specific concerns—especially breakouts or acne scars. When I was searching for a new foundation after I realized drugstore brand weren't doing the job, a Dermablend representative pushed me to try on their formula, even though it felt too heavy when I tested it on my wrists. Once she applied it to my skin, I fell in love, but my skin tone fell between two of their shades, so she mixed me a custom formula and charged me half the price. I also got a free lesson in foundation application (up and out, ladies!). Still, whether you're at a department store makeup counter or a beauty haven like Sephora, be sure to ask about return policies just in case you're not in love with the product after a couple day's use. For example, Sephora lets you return most products as long as their at least half-full, which gives you enough time to see how a formula looks in all different kinds of light. Each department store brand may have an individualized policy. THE VERDICT: If you have any warrantable skin concerns, it's best to head to invest in a foundation from a makeup counter. Make the most of your time and ask a professional how you can get the most for your money. For more beauty tips and tricks, check out our review of St. Ives Apricot Scrub, take a peek at the best beauty trends from Paris Fashion Week, or find out how to keep your at-home manicure from smudging.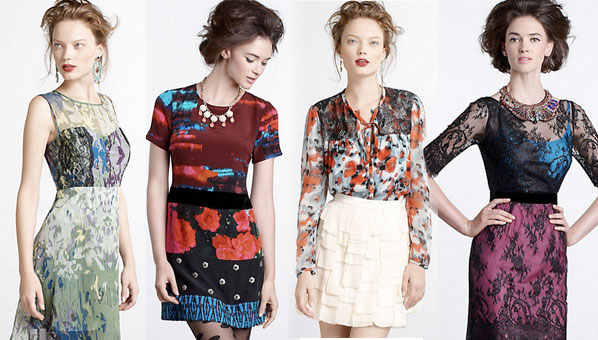 Will Michelle Obama Shop At Anthropologie Now That Tracy Reese Is There?
Anthropologie's inaugural Made in Kind series may have launched back in spring, but the retailer is going to great lengths to make sure we don't forget it's a serious contender in this post-Anna Dello Russo for H&M world. And by great lengths, we mean they've tapped venerable brands like Ace & Jig, TENOVERSIX, Gregory by Gregory Parkinson, and a First Lady fave, Tracy Reese. I know! October's limited-edition collections feature everything we love about Anthropologie in the first place: kitschy-cool, romantic designs with a marked one-of-a-kind feel. We're happy to see Timo Weiland chose the Made in Kind collab to debut his diffusion line, Vessel by Timo, which he described as "seemingly French-Provencal, but also at home in the city." Nothing screams that sentiment more than his Lora Maxi Dress, which sells for a hot $348. Speaking of pricing, you can expect the usual Anthropologie price points, so Art/C's vibrant, Moroccan-inspired portfolio clutch (it really is one-of-a-kind!) goes for $200, while Sophie Duran's collection -- a nod to the Seven Ancient Wonders of the World -- goes from $198 for her World of Wonders Column Dress to $398 for her Hazy Woods Dress. You can snag goods from Michelle Obama's favorite designer (Tracy Reese, duh!) for around $300. Take a look through the slideshow at our favorites from the collection, and don't forget to head over to Anthropologie to check out all 14 designers!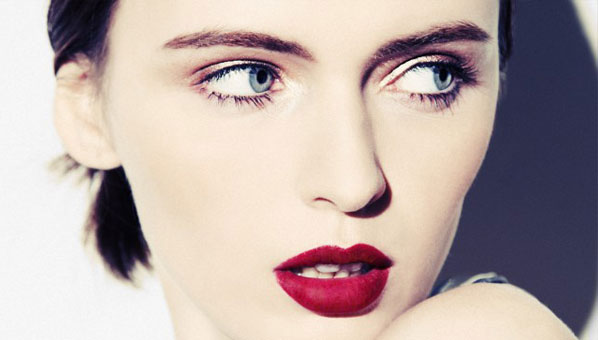 Wear The Trend: How To Perfect Your Matte Lip For Fall
As a stark contrast to last year's ultra-glossy lip trend, this season's must-have pout is a bit more stoically low-maintenence: seen on dozens of spring 2013 runways from London (Giles, Erdem) to Paris (Haider Ackerman, Loewe), the new matte lip trend is a much-welcomed shift, even if we're adopting it a season early. It may take a little while to warm up to the look, but we all know there's pretty much nothing worse than getting your hair stuck in the goopy gloss of your lips, so it's definitely worth getting used to. Despite the lack of sheen, matte lipsticks are often more moisturizing than their glossy counterparts thanks to their creamy consistency, but the only way to get color to last through your first morning meeting is to start with unchapped lips. This can seem like a huge impediment in the fall and winter, but light exfoliation and the right products can make all the difference. The night before you experiment with the trend, remove any dead skin cells by mixing two parts sugar with one part olive oil in a bowl and gently rub it on your lips with a washcloth or old toothbrush. Rinse with warm water, apply an ultra-moisturizing chapstick (we love the Sweet Be Magic Wand from Medicine Mama!) Now that you have the foundation for all-day color, click through the slideshow to check out our favorite matte colors to carry you through the winter months, because we know you don't want to blot your shiny lipstick on a tissue all day. Want more beauty tips and tricks? Find out which exfoliator is probably damaging your skin, try out this awesome way to set your at-home manicure, or get your hands on the NARS x Andy Warhol collection.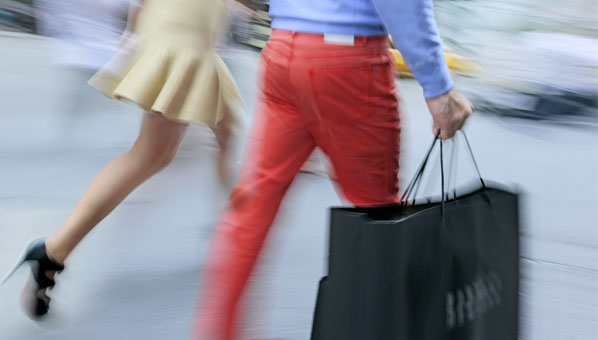 WEAR THIS NOW: How To Take Advantage Of Today's Sales
Because Columbus Day is done and retailers are about to switch their focus to Black Friday mania, now is the prime time for snagging some serious deals on end-of-summer fashion that didn't sell out before fall clothes hit stores (like peep-toe booties and perfect-for-layering dresses). You may think you're a seasoned online sale shopper, but we have a few tried-and-true tricks up our sleeves, straight from our new book, Wear This Now! Here are a few tips for navigating the sale rack in between seasons: 1. Get on the list: If you're obsessed with this season's "It" bag or shoe -- say, the Isabel Marant sneaker wedges, sign up on sites like eBay or ShopStyle to be notified when it's marked down. 2. Shop sale sections from the bottom up: Once you're at the sale section, hit "view all" and shop from the bottom up to the top of the page. The items at the bottom haven't been "picked through" as much, so they're more likely to have your size. 3. Watch out for shipping: Sometimes the deal loses its allure if shipping costs as much as the product, so make sure you know how much it'll cost to buy (and return, if needed) the product. You can save on shipping charges by using an unlimited free shipping service like ShopRunner.com, where you pay a flat fee for unlimited free two-day shipping on more than a million products. If you're in a shopping mood now (aren't we always?), head over to J.Crew for an extra 25% off sale items with the code SHOPJCREW, snag an extra 20% off sale items through Thursday at StyleMint with code COLUMWKND at checkout, save 15% off a pair of shoes at Macy's, or check out our list of today's online sample sales! For more tips and tricks for editing your wardrobe, pick up our book, Wear This Now.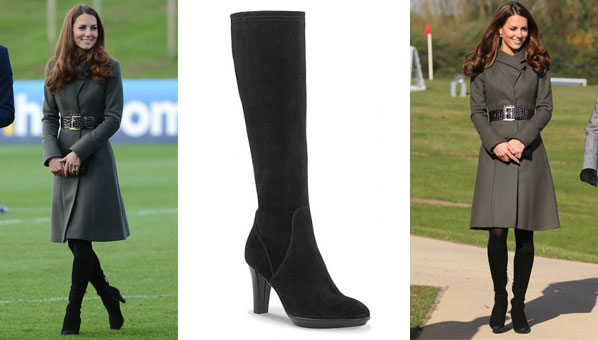 Look As Tall As Kate Middleton In Her Knee-High Suede Boots: Shop The Look Now!
It's no secret that everything Kate Middleton touches turns to retail gold, especially considering she boasts a fit model's physique, but seemingly all of her outfit choices are just as wearable for those of us that haven't been granted a $54K/year clothing allowance. Today, the Duchess of Cambridge embraced the cool weather by stepping out at St. George's Park wearing a waist-accentuating trench coat, thick black tights, and Aquatalia's "Rhumba" boot in black suede. While black boots are a wintertime mainstay, this season, it's all about finding a style that hits right below the knee (heel optional!) for a leg-lengthening look, though it's like Miss Middleton needs any more inches! Are you as obsessed as we are? Shop the Duchess' boots here, available in espresso and black. SHOP THE BOOTS HERE To shop more Kate Middleton-inspired looks, check out these Duchess-approved Erdem dresses, find out how you can rent her Prabal Gurung ink dress, or get your hands on her $75 fake diamond-and-pearl earrings!
Lisa Hoffman x Tom Binns Fragrance Jewelry Will Shorten Your Morning Routine
I've been getting myself ready in the morning for just about two decades now (does elementary school count?), and I'll be hard-pressed to remember a day where I managed to shower, get dressed, throw on makeup and do my hair in under an hour, so I welcome anyone that's working to shorten up my morning routine. Enter Lisa Hoffman, who's trying to do just that. The venerable purveyor of all things fragrant just teamed up with jeweler Tom Binns on a full range of fragrance jewelry: necklaces, earrings and bracelets that offer a constant-yet-subtle aroma throughout the day. No stranger to collaborations, Tom Binnswas tasked with creating a piece of jewelry that could not only carry a scent, but could also be refilled to recharge the potency. The result? A gorgeous series of vented pendant pods that hold perfume beads, which are diffused into the air. As Hoffman says, "It's perfume. We just reinvented the packaging." Hoffman incorporated her signature scents — Japanese Agarwood, Madagascar Orchid, Tunisian Neroli, French Clary Sage and Tuscan Fig — with the sustainable wood flour beads, while Binns told WWD, "The visual was a timeless, classic design with a unique way of wearing a fragrance. It is a traditional practice in Eastern countries of having jewelry that incorporates fragrances. I wanted to take that medium and translate it into a modern language." The pendants, which retail for $250, are available not on LisaHoffmanBeauty.com. Cuffs ($300) and earrings ($200) will be available in November and January, respectively. Want more accessories news? Get your hands on Rebecca Minkoff's first foray into jewelry, find out if knuckle dusters fit into your style, or check out what's left of Anna Dello Russo's H&M collaboration.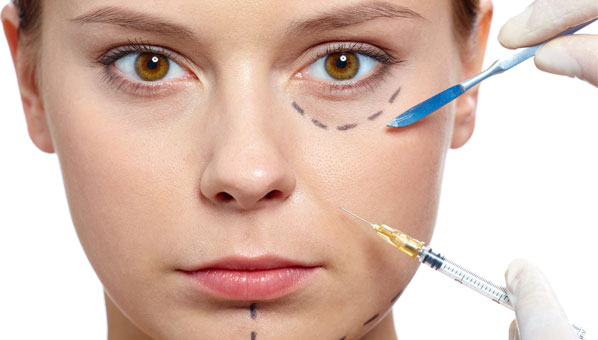 Can Botox Help Women With Depression? A New Study Says Yes
We've long known that in addition to seriously reducing the appearance of wrinkles (and, well, emotions), Botox is used to treat conditions like excessive sweating, muscle spasms and chronic migraines. But according to a new study, the injectable may also have another unintended benefit: helping patients with treatment-resistant depression. In a recent study published in the Journal of Psychiatric Research, researchers found that when randomized patients were administered a dose (five injections) of the botulinum toxin just above the eyebrows, 47% experienced decreased symptoms. Only 9% of the placebo group reported reduced symptoms. Perhaps this is why celebs always seem so much happier than us? While other studies suggested that the inability to express emotions could be harmful for your health, this study's author, M. Axel Wollmer, says the Botox "interrupts feedback from the facial musculature to the brain, which may be involved in the development and maintenance of negative emotions." I'm no scientist, but isn't looking sad and feeling sad are two totally different things? And wasn't it just a few years ago that Botox was linked to depression? Read the full study here and let us know what you think: is Botox a reliable treatment for depression? Let us know if you've ever tried the treatment in the comments! For more beauty news, check out the biggest beauty trends from Paris Fashion Week, find out who Kiehl's just collaborated with, or get your hands on MAC Cosmetics' new Marilyn Monroe tribute collection.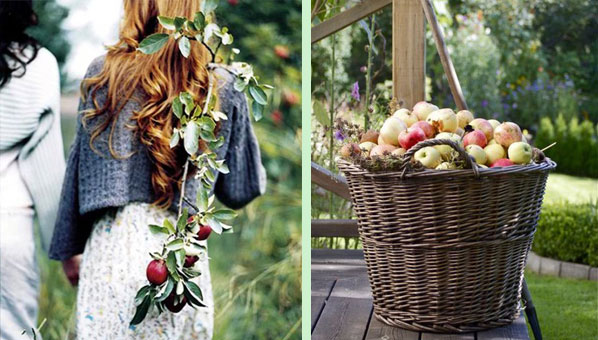 What To Wear To Go Apple Picking: 5 Fool-Proof Tips
Last weekend, I had the pleasure of traveling from my measly suburban Central New Jersey town to the picturesque rolling hills of upstate Gardnertown, New York to spend some quality time apple picking with my family. I hadn't been for almost a decade, so I was inordinately excited to get my hands on some fresh apple cider and cinnamon donuts. I figured I'd enjoy the scenery and leave the hard work (i.e. actual apple picking) to my uncles, who could lift up my young cousins to take their pick, so I wore my favorite beat up flats, a pair of boyfriend jeans and a sweater. I was seriously ill-prepared. Now that I'm one apple picking trip wiser, take it from me: here are five essential tips for spending the day roaming through an orchard in October, straight from our new book, Wear This Now. 1. Wear sneakers or boots with thick socks. You'll be doing tons of walking (it's amazing how many types of apple trees there are), and you'll regret wearing footwear without any support. If you're wearing anything open-toed, a few rotten apples will probably land on your feet because, you know, Murphy's Law. 2. Resist the urge to throw on a pair of leggings or sweats (or worse, a dress!) that could rip if you're battling branches. Instead, opt for a pair of skinny cargo jeans with tons of pockets for storing the goods. 3. Bring sunglasses. It may be October, but you'll spend a lot of the day looking up into the trees, right where the sun is hovering. Protect your eyes and look chic in a pair of oversized Karen Walker sunnies or Persol Aviators. 4. Now's the time to break out that down vest that's been hiding at the back of your closet since last fall. Layer it over a comfy sweater that allows for all the inevitable reaching. Store an oversized parka in the car just in case it gets chilly. 5. Bring a hat. Unless you're up at the crack of dawn, the sun will probably start setting before you're ready to check out. You'll need the extra coverage then. For more tips and tricks on how to dress for any occasion, pick up our new book, Wear This Now, or check out the 5 fashion commandments to live by, what to wear to fashion week, or read up on the best styling tricks for when you're sick of your closet. [Photo: BrightBoldBeautiful]
50 Columbus Day Sales Still Happening: Get Exploring
Once all those amazing Labor Day sales are in the rearview mirror, it seems like forever until Black Friday will come around to save (kill?) our wallets. But Columbus Day sales 2012, the quiet savior, brings us a few awesome deals on everything from summer leftovers to newly marked-down winter gear, just as the weather is turning chilly. So whether you're getting a head start on your holiday shopping or stocking up on some fall essentials for your own wardrobe (we won't tell!), check out the best 2012 Columbus Day sales that you need to take advantage of! After all, the next round of markdowns won't come until Thanksgiving! 70% off at Shopbop  Take an EXTRA 50% off at C. Wonder with code FALLFIFTY 40% off at Kate Spade + free ground shipping 25% off everything at Tory Burch 50% off at Barneys 75% off jewels at Thomas Laine + free shipping on orders over $150 60% off at Nordstrom 30% off at Mango Tons of great deals at Zappos 50% off designer pieces at YOOX 70% off at Calvin Klein 3 for $20 underwear at Topshop Free shipping on everything at Madewell Shop the FINAL sale at J.Crew Take $10 off your first order at BaubleBar 80% off at Delia's 40% off at Revolve Clothing 50% off at Vince Camuto Up to 50% off select styles at Bloomingdale's Extra 10-15% Off select clearance at Macy's with this coupon 25% off at Loeffler Randall 50% off select styles at Nicole Miller 30% off the Fall Collection at Diane von Furstenberg 60% off new markdowns at Saks Up to 70% off at ASOS Outlet 30% Off Fall Must-Haves at BCBG Additional 30% off sale items at Rachel Roy Up to 40% off at Intermix An extra 30% off in-stores at Urban Outfitters  New markdowns at Bergdorf Goodman Up to 70% off at Reiss 30% off shoes at Piperlime Enjoy the flash sale at West Elm Skirts and sweaters starting a $9.80 at Forever21 New sale additions at Anthropologie 40% off any one item at Land's End $15 off every $75 you spend at Express 25% off at Bare Necessities with code BNFRIEND2012 30% off select styles at Nine West New styles added to sale at Old Navy 30% off your entire purchase with code SALE30 at Ann Taylor 40%-65% off at Neiman Marcus 30% off everything at Gap Extra 40% off select styles at The Outnet Up to 35% off at LastCall Additional 50% off sale at Bebe Free shipping at Club Monaco Buy one, get one 50% off sale items at Charlotte Russe Buy 3, get 3 free at The Body Shop 30% off shoes, sweaters, and sweater dresses, and 40% off other select styles at The Limited Check out even more sales and deals from the week, plus catch up on all of the fashion news happening now, and get up to date on our favorite fall trends.
Lulu Guinness Will Bring Her Quirky Aesthetic To JCPenney With Accessories Diffusion
Just when we thought we were sick of high/low collabs (sorry, Anna Dello Russo, but we just may be over 'em), Lulu Guinness comes to wash away our jaded apathy. The iconic British accessories designer is giving JCPenney a hand in their major brand-revamp and launching an exclusive shop-in-shop diffusion line at the department store in spring 2013. No word on pricing or exact items, but Vogue UK reports that we can expect some awesomely whimsical handbags, accessories and "a gift collection," whatever that means, but we can only hope that amaze black-and-white Kooky Cat design or those adorable perspex lips make a debut! Unfortunately for the the Brits, the inaugural collection will only be available in the good ol' US of A. Want more collaboration news? Find out which two brands Club Monaco just teamed up with, get your hands on Missoni x Converse's sixth joint release, or check out Pamela Love's first foray into footwear with Nine West.
Anna Dello Russo's H&M Collab Is Now Shoppable In All Its Over-The-Top Splendor
It may seem like Anna Dello Russo's collaboration with H&M should have made its retail debut months ago (what with all the lookbook teasers, over-the-top fetes and dedicated "fashion shower" videos since early September!) but the much-anticipated accessories diffusion finally hit stores this morning. We haven't heard much about any all-out chaotic frenzies a la Karl Lagerfeld's H&M edition yet, but we plan to stay very, very far away from any H&M stores for at least 24 hours until the inevitable commotion calms down. If you're brave enough to, well, brave the sartorial storm, make sure you pick us up a couple of our favorite pieces: the turquoise-and-gold toiletries case with gold detailing ($99), that amaze orange, gold and pearl collar necklace ($49.95), a pair of hoop earrings in gold-hued metal with rhinestone-embellished dragons -- dragons! -- for a hot $24.95. Maybe also pick up one of those chunky snake-shaped bangles, too. And if you're gunning for the Italian Vogue editrix's thigh-high leather boots, you'd better get shopping early: from what we've heard, Anna's shoes are on the top of everyone's must-have lists! Check out the full collection here and let us know in the comments what you scooped up! Want more collaboration news? Find out which two brands Club Monaco just teamed up with, get the deets on Marilyn Monroe's MAC Cosmetics tribute, or get your hands on Missoni x Converse's sixth joint release.
Rebecca Minkoff's First Foray Into Jewelry Starts At $48: Pre-Order Now!
At this point, it's pretty clear Rebecca Minkoff is slated for world domination. After all, she does helm one of the most covetable ready-to-wear lines out there, she spends her free time lip-synching to "Call Me Maybe" with Leandra Medine, and now, she's poised to take over our jewelry boxes, too. The venerable designer -- who already eclipsed the handbag world with her Morning After bag in 2005 -- proved she's truly a jack of all trades when with the release of her impressive 52-piece jewelry collection of bangles, earrings, bib necklaces and chain-link bracelets for the holiday season. Minkoff told Elle.com, One of my first activities when I wake up in the morning is piling my jewelry on, so I created a collection that allows you to do just that. From the horoscope necklaces to the gold pave chains; I'm encouraging people to layer the pieces and create a look that personalizes their style. The best part? The art deco-inspired range is priced from $48 for a pair of geometric earrings to $498 for the Swarovski crystal-detailed pavé horn necklace, so you can get your hands on a pair of rose gold faceted metal stud earrings and still pay your electric bill! The collection is available for pre-order at Bloomingdale's and RebeccaMinkoff today! Want more accessories news? Find out if you're ready to rock a knuckle duster, rock a double collar with these bib necklaces, or get your hands on these exotic drop earrings.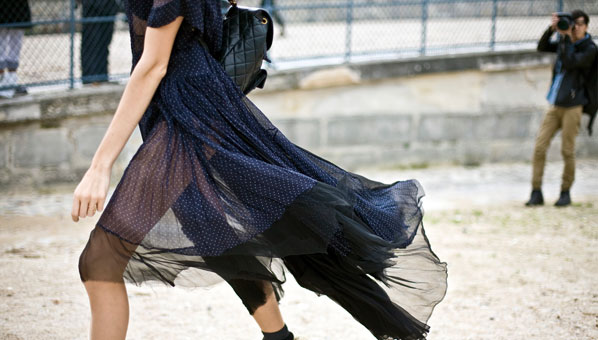 3 Ways To Go Sheer In The Fall (And Not Freeze!) No Matter Where You're Going
Congratulations! You have the confidence to try out the sheer trend, and we all know that puffing up your bravado is the first step to sheer joy (ha!). While rocking a barely-there style doesn't doesn't exactly seem synonymous with autumn, it's definitely possible to don sheer shirts, skirts and dresses well into October. Find out how to pull off the look no matter where you're headed for the cooler months. We've got all of the answers here: To Work If you work in a super-conservative environment, we suggest you save the sheer for playtime, but if your 9-5 gives you a bit of sartorial wiggle room, you have the green light! Start with a sheer top in a neutral like black, cream or gray, and top it off with an "I mean business" blazer. If you're still not sure if this look will fly with your boss, add a tank or a camisole under the shirt in a similar color. That'll add some extra warmth just in case the temperatures really drop. To Play Even though I'm a huge fan of fall's sheer paneling trend (perfect for a night out!), my all-time favorite outfit for grabbing drinks with friends come fall is a pair of leather pants and a sheer button-down, finished off with a pair of super-comfy chelsea boots and a show-stopping bib necklace. This look is easy to pull off no matter where you're going: if it's super dressy, switch out the booties for a pair of heels, and if it's a bit more casual, opt for a pair of flats. If your confidence is hovering around the three-quarter mark, opt for a sheer top in with a pattern or texture, like polka dots, striped, or a pussy bow. Voila! Instant outfit. To Brunch Well, maybe not always to brunch, but you have a lot more room for creativity on the weekends. Whether you're heading out for eggs benedict and bloody mary's in the mid-afternoon, heading to the orchards for apple picking or spending your Sunday shopping with the girls, create an outfit that plays on the masculine/feminine dichotomy -- throw on a sheer dress with a thin slip underneath, a utilitarian jacket or vest and a pair of calf-high boots. Finish it off with a chunky scarf for an unmistakably fall feel. If you're looking to go sheer on the bottom, make sure there's at least a foot of lining in the skirt to cover your ladyparts, then finish it off with a cozy knit for an effortlessly chic look. Tights under a sheer skirt are optional, but stay away from anything with a pattern. Click through the slideshow to shop our favorite sheer picks for fall! Know what look we love to pair with sheer? Leather jackets. Grab one for yourself, plus don't forget a trench coat (it's rainy here in NYC!) Plus, check out our guides to the best booties and the best sales and deals, too. [Photo Credit: Phil Oh for Vogue.com]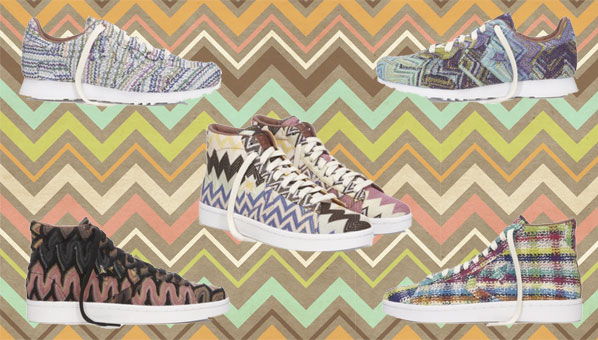 Missoni Teams Up With Converse For The Sixth Time: Shop The Collab Now!
Italian heritage brand MIssoni has really been upping its accessibility of late: first with last year's ridiculously perfect Missoni x Target collaboration that saw everything chevron-printed from wrap dresses to kitchenware, and this time with yet another release from the label's ongoing relationship from the sneaker purveyors at Converse. For their sixth (sixth!) collab, Converse and Missoni created a 20-piece range made of fabric from the Italian label's archives, which means -- you guessed it -- tons and tons of chevron! All 20 styles are either a traditional Auckland Racer or a high-top, and I don't mean to play favorites, but those sea-foam-green-and-cream high-tops are most certainly calling my name! Head over to Paris' Colette (don't worry, they ship worldwide) and browse the new offerings now. The only disappointing thing about the sixth go-around is that prices keep going up -- this time each pair is priced upwards of $400! We can't tell you to stock up thanks to Colette's one-pair-per-customer policy, but we do advise you get your hands on the pair ASAP! Looking for restock your shoe closet for fall? Check out our picks for the best equestrian style boots, get your hands on Pamela Love's first foray into footwear, or get moving with Hunter Boot's newest roll-up rainwear style.
Hunter Boots Designed Roll-Up Boots To Make Traveling That Much Easier
Hunter's Wellington-style rain boot has long been a year-round closet staple here in NYC, what with the sporadic rainfall and never-ending spring showers. They look endlessly chic when paired with a flowy summer dress and a fall cardigan, but they're not exactly as tote-able as a pair of flats, so carrying them around on a day when the weather goes from rain to shine is nothing short of annoying. Traveling ladies, rejoice: Hunter Boots heard your cry and has designed a fully collapsable travel boot that transforms from a knee-high wellie to a rolled up flat, clearing up a serious about of real estate in your handbag or suitcase. The boots, priced at $135 a pair, will come in purple, green, yellow (my fave!), red, navy and black and they'll be available in high-end department stores like Neiman Marcus, Nordstrom and Lord & Taylor come December, just in time for the holiday season! Now only if they'd make a smoking slipper equipped to handle hurricanes! Oh, wait. Want more footwear news? Shop Gwen Stefani's favorite Dr. Marten boots right now, get in on the equestrian trend with our favorite picks this season, or find out which five shoe styles you need for fall!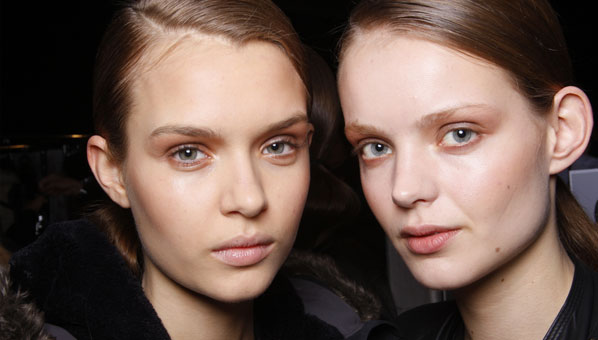 Instant Gratification: Top Paris Fashion Week Beauty Trends You Can Try Now
We made it! Now that Paris Fashion Week is dunzo and the Fashion Week marathon is finally in the rearview mirror (tear!) we can lay back, throw our feet up and rest easy, right? Not so fast! Just because we still have to play the waiting game to get our paws on the new spring 2013 goods, that doesn't mean we can't dabble in Paris' most covetable beauty trends right now! We saw some seriously fab blue eyeshadow in New York, ultra-colorful nails in London and super sleek hair in Milan, so there's only one thing left to do. Click through the slideshow to get out spring 2013's best beauty trends, plus tips and tricks on how to adopt them now! Want more beauty advice? Tweet us your questions @shefinds! In the meantime, check out ten foods that can do wonders for your hair and skin, find out what the best nail polish collabs for spring 2013 will be, or get your hands on NARS x Andy Warhol at Sephora.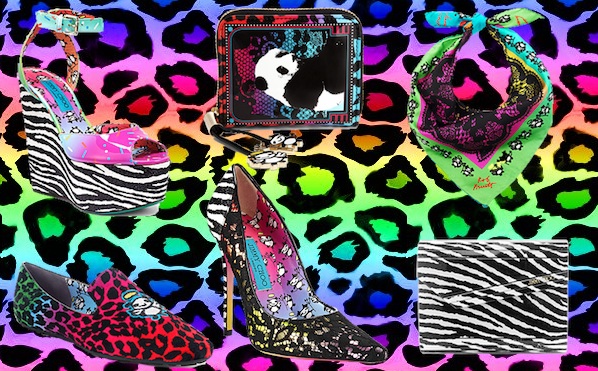 Rob Pruitt x Jimmy Choo Will Satisfy The Lisa Frank-Obsessed Fifth Grader In You
Rob Pruitt isn't your ordinary 1980s pop-artist, what with his signature glitter zebra, dégradé color and, well, everything neon, so when we heard he'd be collaborating with Sandra Choi and Simon Holloway of the ultra-glamorous Jimmy Choo label, we just kind of cocked our heads and waited for the beauty. But as it turns out, the iconoclastic humor of Pruitt melded quite nicely with the label's already festive sensibilities. Case in point: a confetti patent-and-zebra-print glitter wedges, which retail for $1,095 and are sure to make you the center of attention in any room, Anna Dello Russo and her headpieces be damned. "I think about birds and bees and how they're attracted to the colourful and architectural audacity of flowers," Pruitt said of his inspiration for the limited-edition collection. "I use glitter in my artwork in hopes that the viewer will experience the same magnetism toward my artwork that birds and bees experience toward flowers." Glitter, indeed. The trippy 18-piece range, which feels a little bit like heaven according to Lisa Frank, is available for pre-order today and it includes everything from a $1,225 jacquard panda bear-motif tote bag to $895 leopard-print boudoir mules with a zebra-print heel, finished with a marabou feather pom-pom, because why the hell not? But the most-wanted piece of the entire limited-edition capsule comes in the form of a devil-panda-shaped minaudière clutch, made with more than 11,000 hand-applied Swarovski crystals. The devil, as well as his angelic counterpart, both retail for a hot $15,000 each. Only 12 were made for the collection, and each is signed by the artist so you better scoop yours up quickly. The entire collection will be in Jimmy Choo boutiques and online in November, if there's any neon-and-leopard inventory left. For now, click through the slideshow to see our favorite Rob Pruitt x Jimmy Choo picks! Want more collaboration news? Get your hands on Club Monaco x Erickson Beamon before word gets out, shop Kenzo x Van's sixth (and most amazing) collab now, or see Kanye West's newest effort with Giuseppe Zanotti.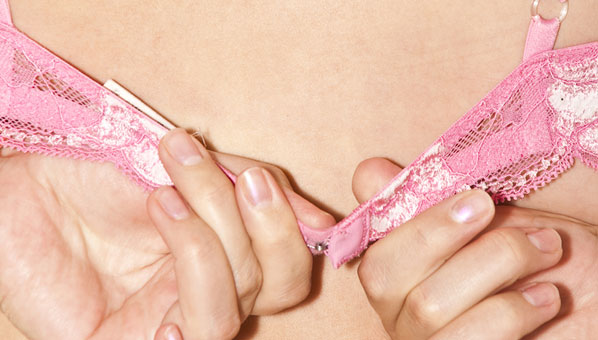 Why Bra Sizes Are A Scam: Linda The Bra Lady On How To Finally Get The Right One
Quick! How old is the bra you're wearing? Is it a ratty, ill-fitting linen-and-lace number with stretched out elastic? Was it once your older sister's or your best friend's from an impromptu sleepover-turned-brunch? Amen, sister. I've been wearing the same ones since high school, because I always thought there's no point of dressing the ladies up if nobody's going to see them (this is not by choice, mind you). I figure, why bother spending an extra couple hundred on a new and improved wardrobe of undergarments when I can waste my money trying to attract men in those new Giuseppe Zanotti heels? That is, until I met Linda The Bra Lady. After a co-worker passed me her card under the table at a department meeting, which was followed by a stern warning to wear a white tee, bring a hair tie and be prepared to strip, I made my appointment. This is serious business, ladies. After all, Linda has seen the famous racks of ladies like Bethenny Frankel, Victoria Beckham and Tea Leoni — and trust me, after 25 years of fitting all shapes and sizes, she's earned her moniker. I walked into her Murray Hill boutique expecting a caricature of a woman with huge, fiery hair, big boobs and busy hands to be standing in front of a parade of bras, but to my surprise, Linda couldn't be further from the loud-mouthed woman I envisioned. Still, she and her tape measure held the destiny of my 34Bs (or so I thought) in her hands. I started my quest for the best-fitting bra within my budget about two months ago,  and despite four weekends of shopping, er, hard work, I've yet to leave a mall feeling victorious. We all constantly hear we're wearing the wrong size, but if that's true, why do I seem to fit into everything from an A cup to a C? I needed answers. So do you. So why do we sometimes feel like we can fit in every size from a 32A to a 36C? Vanity sizing, that's why. Even though The Times blew the lid off this secret 3 years ago, it's still happening: "There's definitely vanity sizing in bras now, especially in the past ten years," Linda told me. "They want you to think your back is really small and your breasts are really big. I'm a 32G, but 10 years ago, I would have been a 36D." Now that we're armed with the knowledge that bra sizes are complete scam (there's our proof!), we can better navigate the pesky territory of figuring out our fit. Here's what Linda says every woman needs to know, lest they prefer unadulterated back pain and some serious stretch marks. Yep, a bra can cause stretch marks. Mind-blowing, right? First, a quick (and incredibly scientific) lesson: Band Size = The measurement of your rib cage, taken underneath the breast, plus three inches. Cup Size = The measurement of the fullest part of your bust in inches, minus your rib cage size. If this is 1, you're an A cup. If this is 5, you're a DD cup. Your Bra Size = (Your Rib Cage Measurement + 3 Inches) x (Measurement of Bust - Band Measurement) Linda measured my rib cage at 26 inches, which means my band size would end on an odd number. Anyone that's ever had the pleasure of digging through crates or bras knows there's no such thing as an odd-numbered band. Always size up, because the band will be a few inches tighter than you're probably used to (more on that later). My bust size is 31, so that makes me a 30DD. And now, a few nuggets of bra knowledge straight from Linda, who, like some sort of boob goddess from the heavens above, knew my size just from looking at my boobs: 1. First, women are consistently told to wear bands that are way too loose for them. This means straps are digging into women's shoulders everywhere. When you're trying on bras, know that the band should supply 80% of the support while the straps should provide about 20% of a pick-me-up. Back fat > sagging boobies. 2. As with most garments, there's not much of a difference between buying a $40 bra and a $120 bra, except for the quality of the lace and elastic. 3. Your bra's elastic will loosen over time, no matter how high-quality it is. To lengthen the life of your bra, start wearing your bra on the loosest hook, then tighten up as you wear it more. When you feel like you need to tighten it more, it's time for a new bra. If you haven't lost any weight, though, a new bra in the same size should fit you just fine. Ugh, I know. 4. You should be fitted and replace all your bras just about every six months, so it's best to spend $100 on three bras that fit great twice a year than $100 on one bra that'll wear out come summertime. 5. There's no need to wash your bra in between each use! Linda's take: "When you get dressed in the morning, you're clean. When you take it off at night, you're still pretty clean, unless you've been sweating all day long. I wear a bra seven or eight times before I wash it." 6. But that doesn't mean you should wear the same bra every day for a week: give each bra at least three or four days rest in between each wear. 7. If you have stretch marks on the top of your boobs but not the sides or the bottom, they're from poor support, not rapid growth. I had trouble coming to terms with this one, too. 8. So how can you tell if you're getting enough support? Linda says your nipples should be exactly halfway between the top of your shoulder and your elbow. It's science. 9. If you fall in love with one style of bra, don't buy it in every color. Keep in mind that there are different bras for every style of top you're wearing, so choose accordingly! 10. Lastly, if you've been lucky enough to figure out your size but haven't found "the one," bra alterations are a thing. I'm 5'1 with 30DD's, so I routinely get my straps shortened. Now we know why our mothers burned their bras... But oddly enough, getting my girls into the right size was strangely liberating, albeit shocking to see my former 34Bs fit (and snugly) into a 30DD bra. If you're feeling inspired to get your ladies front and center — and maybe rid yourself of back pain for once and for all — make an appointment at one of Linda The Bra Lady's two Manhattan locations for a personalized fitting. By the time you're done, you won't want to rip off that ratty three-year-old bra with the underwire poking out the side the moment you get home. Check out our guides to the best bras, best wireless bras and the best Spanx for your body. Go forth and conquer!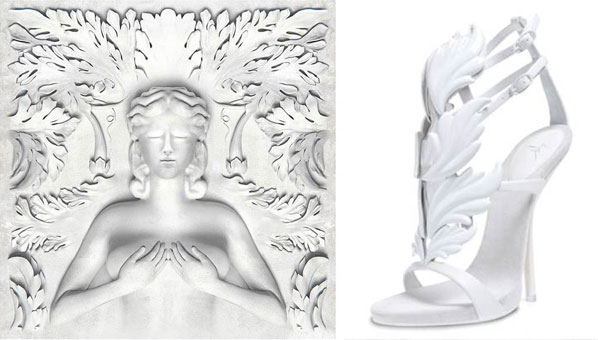 Kanye West And Giuseppe Zanotti Designed Stilettos You Probably Can't Even Walk In
In the wake of news that Kanye West has cancelled his Paris Fashion Week runway show (for Kim, maybe?) comes the rapper-turned-designer's sophomore collab with Giuseppe Zanotti. So how exactly does one follow up a pair of $6,000 pearly caviar-beaded knitted open-toe stiletto bootie-things? With a pair that looks nothing like them, thank goodness. The second style created in collaboration with Zanotti is called "Cruel Summer" after Kanye's brand-spankin'-new collaborative album, and it's a bit more classic: the all-white ultra-high stilettos boast a Grecian-style leaf motif, echoing the album's cover art. The serpentine, inward slope of the heel makes me wonder if these are even walkable, but given Kim's undying love (lust?) for whatever Kanye creates, we know she'll sure as hell try. No word on when they'll hit stores or how much they'll cost, but our guess is it's well into the four-figure range. See you never, Cruel Summer stilettos. Want more collaboration news? Get your hands on Club Monaco x Erickson Beamon before word gets out, shop Kenzo x Van's sixth (and most amazing) collab now, or find out which huge department store just teamed up with Derek Lam!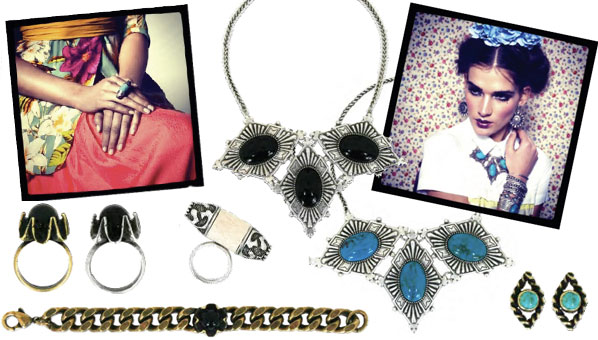 Marie Claire Accessories Editor Turns Designer And Dudine Jewelry Is Born: Shop Now!
Dudine may be the new kid on the block, but the Jen Kramer, jewelry brand's designer has had her hands busy handling all sorts of baubles for years. After years as an accessories editor  W, Marie Claire and InStyle, Jen Kramer ventured into a collection of wear-with-anything west coast-infused jewelry. The Dudine aesthetic is a healthy mix of charming Mexican flair (a weighty Bandera pendant necklace) with downtown grungy-chic rock 'n' roll sensibilities (a bullet ring!), which means most pieces are ready and waiting for regular rotation. "It was important to me that the pieces have a bold, but not overwhelming design. They're strong enough to wear on their own, and can be dramatic when worn together, but it's never excessive," Jen told us. "I wanted the collection to be comprised of pieces you want to wear every day and also have pieces for when you're looking to make a fashion-forward statement. I tend to be a jewelry junkie so I love to layer pieces together." Inspired by her travels from the wide-open beaches of Baja California and "the colorful history of colonial Mexico," as Jen said, the line is made from materials like antiqued metal, turquoise, glass and resin. They're certainly made to layer! With prices going from $30 for the "Mexican Vagabond multi-strand rope ring to $175 for the Bandera pendant necklace, Jen said she wanted the line to be well-crafted "affordable luxury." Even better? You can spend your paycheck guilt-free: 10% of all proceeds will benefit the Thousand Smiles Foundation, a charity in the very country that supplied her with enough inspiration to create her fall 2012 collection. Every season, Jen will pick a new charity to work with. Click through the slideshow to take a peek at our favorite picks from Dudine's inaugural line. Want to add to your jewelry box? Shop fall's most baddest trend (ear cuffs!) now, get your hands on wild animal-themed jewelry, or dress up even the most boring outfit with these statement necklaces.
Gwyneth Paltrow Teams With House of Harlow On A "Badass" Jaguar-Head Bag
Gwyneth Paltrow may not be in touch with the common man, per say, but she sure knows how to get our blood flowing. Just days after she revealed the $1000-combined results of her collaboration with knitwear label Chianti & Parker on her site, goop.com, the 40-year-old actress (happy belated!) teamed with Nicole Richie of House of Harlow, 1960 on a perfectly chic (and kind of ferocious!) clutch. The Addison handbag, priced at a reasonable $225, is constructed from deep oxblood leather with subtle undertones of turquoise with a "badass jaguar head clasp," as Ms. Paltrow puts it, finished with a brushed gold trim. The snakeskin-designed clutch, which is sized similarly to a minaudiere, is sold exclusively on goop. We're also pretty surprised Nicole Richie found the time to create a collab with Gwynie, especially considering she has her hands busy selling fall collections with both Macy's Impulse and QVC. Want to know what else Gwyneth's been up to lately? Check out the $20K wardrobe she thinks you should have invested in for spring, take a look at those two $500 sweaters she designed with Chianti & Parker, or check out her recent collaboration with Rag & Bone.
Stuart Weitzman Fuels Your Footwear & Celeb Fetish To Benefit Charity
Stuart Weitzman, a purveyor of insanely luxe (and comfy!) shoes, is turning your footwear fetish into something more than an overflowing shoe rack -- as per his annual tradition, Weitzman teamed up with Hollywood's finest to raise money and awareness for ovarian cancer. This time, he's collaborated with everyone from Brooklyn Decker to AnnaSophia Robb on a five-piece range called The Stuart Weitzman Young Hollywood Cares Collection. Each starlet worked with Weitzman individually to create their own shoe: Nikki Reed designed a black goose-bump calfskin platform ($425), Julianne Hough worked with Weitzman on a black lace-up high heel oxford ($425), the young Chloe Grace Moretz churned out a menswear-inspired color-block lace up ($375), the gold metallic cap-toe ankle boot ($495) was co-designed by Brooklyn Decker, and AnnaSophia Robb teamed with Weitzman on a black pony-hair pump with burgundy satin piping (my fave!), which retails for $425. Proceeds benefit research at the Folkman Institute in Boston, so you can feel good about indulging in a little fall shopping. Styles look like they're going to sell out fast (especially Chloe Grace Moretz's two-toned oxfords), so head over to StuartWeitzman.com or any of his flagship locations to get your hands on a pair now! Want more collaboration news? Get your hands on Club Monaco x Erickson Beamon before word gets out, shop Kenzo x Van's sixth (and most amazing) collab now, or find out which huge department store just teamed up with Derek Lam!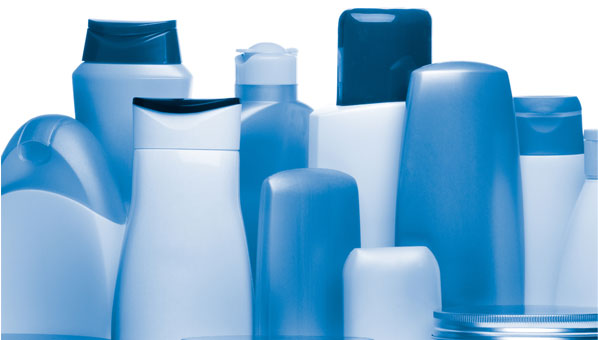 Are Your Everyday Beauty Products Giving You Cancer?
When Indie Lee decided to ditch her corporate lifestyle in 2005 to cultivate an all-natural greenhouse, she never fathomed her new career path could potentially help save her health. But that's what happened, when just three years later, she was diagnosed with a rare, nearly-fatal brain tumor. "When I asked my doctors how someone as health conscious as me could develop a tumor, they said it was likely environmental," said Indie, who later started her own all-natural talc-free skincare line. "I learned the hard way that eating natural foods is just one piece of the puzzle, and that using natural products is just as important for overall wellness." While the exact figures range considerably ("The skin is a sponge!" "No, the skin is a barrier!"), it's no secret that the skin absorbs at least some of what you apply topically. Of course, this varies by person, product and even time of day, but if your largest organ is sucking in even 10% of what you put on it, wouldn't you want to be sure your cleansers, lotions and exfoliants are all non-toxic? And while it's impossible to pinpoint one specific cancer culprit, the latest bad guy on the skincare front is talc, which, in some forms, is almost structurally identical to asbestos. Talcum powder is a mineral composed of hydrated magnesium silicate, and it's present in everything from eyeshadow to foundation to finishing powder. It's favored because of its ability to help a product stick to the skin, and though the FDA  announced cosmetic-grade talc as safe, a recent British study found that rats who were exposed to said cosmetic-grade talc developed unexplained inflammatory lung disorders, and additional studies linked talcum powder to ovarian cancers, most seen in women who apply baby powder to the genitals on a daily basis.  While you should be conscious of what you're putting on your face and body, talc is most dangerous when inhaled. "I knew then that my mission--once I kicked the tumor to the curb--was to create safer choices in skin care that are both effective and luxurious," said Indie, who uses ingredients like jojoba oil, apricot kernel oil and calendula oil in her products. Myriad other brands have jumped on the all-natural wagon, refusing to use talc because of the possible links to cancer. Those brands includes emerginC -- an all-service botanical line of cleansers, moisturizers, exfoliants and creams -- Korres, Zosimos Botanicals, Pure Luxe and Ada Cosmetics, among others. Keep in mind that Tricalcium Phosphate is the safe, widely accepted anti-caking substitute for talc, which now formulates many baby powders, eye shadows and pressed powders. "Talc never even entered the equation when creating products at emerginC," a rep from the brand said. "It is a toxic ingredient that we did not want to expose to our consumers." The best way to be sure you're not putting yourself in danger is to steer clear of products with parabens, sulfates, drying alcohols. And if you can't read the ingredient list after a couple tries, at least make a second thought about including it in your everyday repertoire. Want more beauty tips and advice? Check out the biggest hair and makeup trends from Milan Fashion Week, read up on our review of St. Ives Apricot Scrub, or find out how you can banish dark under-eye circles in just three days.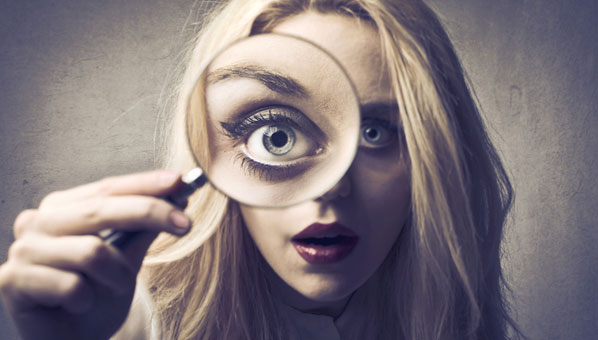 3 Easy Tricks to Banish Under Eye Circles By Friday (For Reals)
You know what's the worst? When someone tells you that you look "tired." It's exponentially more annoying than "You look sad" or "Are you sick?" because it's often said with bravado-like compassion and a patronizing head-tilt. The worst. But now that I'm out of my acne-laden teens (and thank goodness for that!), my biggest skin concerns are dullness and, well, dark circles. They used to be the tell-tale of an all-nighter in college, but these days, I'm prone to puffiness even when I've clocked an impressive eight hours. See? The benefits of growing up are endless! We've all spent an entire week trying to get enough sleep in time for a weekend event, especially when we'll probably be photographed, but Murphy's Law exists ruin your chances of looking good on Facebook and you'll probably have to work overtime Thursday night. But don't worry! This super-eary three-step regimen will have those end-of-the-week dark circles banished just in time to step out with confidence. On Wednesday: Change your pillowcases from cotton to silk -- not only do the soft fibers do wonders for frizzy hair, but they don't pull nearly as much on your delicate skin. Double up on the pillows, too: it'll stop incriminating excess blood and fluid from building up underneath your peepers. When you wake up, lean back and press (don't tug!) ever-so-gently around your eye area with your fingertips to get circulation up to speed. On Thursday: Cut the salt. I know, it'll probably feel like a mini diet, but excess salt causes some serious bloating. We're not recommending an all-raw diet, but aim for no more than 2,000 mg per day and be sure to drink enough water (my doctor says to divide your weight in lbs by two and drink at least that many fluid ounces). Keep in mind that just one teaspoon of table salt has more than 2,300 mg of sodium, but processed and prepared foods are the real culprit. On Friday: Apply only cool moisturizers to your delicate eye area, and I'm talking temperature, not popularity here. Thursday night, throw your eye cream (or even your facial moisturizer and concealer) in the refrigerator, and apply it as usual Friday morning. The cool sensation increases blood constricts your pores and reduces swelling or inflammation all at once. If you like how it quickly it wakes you up, feel free to store your beauty products in there all the time: it'll increase their shelf life, too. And if all else fails, throw on fake eyelashes and enjoy your night! Want more beauty tips and tricks? Tweet us your questions! In the meantime, find out how to keep your hair in place all day (without hairspray!), check out our review of St. Ives Apricot scrub, or read up on the most wearable beauty trends from Milan Fashion Week!
Get Your Hands On The Kenzo x Vans Grapevine-Print Collab Before It's Sold Out!
Not to pick favorites or anything, but in a post-Karl-Lagerfeld-for-H&M world, collaborations that really get us going are rare. But this time, Kenzo and Vans are following up their successful five-time collab with a sixth -- sixth! -- collection of seriously a-mazing printed sneakers for Opening Ceremony. Kenzo, a Japanese brand known for their kitschy prints and youthful spirit (especially since OC Creative Directors Carol Lim and Humberto Leon took over), brightened the iconic lace-up shoe for fall 2012 with everything from the much-anticipated multi-colored grapevine print to a spotted black-and-white style. There's even a pair of marbled slip ons if that's more your style, and we can't stop thinking about how perfectly they'll pair with a sheer maxi skirt and chunky sweater for the cooler months. You're probably kicking yourself for not pre-ordering a pair, and at $125 a piece, they're selling out fast. Head over to Opening Ceremony and scoop up your faves STAT! Want more collaboration news? Get your hands on Club Monaco x Erickson Beamon before word gets out, shop J Brand's limited-edition capsule collection for Shopbop now, or find out which huge department store just teamed up with Derek Lam!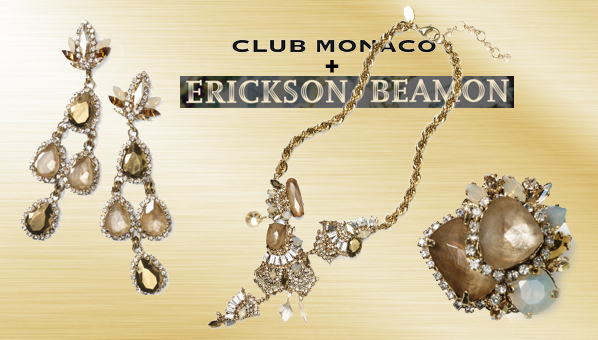 Club Monaco x Erickson Beamon Jewelry Launched A Week Early: Shop Now!
Even after working with the late Alexander McQueen, Erickson Beamon is may perhaps still on the brink of becoming a household jewelry brand name, but Club Monaco, the ultimate purveyor of all things timelessly elegant, is working to fix that -- and STAT. The retailer collaborated with Erickson Beamon, a design duo from Detroit who's accessorized everyone from Michelle Obama to Lady Gaga, on a drop-your-jaw-amaze three-piece jewelry range. It is, in a word, perfect. Oh, and it's a week early! Included in the range is a steal-the-show statement necklace made with gem and crystal-encrusted pendants in every shade of champagne, a matching pair of chandelier teardrop-gem earrings, and a corresponding ring made from variegated crystals and stones, set in an antique gold plate. The collection is priced a bit higher than usual for Club Monaco: the Erickson Beamon Ring costs $129.50, the earrings $149.50, and the necklace will run you $225 even. The vintage-inspired-collab will likely go quick, so I recommend you hop over there now before you regret letting this one go! Want more collaboration news? Find out which huge department store just scored a partnership with Derek Lam, shop some adorable graphic tees from Gap x Threadless, or shop J Brand's limited-edition capsule collection for Shopbop now!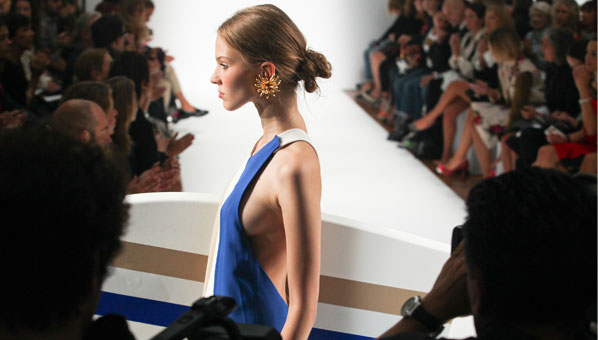 Instant Gratification: Top Milan Fashion Week Beauty Trends You Can Wear Now
The trip from London to Milan may seem like a short one (734 miles, to be exact), but the switch from English to Italian fashion isn't nearly as seamless. Just about five dozen designers took the stage to show their vision for spring 2013, but as it happens, a few clear ahh-mazing beauty trends emerged. We'll have to wait a solid five months to get our hands on the paper-thin lace dresses, loosely-tailored suits and graphic-printed separates, but for now, we can indulge the top beauty looks, straight from the runway. Just before we hit the Fashion Month homestretch, take a peek at Milan's most wearable chic hair and makeup trends.
Katy Perry Debuts Daria Nail Art, We Love Her Even More
With her blue hair and short skirts, Katy Perry may seem like she's the ultimate purveyor of all things tacky (hello, spinning candy nipples!), but it seems like the blue-eyed beauty is just pining for 90s nostalgia like the rest of us. The newly single songstress made a pit-stop in Tokyo to promote her upcoming movie, Part of Me, where she tweeted her new ahh-mazing Daria nail art by way of the ladies at ES Nails. That's right. Katy Perry, the same girl that sang "California Girls," knows who Daria Morgendorffer is. Talk about two worlds colliding... Surely they are fans of the ever-jaded teen halfway across the world, too. We just want to know how long it took the Japanese techs to hand-paint the manicure. The only problem? While there are surely enough characters for each finger, Daria makes an appearance twice. Seriously, where's Charles "Upchuck" Ruttheimer? We now interrupt this important news brief for some Splendora (better known as the Daria Theme Song). Craving more nail inspiration? Get the deets on Deborah Lippman's newest red lip and nail duo, check out the newest releases from Ciate (you know, the Caviar nail brand), or read up on London Fashion Week's totally wearable beauty trends!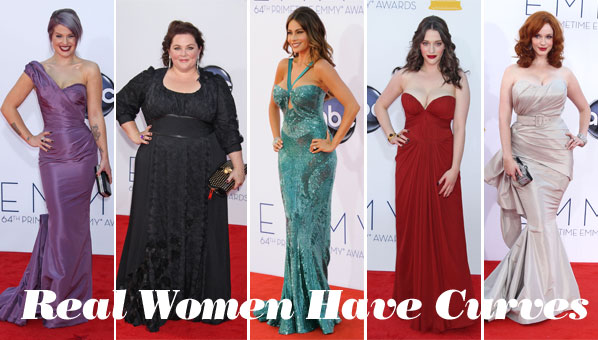 Never Mind Best Dressed, Who Won Best Curves On The Emmy Awards Red Carpet?
Last night's Emmy Awards seemed to go off without a hitch (save for Lena Dunham's Jimmy Kimmel-fueled nude toilet scene to open the show), but I have to be honest: once the red carpet was over, I packed up and called it a night. I hear Modern Family did well... This year, despite the ever-present red carpet flub (we're looking at you, overly dramatic January Jones), nearly every celeb embraced her glamorous side -- Jessica Pare (better known as Mrs. Donald Draper) stunned in a white one-shouldered Jason Wu, Zooey Deschanel donned a for-better-or-worse cotton candy blue Reem Acra confection and Modern Family's Sarah Hyland wowed in a grecian-draped Machesa gown she co-designed. But glamor aside, the best-dressed ladies of the night were the ones who fully embraced their voluptuous curves. Click through to find out which well-endowed actresses highlighted their assets best last night. [Photos: Splash News]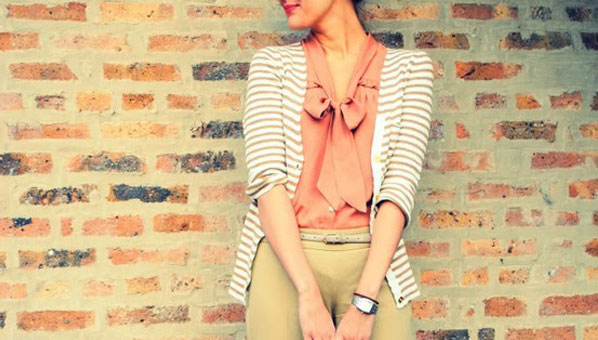 9 Ultra-Feminine Pussy Bow Tops You Can Wear All Season Long
As the ultra-feminine cousin of the standard oxford button down, the pussy bow blouse effortlessly ups an outfit's chic factor, but it never seems to become a full-blown trend. This fall, the style is back with a vengeance, and this time it has something to prove. While there's tons of ways to rock a pussy bow top — you can tuck it into a pair of jean shorts or pair it with some wide-leg jeans — my favorite way to offset the super girlishness of the top is to unexpectedly team it up with pair of leather leggings. You may feel like you've adopted a case of sartorial multiple personality disorder at first, but no risk means no reward! Click through the slides to take a peek at our top pussy bow picks! Want more fall trends? Check out our picks for the best chambray shirts, find out how to winterize your summer dresses, or browse through our picks for the best tall boots for fall! [Photo: TSLL]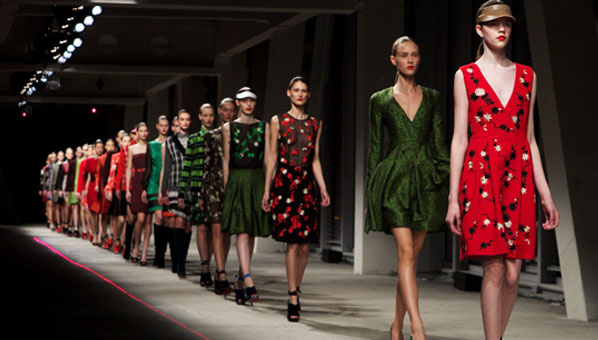 Instant Gratification: Top London Fashion Week Beauty Trends You Can Try Now
It seems like London Fashion Week came and went in a hurry, but that doesn't mean we weren't paying attention to the details. Even though we're officially halfway through the marathon that is Fashion Month, the countdown until February—when the runway duds usually make their collective way into retail stores—seems endless right now. To hold yourself over in the interim, browse the best British beauty trends (say that five times fast!) that ruled London's runways. While some of the hair and makeup carries over from the New York runways, London is usually where you'll fine the most wearable, tame looks. Click through to find not only the top trends, but also tips and products to help you get the look. SEE THE SLIDESHOW TO GET THE LOOKS ON YOUR OWN NOW Want more beauty advice? Tweet us your questions @shefinds! In the meantime, check out the looks that dominated NYFW, find out what the best nail polish collabs for spring 2013 will be, or read up on whether or not it's a good idea to splurge on your exfoliant! [Photo: LFW]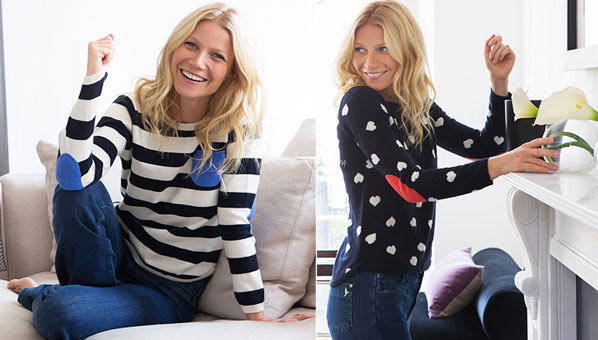 Gwyneth Paltrow Designed Two $500 Sweaters, Still Out Of Touch With Reality
It's been one hell of a September for Gwyneth Paltrow—not only was she named People Magazine's "World's Best Dressed Woman," beating out one Miss Kate Middleton, but she enjoyed a successful collaboration with Rag & Bone, and even teamed up with J.Crew on her website, Goop.com, to show the world how the 1% transitions into fall. This time, the 39-year-old purveyor of all things chic partnered up with British knitwear label Chianti and Parker on two adorable sweaters, sold exclusively on Goop. That means you can expect them to be perfectly on-trend...and incredibly pricey. Working with Chianti and Parkers founders, cousins Anna Singh and Rachel Wood, Gwyneth created two wear-with-anything pieces that fit right into the eco-conscious label's ultra-comfy repertoire: the first, a playful intarsia heart-motif cashmere sweater in navy and white, priced at $515, and the second, a thick cream-and-navy-striped cashmere number with an offsetting sky blue pocket patch, complete with three-button detailing on the shoulder. That one sells for $485. Goop shares many ethical and stylistic values with Chinti and Parker, from a commitment to sustainability and better living to a love of timeless, beautifully made clothing" Singh told UK's Telegraph. "We are immensely privileged to have collaborated in this way and hope you love the pieces as much as we do." Anyone else betting these things sell like hot cakes? Head over to Goop to snag yourself the fall basics before they're all gone! Want more fashion news? Find out who London it-girl Katie Grand just teamed up wth, snag Selena Gomez's super-comfy boyfriend jeans, or shop The Outnet's new in-house line, Iris & Ink.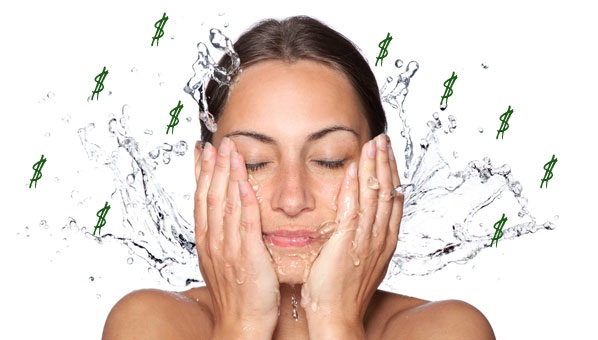 High-Low Beauty: Is St. Ives Apricot Scrub The Best Exfoliator Around?
[photo: shutterstock] Let's cut to the chase here. You really, really don't want dead skin cells lingering around any longer than they have to—not only can they lead to a dull complexion, but clogged pores and blemishes (no fun!). But choosing the right exfoliator is on par with picking the right jeans: it can be difficult and exhausting, but once you've found your perfect match, it's downright heavenly. It's important you find the best beauty products for your budget, and sometimes, big-ticket skincare items just aren't worth their weight. The only way to know if you should forego drugstore beauty and spending the extra money? Try them out for week each, of course! Don't worry though, I did the dirty—er, cleansing—work for you. Click through to see how St. Ives Apricot Scrub matched up against its more expensive counterpart. The results will probably shock you.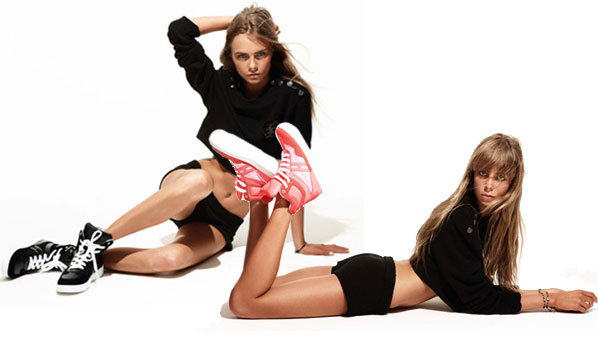 PHOTOS: It Girl Fashion Stylist Katie Grand Lands A Collab Deal With Hogan
Stylist-turned-print-editor Katie Grand may not be instantly recognizable in the states, but as the editor-in-chief of LOVE magazine—a bi-annual fashion, beauty and pop-art magazine she launched herself—she's one of Europe's hottest sartorial commodities, so it's no wonder that Hogan plucked her for their newest designer collaboration. The venerable do-it-all fashion darling (and almost-Mulberry creative director), who's almost never seen without a cropped moto jacket or a black blazer, designed a spring capsule collection of sneakers, ballerina flats, purses and oval sunglasses for the Italian label. The partnership comes a full two years after Hogan tapped—who else—Karl Lagerfeld for a four-time capsule. "This is the first time I've done a collection in my name, so I wanted to work with people I knew," Katie said in an interview with Derek Blasberg for her own mag.  And when it came to model casting, which is something Grand might call her top skill, she picked nobody but the best names in fashion, including Linda Evangelista, Alessandra Ambrosio, Cara Delevingne and Magdalena Frackowiak. Early photos of the collection reveal strong athletic influences with a timelessly retro twist. Katie Grand for Hogan will be in stores January 2013. Katie Grand told Vogue that she took Hogan's traditional aesthetic and reworked it to create her range: "A lot of people seem to think that the wedge trainer is a new idea," she said, "but the it has been in the Hogan archive for years." Want more collaboration news? Check out Chris Benz's unexpected partnership with the Cambridge Satchel Company, get your hands on Sephora x Pantone Universe's Jewel Lacquer Collection, or see which E! News star's HSN collab hit stores two days early.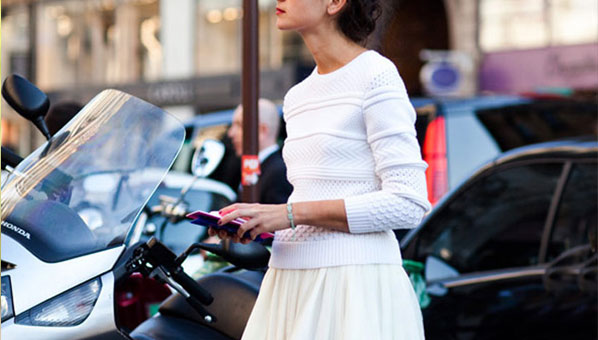 Your Ticket To A Cozy Fall: The Best Made-To-Layer Chunky Knits
Photo: Ethen Dencia Here in NYC, mother nature is threatening temps down in the 60s, which means it's finally time to break out all those ahh-mazing fall goods we've had to stow away until now. But if you didn't have a chance to stock up on your fair share of chunky knits (or if you're not ready to take your parka out of storage), not to worry: we've rounded up the coziest made-to-layer sweaters for fall. As a note, it's best to pick wool blends knits like alpaca or merino—or, if it's in your budget, a cashmere style—instead of cotton, which will just stretch and lose its shape, especially when layered over oxfords or dresses. So whether you're pining for a comfy cable-knit number to pair with an A-line skirt or a wool-blended loose-knit to wear over a chambray button-down, we have the season's best picks to carry you well past the holidays—because sometimes you're just not in the mood for sequins and frills. Want more fall fashion? Shop the most flattering wear-with-anything chambray tops, get your hands on Loeffler Randall flats on the cheap, or find out how to wear this season's printed scarf trend.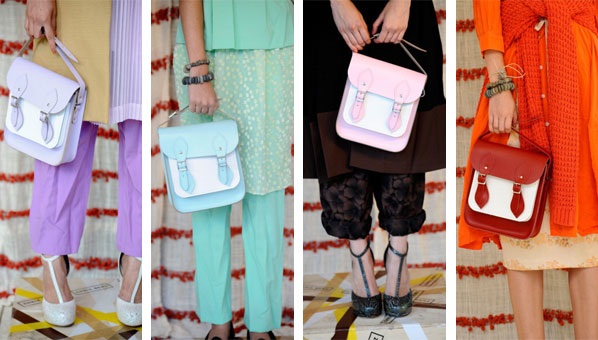 Chris Benz For Cambridge Satchel Company Takes The Spring '13 Collab Cake
Photo: Fernanda Calfat/Getty Images Collaborations are synonymous with New York Fashion Week, but in the mid-September craze, we missed one of the most painfully adorable (and strangely perfect) pairings yet: Chris Benz for Cambridge Satchel Company. Weird, amirite? The limited-edition satchels — which, if you'll notice come in petite new mini-squares — debuted during Benz's spring 2013 presentation. As the first US designer to collaborate with the British start-up, Chris, a Seattle native, proves it's totally possible to merge his erratically covetable mix-and-match aesthetic with Cambridge Satchel Company's timeless sensibility. "The Chris Benz girl is fun, flirty and fashionable," said Cambridge Satchel Company founder Julie Deane. "We are so excited to be working with [him] for our first US design collaboration. With his signature colours, textures and prints, he is a perfect partner for the Cambridge Satchel Company." The whimsical two-toned bags will come in nine different spring-ready colors, ranging from Easter egg blue, fire engine red, black-on-white, and forest green. Don't worry: we'll definitely let you know once they hit stores! Want more Fashion Week news? Find out what the biggest NYFW spring beauty trends were, check out Alice + Olivia's new handbag range, or check out how Lady Gaga opened the Philip Treacy show this week.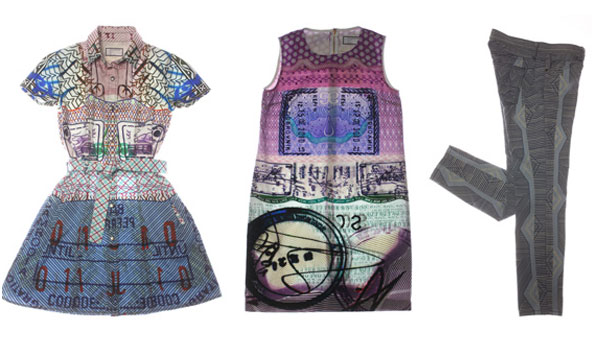 Mary Katrantzou's Prints Just Got More Affordable Thanks To This Spring Collab
Mary Katrantzou has long been offering us women ways to look instantly repellant to men à la Leandra Medine, but her cah-razy print-on-print-on-print wares have never been exactly budget-friendly - until now. The London-based designer, who showed her multi-sensory spring 2013 collection earlier this week, just announced her latest collaboration that skipped right past us during the live-stream. In addition to her banknote-and-stamp prints, Style.com is reporting that Mary Katrantzou collaborated with Current/Elliot's head denim authority Serge Azria on a series of denim pieces, including everything from (shocker!) printed jeans and tees to shift and collared dresses. Though prices aren't exactly comparable to those of her amazing Topshop collab from earlier this year, at $220-$530, the collection is certainly more affordable than her mainline. We'll certainly let you know exactly when Mary Katrantzou x Current/Elliot hits stores, but you can expect the collab to drop mid-February, right around the time the rest of her spring 2013 goods will arrive. Looking for more collaboration news? Find our which songstress is rumored to be designing a plus-size collection for Burberry, shop Rachel Zoe's Jockey collection now, or get your hands on J.W. for Topshop before it's all sold out!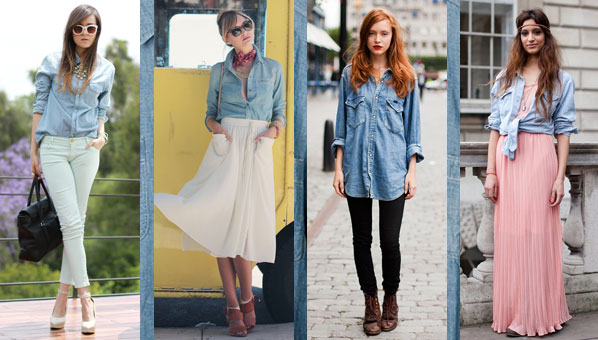 These Flattering Chambray Shirts Will Get Some Serious Mileage This Season
Chambray is pretty much the unofficial sponsor of fall, and when you combine their ability to go from day-to-night along with their wear-with-anything appeal, it's no wonder why. Though you're probably well-versed in the versatility—not only can you wear it buttoned to the top under a loose-knit sweater for a preppy look, but you can layer a tie-front style over a maxi dress for a forgiving weekend brunch look—finding the oh-so-perfect chambray in a shade that works for you isn't exactly a cakewalk. While we're advocates of shopping the sale section (especially in between seasons), it's important that you get the most mileage for your buck, so plan to invest in a style similar to the way you'd hope to year a few years out of a handbag or heels. The perfect chambray should not only fit like a glove, but you should pick one with some serious staying power. It's important to note that light-wash denim, while a huge no-go for jeans, is perfectly acceptable on top—feel free to rock a rinsed-wash chambray with anything from black jeans for day to a sequined mini for night. Second, unless you're on the trading room floor, donning a dark-wash work shirt tucked into a black pencil skirt is perfectly office-chic. Just know that the lighter you go, the more casual you'll look. Now that you're done soaking up some sartorial inspiration, click through to shop the best work shirts that'll be putting in some wardrobe overtime this fall. Want more fall fashion tips? Find out how to rock this season's biggest denim trends, get in on the everlasting printed scarf fad, or check out how to style leggings when cooler weather comes. [Photos: Left to right credit: Style Scrapbook, Late Afternoon, Stockholm-streetstyle.com]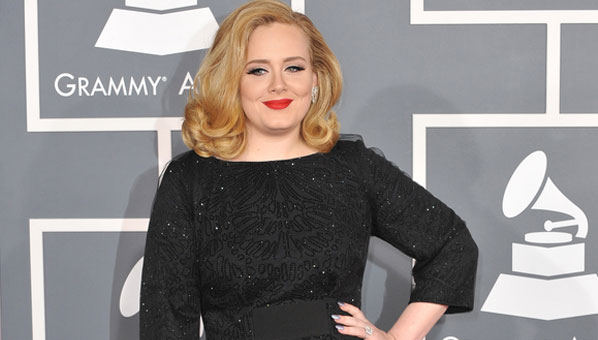 Rumor Has It Adele Will Design A Plus-Size Collection For Burberry
After pop darling Adele racked up a hot six Grammy Awards wearing a dress that she and Burberry's Christopher Bailey designed together, rumor has it the songstress is teaming up with the designer again for a plus-size collaboration. ContactMusic.com is reporting that Adele, who is set to give birth later this month with husband Simon Konecki, will create bespoke designs for curvy women with her stylist Gaelle Paul . We're really hoping this happens (and is super successful) especially because it would be a huge slap in the face to one Karl Lagerfeld who once deemed Adele "a little too fat" for his taste. #Win! ContactMusic quoted a source as saying: Adele has always had an interest in fashion, and Christopher [Bailey, of Burberry] is keen to get her involved because she knows exactly what suits her and likes to be involved in the creative process. The pairing makes sense, especially after Burberry dressed Adele for multiple red carpet appearances during the 2011 award season, including the MTV Video Music Awards. And Adele may already have a post-pregnancy job lined up in singing the theme song for the new James Bond flick, Skyfall, but this would be a huge move for both her and Burberry. She has also spoke openly about her love of the brand, saying: "I've met Christopher Bailey a few times," she said previously. "I've always loved Burberry. I remember saving for three years to get my first bag before I got signed." Want more fall fashion news? Find out which London Fashion Week shows are live streaming, watch the insanely weird video of Lady Gaga opening the Philip Treacy show, or check out which fashion faux pas is making a serious comeback this season. [Photo: Splash News]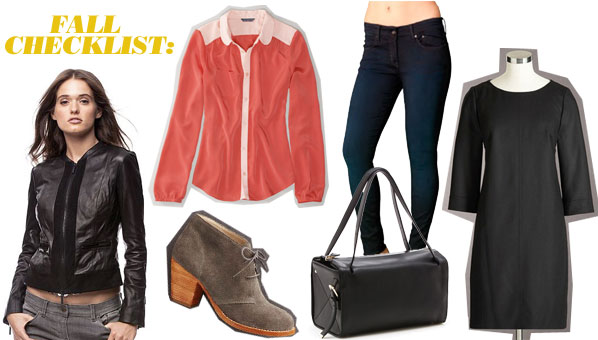 SHEfinds On TV: Your No-Fail Fall Wardrobe Checklist
This morning, shopping expert and SHEfinds CEO Michelle Madhok headed to CBS affiliate WLNY to dish on what she knows best: how to build a wardrobe with the most mileage. But if you missed the segment, never fear! We're bringing you the season's best tips and tricks plus showing you where to buy your new fall essentials. Casual summer Fridays are over (le sigh), which means the death of flowy dresses and sandals — it's time to get more serious about your work wardrobe and start planning for when the weather turns so you're not left out in the cold. While you can still wear some of your spring holdovers in your closet, you can try to refashion them with a few tweaks. Your dresses can be paired with cardigans, booties and tights and you can probably still get away with open-toe leather sandals, too, if you've got them. The most important thing to keep in mind about your fall wardrobe is your clothes should be cozy yet breathable — you should always be prepared for those unpredictable days when the weather changes on a whim and it gets either too hot or too cold, but you don't always have to carry around bulky layers. Click through the slideshow and find out how to build your no-fail fall wardrobe! Check out more: from the best sales and deals to more of the best booties, skinny jeans and leather jackets.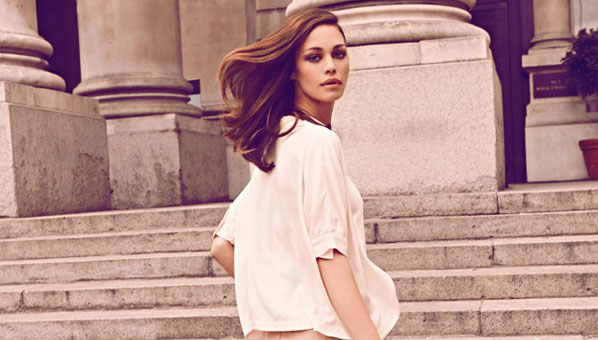 Primer Works Better In Your Hair Than Your Face (And Other Beauty Revelations)
Photo Credit: Honey Davis-Wilkinson by Koray Birand for Net-a-Porter I couldn't be happier that the drudgingly hot days of summer — and the annoying frizz that always seems to tag along — are gone, but styling your hair in the cooler months is a totally different battle. Trust. No matter how much you condition your hair, it still seems to go limp and extra-dry, even if you've skipped a wash or two (don't worry, we're not telling!). While dryer sheets may seem like your only fall/winter go-to strand-savior — you already know they reduce static with one swipe on your tresses, right? — there's a few other products you should stock up on come September, including one you probably haven't heard of yet. I already told you how to revamp your beauty routine for chilly days ahead (read: moisturize!), so click through to find out how to keep your strands in tip-top shape next season. Check out more: we've got the best sales and deals, online sample sales and celebrity style, too.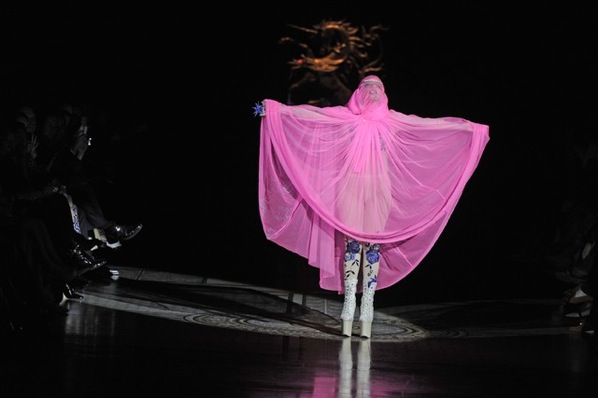 VIDEO: Lady Gaga Opened Philip Treacy's Michael Jackson Themed Show With A Jesus Pose
Lady Gaga isn't exactly a queen of the runway, but she certainly commanded attention at London Fashion Week. Donning a neon pink caped veil, Mother Monster opened Philip Treacy's spring 2013 runway show by striking a Jesus-like pose and introducing the Michael Jackson-inspired collection before clanking back to her front-row seat in 6-inch platforms. The venerable milliner hadn't shown during LFW in more than a decade, but his return to the runway, which included a full-blown choir and head-turning hats, was nothing short of mesmerizing. The collection featured headgear so outlandish that many models appeared as though they might collapse under their weight, including a pair of oversized Minnie Mouse-esque ears, a sequined medieval-style helmet and even an obscuring light-up clawed fascinator. But Lady Gaga's cray-cray opening (and, you know, those hats) may have overshadowed the fact that Treacy's runway show featured a cast of all black models. British-born model Jourdan Dunn, who walked with fellow black models Alek Wek, Leomie Anderson, Sessilee Lopez and Marihenny Rivera Pasible, tweeted her excitement for the progressive lineup before the show, calling the move "genius." Treacy has yet to comment on the move. Check out the video of Gaga's opening and some of the best looks from the show! [youtube]http://www.youtube.com/watch?v=XLT6ZCe9gQ0[/youtube] Want more fashion week news? Find out which London Fashion Week shows are live-streaming, check out which spring RTW dresses could double as wedding gowns, or get in the know about the spring fashion trends you can pull off now.
Kenzo Takada Is Now Designing Fine Jewelry And Yachts, If You Were Wondering
When Japanese designer Kenzo Takada retired from his namesake fashion house in 1999, he swore he'd never work again. Just kidding! He just said he'd rather work in decor, and with his latest release, he isn't too far off: Kenzo designed and created a collection of fine jewelry for private atelier 10 Royale, WWD reports, and the 20-piece range includes an insane white-gold-diamond-and-ruby ring that probably costs more than a year's worth of rent. But don't expect ultra-quirky prints in neon colors — the collection, which everyone seems a little too hush-hush about for my liking, is based on a classic "floral bloom" theme. Yawn. Oddly enough, Takada also lent his design skills to everything from oil and acrylic paints to yacht decoration. He's certainly one busy man, though I wish he'd take the helm at Kenzo just for one season. Want more fashion news? Check out Matthew Williamson's first line of shoes, get your hands on the J.W. Anderson x Topshop collab before it's sold out, or find out which of Jessica Alba's must-haves is on sale!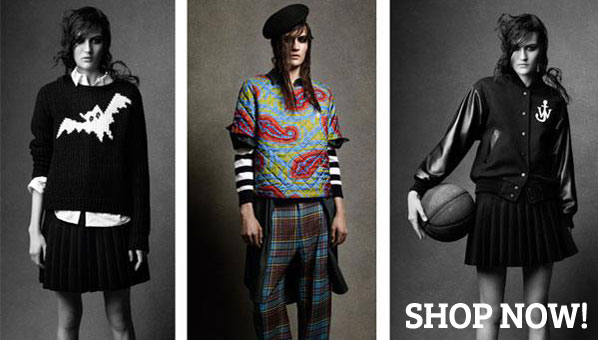 J.W. Anderson x Topshop Launched: Shop All The Turtles And Tartan Now!
It seems like there's a new high-low designer collaboration every other day (both Esteban Cortazar x Net-a-Porter and Nicole Richie for Macy's Impulse dropped earlier this week), but this one just might take the cake. Hot on the heels of Topshop's announcement that you can buy the retailer's spring 2013 lineup right off the runway comes J.W. Anderson's insanely perfect 90s grungy-chic collab, complete with all the crazy. In addition to his signature tartan, paisley and tortoise prints on oh-so-comfy knits, you can also snag a J.W. Anderson x Topshop iPhone case, coordinating notebooks, and even a lollipop bearing his name. Seriously. Priced from $1.99 for a single J.W. Anderson-branded pencil (followed closely by slap bands, which go for a solid $3.99) to $259.99 for a leather-sleeved varsity jacket, the range, which is mostly tagged around the $100 mark, is your best bet for an on-trend, instantly recognizable piece. This collab is certainly going to sell out (some sizes are already out of stock!) so I seriously suggest you move in on those turtles now — click through to find out our favorite picks! Want more fall fashion? Find out which fall trends are popping up on the spring runways, get in on the leather-and-tweed craze, or shop our favorite bib necklaces!
High-Low Beauty: Should I Splurge On Makeup Removing Cleansing Wipes?
My nighttime beauty routine might take me ten minutes, tops, but it's such a relief to crash into bed the moment I get home. And after a long work day or a late night of downing cocktails (responsibly, of course!), we all know that makeup cleansing wipes upgrade from occasional travel buddy to instant miracle worker. Still, with so many formulas out there - and each of them vying to be your go-to skincare guardian - it's hard to determine which makeup removing wipes are worth their weight. I tested two brands: one, a drugstore buy that promises gently lift away everything from NYC smog to waterproof mascara, and the other, a hydrating luxury formula that promises to remove makeup without clogging pores. Click through to see how both brands of cleansing wipes match up!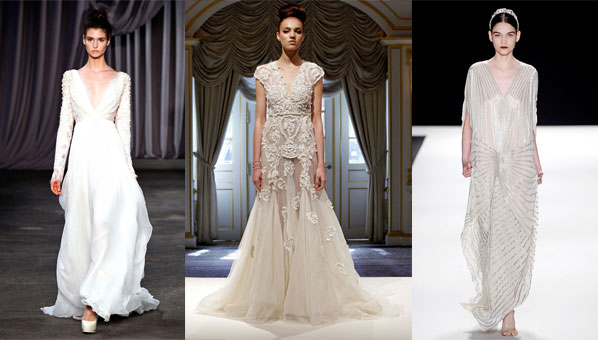 10 Spring 2013 RTW Dresses That Could Totally Double As Wedding Gowns
Bridal Fashion Week might still be a little under the radar when it comes to mainstream press coverage, but it seems a few designers just couldn't wait to display their bridalwear skills this season. For spring 2013, nearly every runway saw at least a hint of  bridal white, though some designers — including everyone from Rachel Zoe to Naeem Khan to Christian Siriano — took some serious inspiration from the altar and sent gowns that could double as wedding dresses down the catwalk. The good news is, ready-to-wear designer gowns often retail for less than what you'll pay at Kleinfeld's, so if you're in the market for your dream dress (and you're a little less than traditional), flip through the slideshow to see what you could say "I do" in next year! Would you wear one? Tell us in the comments! Get your wedding fix! Find out 9 ways to make your bridal suite the best, get the deets on Blake Lively's recent nuptials, or get in the know about the 10 things you should do as soon as you're married. [Photos: Style.com]
Betsey Johnson's Big Comeback Includes A Reality TV Show With Daughter Lulu
Betsey Johnson may have filed for bankruptcy protection earlier this year, but the pigtail-clad designer certainly hasn't let that slow her down. Just after sending an insane 90 looks down the runway for the spring 2013 season to Cyndi Lauper's Girls Just Wanna Have Fun," — piglets, balloons and other glittery fanfare included — she celebrated her 70th birthday with a huge bash at Midtown's Espace. While this seems like business as usual, this time, the cameras in tow didn't all belong to paparazzi: Betsey just confirmed that she and her 37-year-old daughter Lulu are filming their very own reality TV show, appropriately called "The Betsey and Lulu Show." Rumor has it that in addition to filming Betsey's career as the queen supreme of all things girly, the show will also follow Lulu — who spent her childhood as Betsey's go-to consultant  (maybe that explains all of the pink and glitter?)— and her first foray into designing. Her upcoming line, called Lulu and Allison, which she'll design with best friend and stylist Allison McClellan, will be decidedly less frills-and-gliiter (and cleavage) and more toned-down chic. Though Johnson says she doesn't watch reality shows, she told WWD she's excited to document her life right now, calling it "the icing on the cake." The show will premiere on the Style Network in spring 2013. Get ready for some high jinx -- Betsey is always the life of the party. Want more fashion news? Check out which spring 2013 trends you can shop right now, get your hands on Pippa Middleton's wicker basket bag, or find out how to rev up your outfit with a simple statement piece.