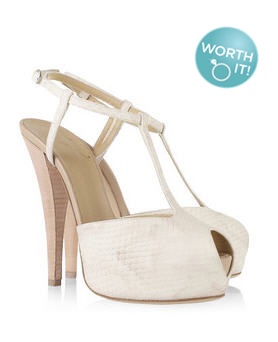 Worth It: On-Trend Giuseppe Zanotti T-Strap Platforms You Can Re-Wear All Summer
Italian designer Giuseppe Zanotti has done it again -- made me want to buy, that is -- with this T-Strap Platform Sandal ($595). I love it for a wedding because the look is so ladylike with the small peep toe and leg-slimming, thanks to the hidden platform. The T-strap keeps the sandal in place while you dance the night away. And it's not just a regular white shoe: it's snakeskin, so you can totally wear this pair with mini-shorts and flirty skirts to go out all summer. Sorry that I'm such an enabler, but this sexy shoe is totally Worth It. Need a fabulous pedicure color to show off in these peep toes? Check our list of the 6 best wedding day nail polish, then check our guides to inexpensive wedding dresses, cheap wedding invitations, and the best wedding jewelry sets.
Miranda Lambert Dressed Her Bridesmaids In Cowboy Boots And Floral Dresses
Country stars Blake Shelton and Miranda Lambert tied the knot on May 14 -- and while we love Miranda in her mother's wedding dress, we're crazy for her bridesmaids' outfits, too. They wore Old Gringo cowboy boots with custom Priscilla of Boston floral dresses:  the recipe for a country-chic bridal party and awesome wedding pictures. If you are planning an outdoor wedding or just want the undying gratitude of your b-maids, consider the laid-back look: (more…)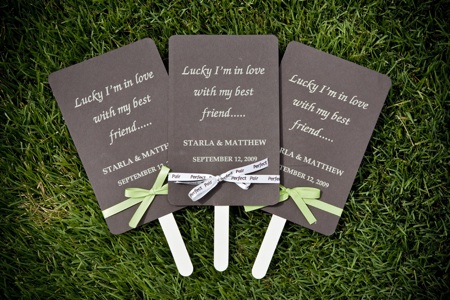 Classic, Romantic, Modern: We Found Programs For Any Wedding Style
Reading down your wedding checklist, you'll probably find your wedding program dead last. "I'll print it at the last minute," you'll say. Hold the presses, sister! It's time to re-think your wedding program: it's a beautiful keepsake that should reflect your wedding style/tone. We're in to these sorts of things, and found programs for all types of events: (more…)
The Preppy Wedding Handbook: Grab Your Seersucker, Croquet Set And Best Friend Miffy
If "The Preppy Handbook" is the only book you can't live without, it's time to take it to the next, next level. From your invites to your flower girls to your bridesmaids, you can incorporate preppy touches -- or preppy theme colors like pink and green or navy and yellow -- to make a classic, preppy wedding. This theme is especially perfect for destination weddings since the colors give off a warm, beachy theme. (more…)
Wedding Day Makeup Tips You Cannes Steal From The Red Carpet (Sorry, We Couldn't Resist)
The glamour, the fashion, the movies -- the Cannes Film Festival is one hot ticket. Rachel McAdams has stunned all weekend with her flawless skin -- we heard it's thanks to MAC's Select/Sheer Pressed Powder ($23). For more celeb looks to mimic, check out our slideshow. (more…)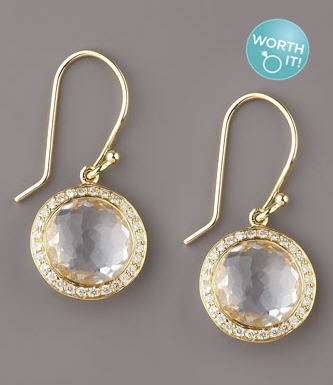 Worth It: These Ipolita 'Lollipop' Earrings Are Sweeter Than Candy
Candy was (and is) great, but now that you're getting married, it's time to think a little bigger. These Ippolita Mini Lollipop Diamond Earrings in Clear Quartz ($1,400) are the perfect accessory for your wedding day and all the days of your life together after that. Italian-inspired, Ippolita is one of those classic brands that stands the test of time  -- meaning your daughter may want to wear this Worth It! piece one day. For more fabulous finds, visit our guides to the best customized wedding favors, wedding veils, and strapless wedding dresses.
Clip-On Hair Extensions: No Judgement, In Fact, We'll Teach You How To Apply Them
Clip-in hair extensions aren't just for mall kiosks and proms. When Jessica Simpson launched her line of Hair Do clip-in extensions and wore them herself, clip-in extensions moved into the mainstream. While it may sound a little crazy, they really do work and can save you thousands of dollars and hair knots from paying for the kind your stylist puts in. (more…)
Paper Crowns, Wedding Slingers, More: Welcome Bag Gifts That Set The Tone For A Good Time
Welcome bags are a great way to kick your wedding weekend off right: guests get a present the second they check in, and you can set the tone for the whole part. While most folks rely on tried and true favors like maps, fans, and snacks, why not throw a totally random but awesome favor in there, like Hello Lucky's Creative Director Eunice did with animal cut-outs (above). We think its a damn good idea. (more…)
Taylor's Lips, Ginnifer's Eyes: 5 Beauty Tricks To Take From The Met Ball Red Carpet
Need inspiration for your wedding makeup? Well, it was everywhere on the Met Ball red carpet; the celebrity look was about flawless skin, shimmering lips and pops of color on the lashes. Taylor Swift, for one, was a total standout in deep red lipstick--get her look with this Mac 'Sheen Supreme' Lipstick in New Temptation ($14.50). (more…)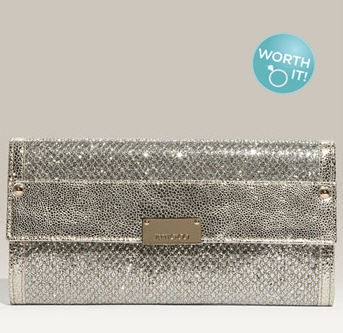 Worth It: A Jimmy Choo Snakeskin Clutch To Carry On Your Big Day… And Everyone Else's
Your lipstick, cell phone, and handkerchief -- they all have to go somewhere during your wedding. Thank goodness the Jimmy Choo "Reese" clutch ($595) is here to hold them all and make sure you look stylish while doing it. The textured snakeskin clutch has 12 credit card slots -- meaning you will have plenty of space for your cards on your next night out or to carry it at the next wedding you attend. Everyone needs a go-to clutch -- that's what makes this item Worth It. For more things you can't live without, visit our guides to the best wedding shoes with bows, netted wedding veils, and unique wedding invitations.
Smells Like Royal Wedding Spirit: Kate's White Gardenia Perfume & Scented Wedding Candles
White gardenia, jasmine, muguet and amber wood -- that is what Kate Middleton smelled like on her wedding day. In case you were wondering, the Duchess of Cambridge was wearing this White Gardenia Petals by Illuminum ($140), a light fragrance from a small British fragrance brand. The perfume is sold out in England, and isn't even available in the United States, but we found quite a few on eBay. There is one scent from the royal wedding you can purchase today -- Jo Malone candles. Westminster Abbey and the royal bathrooms featured candles, handwashes and lotions in Jo's signature Orange Blossom, Grapefruit, and Lime, Basil & Mandarin. We love the Orange Blossom candle ($65) because it has a hint of water lily. For more inspired ideas, visit our guides on customized wedding favors, wedding veils, and best wedding earrings.
Spring Is Here: Show Off Your Toes With A Kate Spade/Essie Polish Combo
When the temperatures turn warmer, there's nothing better than a peep toe shoe peeking out from under your wedding dress. Kate Spade's Charm Glitter Pump ($325) is just that shoe. And now that Essie is the official royal wedding nail polish, you'll need a perfect hue - like Essie Pink 'Daquiri' ($8). I love the idea of a cheery pink shade against the silver glitter--a perfect springtime combo. For more deals and fun ideas, check out our guides to cheap bridesmaids dresses, bridal hair accessories, and simple wedding dresses.
Holy Hats: Royal Wedding Guests' Fascinators (Almost) Outshine The Dress – Shop Now
Almost as fun as (finally) seeing Kate's dress were all those fabulous fascinators that the royal wedding attendees were sporting. From Princesses Beatrice and Eugenie's crazy headpieces each hat seemed more outrageous than the next. (more…)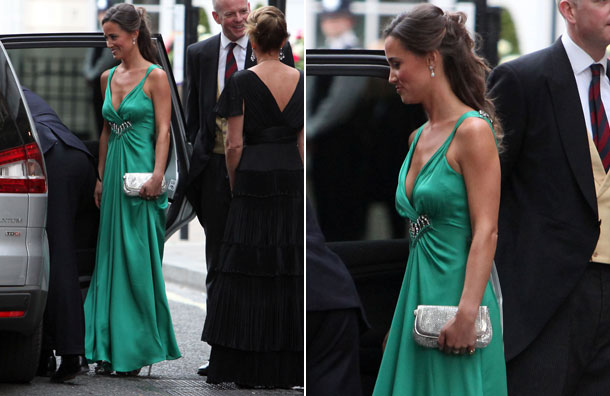 Pippa Changed Into A Reception Dress, Too! Behold, Her Emerald Green Evening Dress With Diamond Details
Kate Middleton's sister, Pippa Middleton is determined to wow us today. As if her first dress by Sarah Burton at Alexander McQueen wasn't enough, Pippa pulled out all the stops with her second dress by Temperley London, a beautiful emerald green confection detailed with a diamante bustline. Lucky girl that her sister let her share the spotlight with a dramatic wardrobe change for the reception. We found a similarly gorgeous Temperley London dress below: Temperley London Long Melicent washed-silk gown, $1,495, Net-a-Porter (more…)
Forget Flowers, Kate Middleton Opts For The Cartier 'Halo' Tiara & A Hand-Embroidered Veil
There were plenty of fascinators at the royal wedding this morning, but there was only one tiara: the Cartier "Halo" tiara Queen Elizabeth received on her 18th birthday. The Queen lent Kate Middleton the beautiful tiara--not too bad of a "something borrowed!" Kate paired it with a silk ivory-tulle veil with hand-embroidered lace flowers. Try the look yourself: The Diane Pearl and Crystal Tiara ($89) is slender, like Kate's, and features the same graduated look of her Cartier one. For the veil, this single-layer elbow-length veil ($100.74) resembles the elbow-length veil Kate wore. Shop our guides to the best strapless wedding dresses, white wedding shoes, and inexpensive wedding dresses.
Your Daily Dose Of Eye Candy: Circus-Themed Invitations And Robert Pattinson
Let's let Robert Pattinson be our royal wedding distraction today. If you haven't seen Water for Elephants yet (filmed partly in my hometown of Chattanooga!), tell your fiance you are going for inspiration. The vintage themes, the bright colors, and those swirly big-top posters inspired me to find some circus-themed (but not too over-the-big-top) invites: (more…)

How To Achieve Kate Middleton's Bouncy Waves With Hot Rollers In 3 Fail-Proof Steps
Have you ever noticed that come rain, shine, or ridiculous hat, Kate Middleton's hair always looks perfect? With locks like that, it's no wonder she decided to wear them down on her wedding day. As former Miss Chattanooga and a career pageant gal, I know my way around a set of hot rollers, and am willing to share my tips with all those Kate-wannabes out there. Step 1: Start with the best set: the Remington Style Envy Ionic Rollers ($19.99). (more…)
The Bride Wore 'Maniacs': Brian Atwood's Must-Have Satin Wedding Shoe
Louboutin, who? In the designer shoe world, there's no one more hot (or Worth It!) right now than Brian Atwood. He's a former model and Versace accessories designer, and the creator of this fabulous Maniac Silk-Satin Platform Pump ($480). The sky-high pumps have adorned the famous feet of Jennifer Lopez, Kate Hudson, and more, and now, Brian offers them in a silk-satin pearl pink --which means you can totally walk the aisle in them. Or do dishes in them for that matter -- you won't want to take these puppies off. If you splurge on the shoes, save on something else with our guides to cheap wedding invitations, inexpensive wedding dresses, and wedding jewelry sets.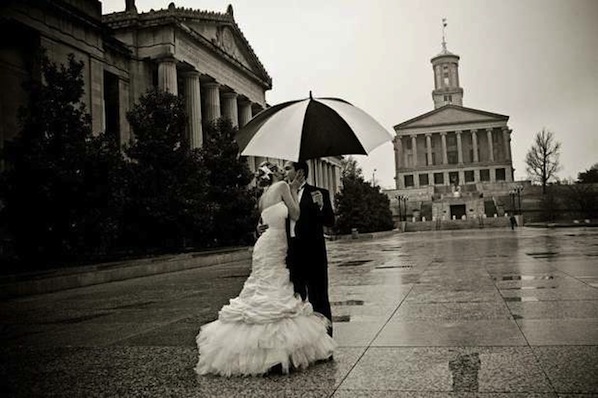 Real Weddings: A Rainy Nashville Day Makes For Some Beautiful & Dramatic Photos
Who: Noah and Anna Crossley Where: War Memorial Auditorium in Nashville, Tennessee What: Vintage-looking earrings from Emitations.com. For more fabulous ideas, visit our guides to black bridesmaids dresses, best wedding earrings, and strapless wedding dresses.
We Ranked The 7 Best Bronzers — Because Pale Is A Four Letter Word
Getting married in the sunshine of spring and summer means looking pasty just won't do. Don't expose your precious skin to the sun--instead, order one a bronzers, handpicked to help you glow on your big day. Bronzers not only help you appear more tanned, many also contain light-attracting particles that enhance your look. If you're going strapless, dust a little on your collarbones too for wedding-day perfection. (more…)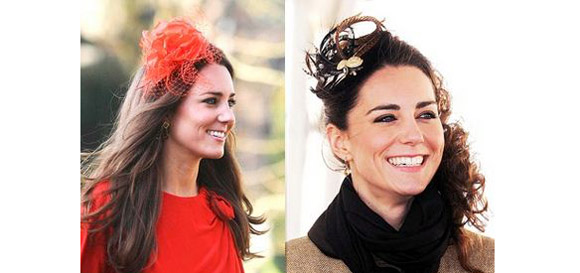 6 Reasons To Try A Fascinator (And Not Just Because Kate Middleton Said So)
The future princess-to-be loves her hats--but they aren't always the wide-brimmed kind. Fascinators, those tiny hats with embellishments like flowers, veils, nettings, sequins, or all of the above, are a trend Kate Middleton has single-handedly brought to the U.S. (People has a slideshow of her best). If you've been wanting to try the look, but don't quite know how, we found 6 gorgeous styles to get you started: (more…)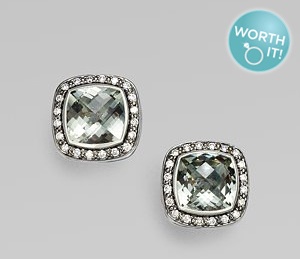 One Diamond Isn't Enough: Splurge On David Yurman Pave Earrings, And Thank Us Later
So we know you already got the ring--but would it be so wrong to ask for these David Yurman diamond, prasiolite & sterling silver earrings ($1,750) as the perfect complement to a gorgeous dress and engagement ring on your wedding day? This Worth It item has more than a half-carat of diamonds and the center stones are sparkling prasiolite. Not only will these be stunners on your big day - but they'll become a bit of a family heirloom. Show off your shopping smarts with our guides to inexpensive wedding dresses, cheap wedding invitations and cheap bridesmaid dresses.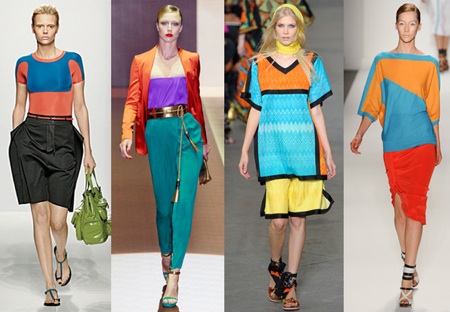 The Answer To Spring's Geometric And Colorblock Trends? Striped Wedding Invitations
Remember the kid in your elementary school that never quite seemed to match? Thanks to spring's colorblocking trend--putting solid complementary colors together--we've found a bevy of spring invites that are bright, colorful and feature the geometric pattern trends that are storming the runways. (more…)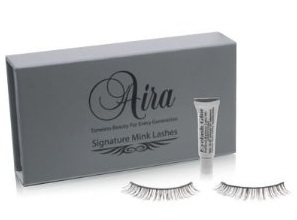 Your Wedding Day Feels Like Going To The Oscars: Get Red Carpet-Ready In Mink Lashes
When Jennifer Lopez rocked mink lashes to the Academy Awards, she turned heads. Since your wedding day is basically like going to Oscars, it's time to splurge on notice-me Aira Signature Mink Glamour Fake Eyelashes and Adhesives ($250). They're hand-selected from the gentle brushing of minks -- no animal cruelty here. Our advice? Find a makeup artist who can help you apply these beauties, and your hubby will be mesmerized by these Worth It celeb-worthy lashes. For more ideas for your big day, visit our guides to customized wedding favors, best bridal hair accessories, and wedding veils.
Thanks, Joan Holloway, For Bringing The Hourglass Silhouette Back To Bridal
When New York Magazine declared Christina Hendricks (aka Joan Holloway on Mad Men) "the return of voluptuous," we stood up and clapped - figuratively. Joan's influence now extends to wedding dresses, according to Wedding Gown Town, which highlighted 50s-inspired silhouettes as one of the top trends for 2011: (more…)
Even Better Than The Real Thing: Costume Jewelry That Doesn't Break The Bank
As long as the ring is real, the rest doesn't have to be. That's why we have rounded up the best wedding costume jewelry (shop now!). Some highlights: the Nadri 'Byzantine' Butterfly Necklace ($298), Givenchy Baguette Crystal Hinged Bangle ($33.90, down from $68), Carolee Lux Pave Stone Drop Earrings ($38), and Nadri Micro Pave Bangle ($98). While we might occasionally give you some tips on breaking the bank (see our Worth It! ideas), the ever-looming tax day has us budget-minded! For more thrifty, yet totally awesome ideas, visit our guides to inexpensive wedding dresses, cheap bridesmaids dresses, and inexpensive wedding shoes.
Channel Dorothy In Spring's Hottest Trend: Red Wedding Shoes
When Dorothy clicker her ruby slippers together, she lived happily ever after -- why not do the same on your wedding day? Thanks to the Wedding Soiree bridal blog, we're on the trail of this eye-popping trend. In a sea of white, red shoes show off your individuality. And even though you probably can't wear your wedding dress again, the ruby slippers can always make an appearance. (more…)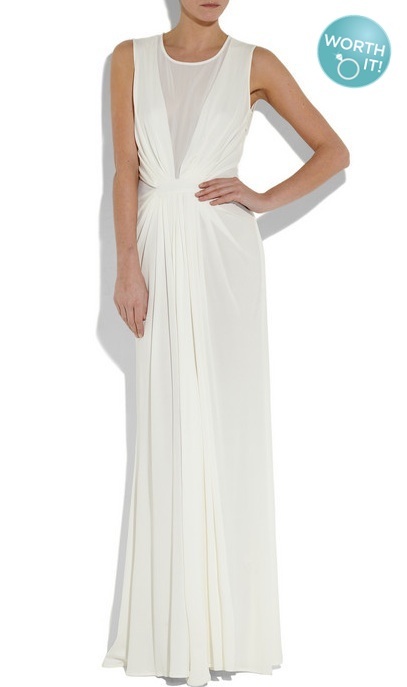 Worth It: A Kate Middleton-Approved Issa Dress That's Cinched In All The Right Places
We know from the official engagement photos that Issa is Kate Middleton's preferred dressmaker, but American girls can love the London-based label, too. Make a piece of your own history with this Issa Silk-Chiffon Gown ($800). With a plunging neckline with mesh panels in the front and back give it a Hollywood glamour that makes it a perfect wedding gown--or reception dress if you're really splurging. Whatever the use, this gown is officially Worth It! If you've splurged on the dress, save on the accessories with our guides to inexpensive wedding shoes, cheap wedding invitations, and wedding costume jewelry.
Worth It: Glitzy Louboutin Pumps You Can Wear On Your Big Day–And Sell On eBay Later
Lusting over Louboutins have been something girls have done since those brilliant red soles hit the market. These Crystal-Encrusted Suede Pumps ($3,095) take shoe fetish-izing a whole new level. The ladylike peep toe, the studded-all over crystals, and the four-inch heel - oh my. While you may have fallen in love with your groom, you can fall in love with this shoe, too. And with the high demand for Loubs on eBay - this pair is officially Worth It! For more fabulous finds, visit our guides to designer wedding shoes, best wedding jewelry, and inexpensive wedding dresses to make up for the cost of the shoes.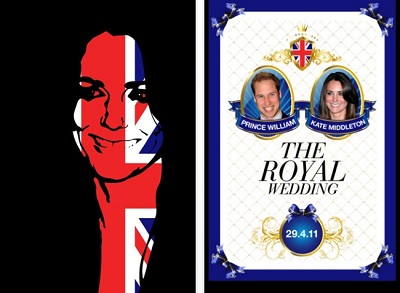 Take Your Royal Wedding Obsession To The Next Level With These Cyber-Stalking Tips
It's not that we're condoning real stalking, but if you've grown up with visions of marrying Prince William and living happily ever after, it's probably okay to know more about the royal wedding than you would about your own sister's. Thanks to a very tech-savvy monarchy - there are plenty of ways to do it: (more…)
If There's Any Day You Need Shapewear, It's Your Wedding. Six Sexy Styles To Try.
Even if you're not on the shapewear train 364 days a year - it's time to get on board for your wedding. This day is for looking your best, which means a little help from our friends at Va Bien, SPANX, and more in the tummy-shaping, boob-lifting, thigh-smoothing department. (more…)

Get Mindy Weiss' Celebrity Wedding Goods—Even If Your Name Is Not Gwen, Heidi or Fergie
When celebs like Fergie, Gwen Stefani, Heidi Klum and—my personal favorite—bachelorette Trista Rehn tie the knot, there's only one woman to call: Mindy Weiss. Although she's a wedding planner to the stars, she shares some of her gifts and favors through her Mindy Weiss Wedding Collection sold on Gracious Bridal. (more…)
Crane & Co.'s Peter Hopkins Reveals The Invitation Etiquette Every Bride Should Know
Crane & Co.'s Peter Hopkins knows a thing or two about selecting the perfect wedding invitation, save-the-date etiquette and seasonal trends. As an invitation historian, Peter knows his stuff -- and with his 5 essential tips for brides, you can, too: 1. Mail Save-The-Dates 6-10 Months Before The Big Day. "Give guests enough time to manage their calendars," Hopkins says, "6-10 months before the wedding date should be find." Peter's favorite? These Pearl White Embassy Printable Invitation Cards ($25 for 13). (more…)
We Rate The Best Self-Tanners: Because 'Jersey Shore' Is Not A Good Wedding Look
No bride wants to look whiter than their wedding dress. But sometimes self-tanners come at a cost--you look orange or there's a distinct collection of the brown stuff at your elbows, knuckles or ankles. We have a solution for every self-tanning IQ. (more…)
8 Gorgeous Ways To Pull Off A Jeweled Belt (Wait 'Til You See These)
Have an simple wedding dress that just needs something extra? Tie on an embellished belt to make the dress your own. It's the one part of your wedding dress you can wear again - and one of our favorite Spring 2011 trends. Just ask Jenny Packham, Badgley Mischka, and Glam.com's Nola Weinstein Glodny. (more…)
A Spring Stationery Trend We Love: Ribbon Wedding Invitations
The Knot released its top invite trends for 2011--and invitations with ribbon finish topped the list. We're loving this idea - especially since you can use colorful ribbon to match any color scheme. Wrap up your pretty spring invites with these choices. (more…)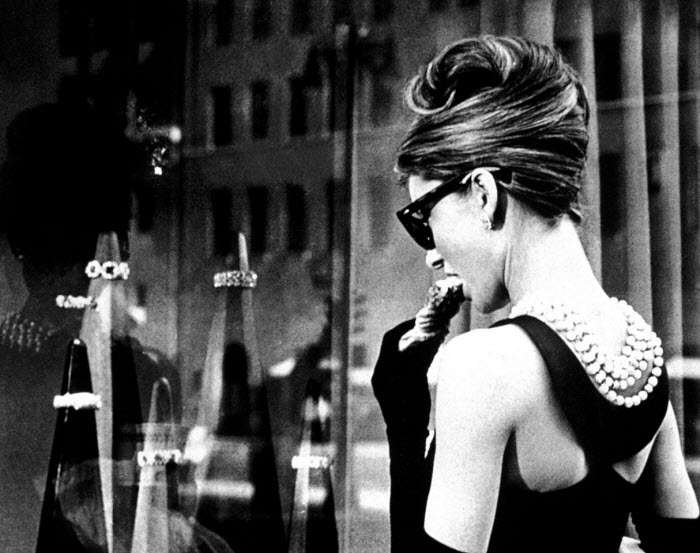 Eat Your Heart Out, Audrey Hepburn: Pearls Never Looked So Good
When Prince sang about diamonds and pearls, he was on to something. Mixing pearls with diamonds, silver and gold gives them a modern twist - and makes matching your wedding day jewelry even easier. Pearls have come a long way since Audrey Hepburn wore a string of them in Breakfast at Tiffanys. Shop now: (more…)
Brides: Step Away From The Self-Tanner Until You've Read Our Expert Tips
Even when the there's no sun in sight, clients at Eve Spa maintain a healthy glow. Their secret? Eileen Bischoff, a self-tanning expert whose tips have been featured in Martha Stewart Living and whose worked on countless brides. She recommends brides try a trial self-tanning run five weeks before the wedding, then starting to tan again three days before the big day. (more…)
Puzzles, Passports, And More: Clever Invitation Designs That Are Anything But Square
If you've always been creative at heart, a traditional wedding invitation may not feel like the best fit. Wedding invites don't have to come in square packages -- check out these invites in special shapes and unique themes. (more…)
Spring Is Almost Here–Celebrate With Floral Headbands
Maybe you're not the veil-wearing type. And that's okay--because there are gorgeous floral options out there for you that can take the place of a veil or serve as a decorative accessory post-ceremony. (more…)
From Robin's Egg to Midnight– Pretty Blue Wedding Invitations For Any Season
If your wedding color scheme include any of the marvelous shades of blue, there's a wedding invitation to complement it. From floral to elegant, blue is an eye-pleasing color that even your fiancé can agree on. (more…)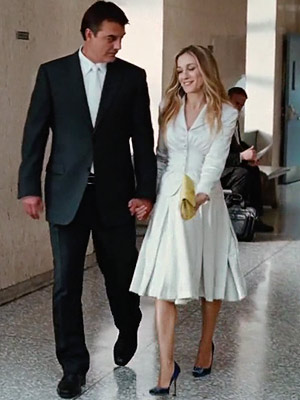 The Tailored Wedding Suit: Carrie Bradshaw Did It, And So Can You
Remember when Carrie Bradshaw turned down Vivienne Westwood for a gorgeous white suit and happily ever after? The same thing can happen to you -- choose a gorgeous white suit fit for City Hall or any destination wedding. (more…)
Under-$100 Bridesmaids Dresses She May Actually Wear Again (And Who Cares If She Doesn't?)
Let's face it. Most bridesmaids dresses look exactly like...bridesmaids dresses. So not asking your gals to shell out more than $100 seems like a more reasonable request, right? Luckily, we found some stunning AND cheap options: (more…)
Ask The Expert: What Celebrity Makeup Artist Christian Zamora Thinks Every Bride Should Know
From avoiding mineral makeup to adding false lashes, celebrity makeup artist Christian Zamora knows what it takes to create fresh, gorgeous wedding day skin. We sat down with Christian, who has worked with Katie Holmes, Ashanti, and countless brides, to get the scoop: (more…)
Recently Engaged? What To Wear When You Meet The Parents (Or His Entire Extended Family)
While Ben Stiller made the practice famous, it's your turn to meet the parents after you and your man get engaged. Even if you've met them before, now it's different--you're the future wife, not the girlfriend. When having your Kate Middleton moment (I'm looking at you, navy Issa dress), it's best to choose something in a solid color, with a modest silhouette like a sheath dress, and of course -- nothing too slutty: For more good ideas on clothes and accessories, visit our guides for Wedding Costume Jewelry, Inexpensive Wedding Shoes, and Simple Wedding Dresses.
Latest From The Luxury Spot: Celeb-Approved Headbands
You've got good taste, and your friends (probably) do too. I'm always scoping out The Luxury Spot website for the best ideas from brands I want to pretend I found first. Take this post on the L.A.-based Berman line that happens to have the sparkliest, most romantic headbands ever. I sent it on to my engaged friend, and then thought about ordering one for myself. Or borrowing hers after the wedding. Until then, I'll keep checking The Luxury Spot for more good deals and conversation pieces. For more great bridal accessories, check out our guides to the best wedding veils, bridal hair accessories, and the best wedding jewelry.
Vera Wang, Kate Spade, More: Designer Invitations As Glamorous As Your Gown
If you're having a high-class event, you'll need designer wedding invitations. Luckily, Kate Spade, Vera Wang and Martha Stewart have all added wedding paper to their lists of stylish offerings. If you're the type that turns over the invite to see what the "label" says - these designer ones are for you: For more designer buys, visit our guides to simple wedding dresses, best wedding jewelry, and designer wedding shoes.
Manage RSVPs, Practice Your First Dance, And Change Your Name – All Online
When it comes to planning your wedding, don't neglect the technology that makes planning (and life) easier. We've already told you about some of the best wedding apps out there, and now we bring you helpful websites, too. If a website can change your name, write your wedding speech, and manage guests RSVPs, you'll have more time for wedding shoe shopping. Score! Get a wedding planner - for less than $25: Weddings Kit: ($24.95) offers a one-stop wedding planning resource: from choosing the right date, hiring vendors, managing your budget, and maintaining your guest list, the website does it all. Change your name - without standing in line at the DMV: Miss Now Mrs ($29.95): Getting married is worth it, but changing your name can be a pain. Change your driver's license, social security, passport, and IRS on this on-stop shop. Send invitations - sans the postage fee: Nearly Weds: $14.99 per month/$99 per year) offers website designs from favorites like Wedding Paper Divas, and lets guests RSVP online - which means you save on postage and printing. Practice your first dance -  while lying on the couch. Waltz, Your Wedding Dance (Free): If you've got two left feet and no money to pay a dance teacher, watch free dance demos on this app by the Ballroom Dance Channel. Write a thoughtful wedding speech - whether or not you're really into it. Your guests aren't the only one making speeches--the Wedding Speeches for the Bride ($1.18) Android app  is designed to help you write the perfect, thoughtful wedding speech. Build a wedding website - that suggests music for your wedding: With features like Youtube videos, online RSVP, and music suggestions WedSimple.com ($40 for six months) is not your average wedding website site. Know what else makes wedding planning easier? Sticking to your budget. Visit our guides to inexpensive wedding dresses, cheap wedding invitations, or inexpensive wedding shoes.
Sponsored Post: Luxe Smells Make a 'Belle' Gift
I always make it a habit to keep a few beautiful candles on-hand to give as gifts when an occasion presents itself. Candles are ideal because they're beautiful, transform a space, and aren't one of those gifts you give that your bridesmaid promptly sells on eBay/puts in her closet/re-gifts. My latest discovery is from luxury niche fragrance house, Belle Fleur. Meredith Waga Perez founder of New York City's acclaimed Belle Fleur, is one of the most sought after experts in floral and event design. She took her passion for fragrance and knowledge of flowers and started Belle Fleur Home. My fave is the Mayan Tuberose candle, which retails for $48 and is available at Neiman Marcus. Thanks to tuberose and gardenia, the smell is feminine and balanced with vanilla to make it warm and home-y. A European matchbox is included  with each candle and the box is beautiful enough to give, sans wrapping, to your bridesmaids or family members who have helped you along the wedding planning way. For groomsmen gifts, the Bergamot Cedar candle is handsome, thanks to sandalwood and cedar, but subtle with tones of frangipani and amber vanilla. Besides capturing the smell of flowers, Belle Fleur arranges them--their floral arrangements are as fresh and modern as their scents. Visit Belle Fleur's website to see more stunning creations and learn about their line of home fragrance products.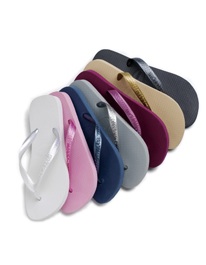 The Knot Wedding Shop Has Gifts For Bridesmaids, Guests & Groomsmen — And They're On Sale
Weddings aren't just about the gifts you get--they're also a chance to gift the special people in your life, especially those who've put up with you since you were in diapers through the planning of your wedding. Check out these thoughtful, yet won't-break-the-bank gifts from The Knot's Wedding Shop: For the guests: Ah, the endless uses for a flip-flop: perfect for a beach wedding, post wedding-day mani-pedis, and for throwing at anyone who gets sassy with you. These Havainas Flip-Flops ($8.99, down from $18) come in seven colors. I love personalized wedding favors, and these Personalized Matchbooks ($45.99 per 100, down from $55.95) are a cheap, but useful option. For the bridesmaids: The Personalized Canvas Tote ($14.99, down from $24) is available in 10 colors, so get all your b-maids one (and make them tote around your stuff on the big day). Not that we're trying to give your bridesmaids any ideas, but the Pink Flask ($9.99, down from $24.95) is pretty, pink, and holds booze, making it basically the best gift ever. For the groomsmen: Have wine, will travel. This Napa Wine Kit ($19.99, down from $24) holds two bottles of wine, one corkscrew, and the keys to my heart. Ditto for this Cherry Wood Humidor ($39.99, down from $44.95) is perfect for your cigar-smoking groomsmen. Ready for more sales and deals? Find them on our shopping guides for inexpensive wedding dresses, inexpensive wedding shoes, and cheap bridesmaid dresses.