Crane & Co.'s Peter Hopkins knows a thing or two about selecting the perfect wedding invitation, save-the-date etiquette and seasonal trends. As an invitation historian, Peter knows his stuff — and with his 5 essential tips for brides, you can, too:
1. Mail Save-The-Dates 6-10 Months Before The Big Day.

"Give guests enough time to manage their calendars," Hopkins says, "6-10 months before the wedding date should be find." Peter's favorite? These Pearl White Embassy Printable Invitation Cards ($25 for 13).
2. Leave More Time For Destination Weddings.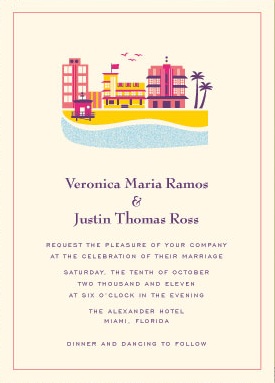 Destination or holiday-weekend weddings will require more planning on guests' part (hello, airfare) – so plan to mail yours a year in advance. We're loving this Visit Miami Invitation ($240 for 100), a bright and sunny way to let guests know a destination wedding is in their future.
3. Satisfy Your "Something Blue" With Clean, Classic Invites

Hot color trends for spring and summer include Dalton Blue, Willow and Beach Glass, like the Hand Engraved Embassy Dalton Blue Invitation Set shown here ($306 for 50), which is a great way to get your "something blue."
4. Formal Weddings Call For Formal Invites.

The invitation should invoke the personal theme of the wedding, like this Ecru Marquis Card with Hand-Drawn Duogram ($40 for 32) for a black-tie wedding, for example. "In the case of a more formal wedding, an invitation on white, ecru or another subtle color paper with an elegant script typeface engraved in black or gray ink is ideal," Hopkins says.
5. Pick Invitations That Match Your Theme.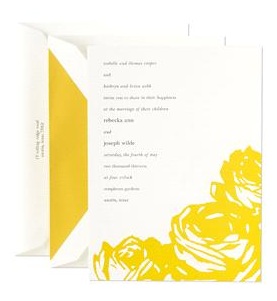 "For outdoor/garden weddings, blues, greens or yellows are best," Peter explains. We'd recommend this yellow roses on white invitation ensemble ($562 for 100)
6. Above All Else – Show Who You Are As A Couple.
While etiquette is important in planning a wedding, Hopkins advises not to let it take a backseat to reflecting the type of wedding you wish to plan. "Every couple is different and every ceremony is different," Hopkins said. He advises to let comfort and courtesy guide your decisions and to keep in mind the all-important skill of relaxing.
For more expert wedding tips for your big day, read our celebrity self-tanning tips, makeup advice and hair how-tos.