If you enjoy an all-black ensemble as much as the next girl, you know how frustrating it is when your favorite new jet black jeans turn grey after a few washes. It's infuriating! (And also first world problems, but we digress.)
The truth is, no matter how much you paid for them, you don't want *any* new black pants to fade in the wash.
I learned the hard way that not all brands can stand by their black jeans actually staying black. For a long time Uniqlo's cheap black jeans were my go-to–until four years ago when I ordered my usual pair of skinnies, and they completely faded from black to grey on the FIRST wash. I mean, their jeans are under $100–but this was NOT cool (also, their customer service didn't handle it well–but that's another story):
Used to love @UniqloUSA but I just had the wrst exprnce! My blk jeans ruined after 1 wash. Customer serv not helping pic.twitter.com/Dc9gzid4K3

— Justine Schwartz (@SchwartzJustine) September 22, 2014
The experience left a bad taste in my mouth, but also inspired me to road test as many pairs as possible to find the perfect ones to share with SheFinds readers. Well, after a long couple years of buying black jeans, washing them (PER the tag instructions), I can say with certainty that these are three no-fail brands. Buy these black jeans and they'll actually stay black. As they should!
1. Everlane
Everlane is a cool brand because of their transparent pricing policy–but you know what won't be transparent? Their black jeans. These things stay pure black for *many* washes because they are made with a "Stay Black dye" that helps them remain darker for longer. Just ask the editors of Popsugar who also agree that they don't fade. And not to mention that these perfect pairs will only set you back $68.
Everlane The High-Rise Skinny Jean ($68)
The Modern Boyfriend Jean ($68)
2. B(air) by 7 For All Mankind
Not only are these 7 For All Mankind jeans light as air–they weigh 6 ounces while the typical jeans weigh 12–and celebrity beloved (Gigi Hadid and Cindy Crawford are fans), but they also stay black. A rep explains that they deliberately overdye the jeans so that they absolutely will NOT fade after washing.
B(air) Denim High Waist Skinny in Black ($169)
3. NYDJ
All NYDJ denim has been tested to ensure that I doesn't fade after washing, and specifically NYDJ's Luxury Twill is a unique fabric blend that makes it exquisitely soft with advanced stretch and superior recovery (aka, they don't stretch either). Reviewers say again and again that this premium fabric stays bright and doesn't fade.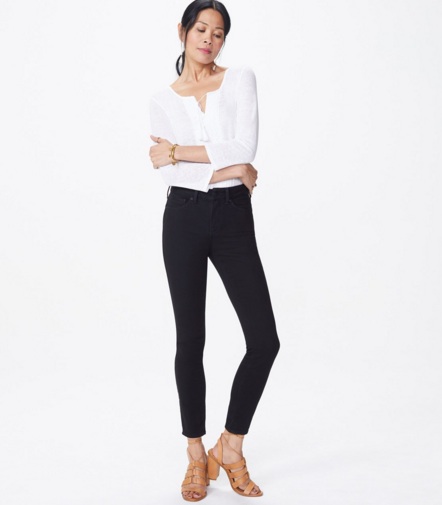 Ami Skinny Legging In Luxury Touch Twill ($114)
4. Good American
Khloe Kardashian's denim brand Good American is known for its curve-friendly fashion-forward styles (plus, they've just announced an expansion into maternity!). And their black jeans stay black! They're made with a saturated black wash denim that makes them less susceptible to fading.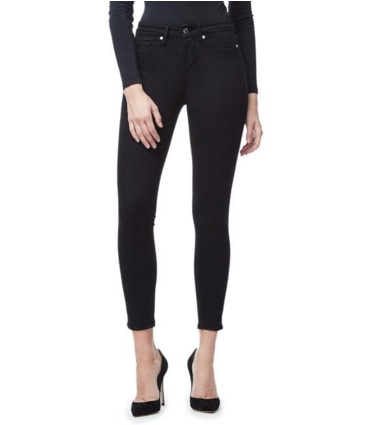 Good American Good Legs Crop ($145)
5. Old Navy
Old Navy jeans prove that cheap jeans DON'T have to fade. Their under $50 denim stay black thanks to Never-Fade technology. This means the black jeans stay black, wash after wash (after wash). They're available in mid rise and high rise.
Mid-Rise Never-Fade Rockstar Black Jeans ($44.99)
6. Boden
I've had these Boden black jeans for forever and they've never faded or stretched! I don't know the technology to them–they just work.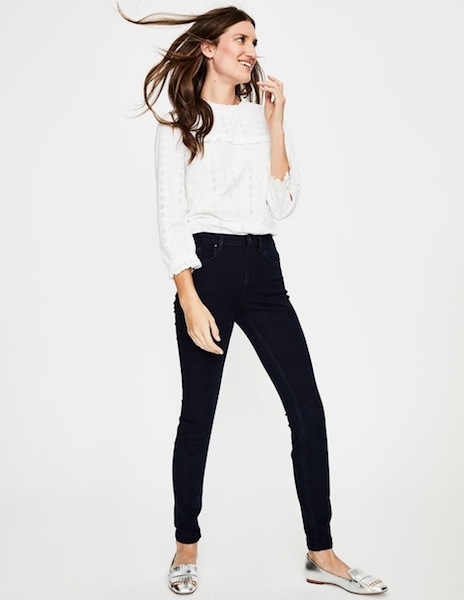 Boden Mayfair Bi-Stretch Jeans ($90)
So, there you have it–the best black jeans on the market that definitely WON'T fade after one wash. Tell us in the comments below–have you had good/bad experiences with black jeans?
THEN READ MORE: 3 Brands With The Best Cheap Black Leggings That Don't Turn See-Through After 1 Wash
SheFinds receives commissions for purchases made through the links in this post.