If you walk down the haircare aisle at almost any drugstore, you'll see tons of shampoos and conditioners that are sulfate-free. Sulfate-free products like shampoo and conditioner, as well as hand soap, body wash, and dish soap, have become increasingly popular over the past few years. Why is that? What exactly are sulfates and why are they being removed from everyday home, skincare and beauty products?
Healthline describes sulfates as "salt that forms when sulfuric acid reacts with another chemical." Sodium lauryl sulfate (SLS) and sodium laureth sulfate (SLES) are the most common sulfates found in shampoos. Essentially, sulfates are responsible for creating the rich lather that makes us feel clean, hence why they're in many soap-like products. So, what's the big deal? "While sulfates aren't 'bad' for you, there's a lot of controversy behind this common ingredient," Healthline reports.
Sulfates create a soapy lather that helps get rid of dirt and grime, but it can also strip your hair of its natural oils. And, for people who use hair dyes, sulfates can strip away the pigments. "Sulfates can be harsh on the hair by removing natural oils and allowing more damage to hair that is already color- or chemically treated," the American Academy of Dermatology (AAD) reports. "In addition, there are a few reports linking sodium laureth sulfate and sodium lauryl sulfate to contact dermatitis in some people."
Should you throw out the products that you have that contain sulfates? Well, if you have textured or kinky hair, or if you color your hair, the answer is yes; you may want to switch to sulfate-free products. Also, if you have sensitive skin, you may want to switch to sulfate-free products as sulfates can cause irritation. Note that sulfate-free shampoos have a more gentle formula and that they won't create tons of suds like regular products that contain sulfates. But "it is possible to get hair clean without sulfates," says dermatologist Eric Schweiger. "With the lather from a sulfate, you don't have to work as hard to cleanse your scalp. With a product that does not contain sulfates, you will need to do more of a rigorous massage on the scalp in order to get it clean."
So, what's the takeaway? Are sulfates bad for you? Sulfates have a long-running history in personal care products, and they're not inherently unsafe for you, many studies conclude. It all just depends on your hair and scalp. Do you have oily hair? Then, continue to use your regular shampoo. The same goes if you have sensitive skin, then you may want to make the switch!
Here are some of our favorite sulfate-free products if you're thinking about going sulfate-free:
Sulfate-Free Shampoo
L'Oreal Paris EverCreme Sulfate-Free Deep Nourish Shampoo ($6.69)
Sulfate-Free Conditioner
L'Oreal Paris EverPure Sulfate Free Moisture Conditioner ($6.69)
Sulfate-Free Body Wash
OGX® Coconut Miracle Oil Body Wash ($5.69)
Sulfate-Free Hand Soap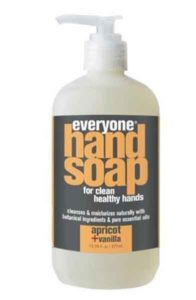 Everyone Apricot Vanilla Hand Soap ($3.99)
Sulfate-Free Face Wash
Garnier SkinActive Gentle Sulfate Free Cleanser ($8.99)
Sulfate-Free Laundry Detergent
Sulfate-Free Dish Soap

Rebel Green® Peppermint & Lemon Dish Soap ($9.99)
Looking for more natural products for you hair? Find out how to make your own chemical-free shampoo and more at SheFinds.com!
[Photo: Shutterstock]