If I could marry my leggings, I would. They're comfy, stretchy, and look super cute with a crop top and some Adidas (oh, and yes, they're also great for doing yoga, too). That being said, it's often hard to find the perfect union of style and affordability when choosing the right pair. In honor of this age-old dilemma, we did a little research to bring you the best options currently on the market. And there's no need to get your penny-pinching self in a tizzy, because every pick is under $50!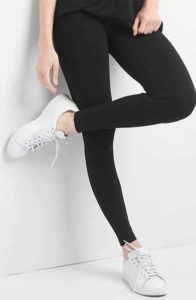 Gap Basic Leggings ($29.95)
Back by popular demand, these basic black leggings are a yoga lover's staple.
Promising review: "Hands down the best leggings out there. They are opaque, great quality and never pill. I have leggings from GAP from around 10 years ago that are only now starting to thin. I would recommend this brand to anyone."
Joylab Women's Premium Moto Leggings ($39.99)
Ever since Target debuted its first active wear brand, Joylab, last year, we've been completely obsessed with it. And we're definitely eager to try these Moto leggings from the line during our next Vinyasa flow.
Promising review: "I normally wouldn't spend over $30 on a pair, but the sculpting fabric is GREAT in these. The details are a nice twist on an otherwise simple wardrobe staple. The fabric is nice and thick, so you don't have to worry about underwear showing when it stretches. They also have the advantage of looking like brand-name athletic leggings, but for a fraction of the price."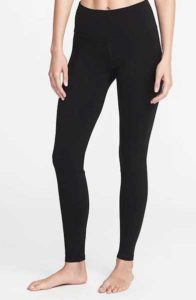 High-Rise Yoga Leggings for Women ($19.99)
An Old Navy best seller, these super soft leggings are designed to fit all shapes and sizes.
Promising review: "I was worried about these being too short because I'm 5' 8" and wear a small, but they are perfect! Love them!"
Originals Adibreak Tights ($40)
Inspired by the brand's iconic tearaway track pants, these sleek Adidas leggings are easily becoming a yogi fan favorite.
Promising review: "Same color as picture. Material looks thin, but, in reality, has a nice thickness and stretch to it – something that can be worn in both warm and cold weather."
Zella Arrow High Waist Midi Leggings ($39, originally $65)
Complete with moisture-wicking material and a no-slip band, these leggings will help you nail any pose in style.
Promising review: "These are great and stylish workout pants! I especially love how the top part of the pants are black, which hides those derriere sweat marks."
Nike Power Epic Run Crop Tights ($48.75, originally $65)
Dri-FIT fabric and heat-venting mesh make these cropped leggings super breathable as you sweat, while a slim waist keeps them in place.
Promising review: "Love these! They are nice and thick, so I don't have to worry about anything showing through. Plus, they hold up well after several washes."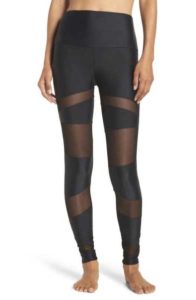 Onzie Mesh Inset Leggings ($46.80, originally $78)
These extra high-rise leggings are super slimming and stylish.
Promising review: "I honestly don't ever want to take them off. I have already got all my friends wanting them. The material is perfect. They came up high enough so I felt sucked in and skinny. Nothing beats looking cute and feeling cute. Recommend this to anyone and everyone."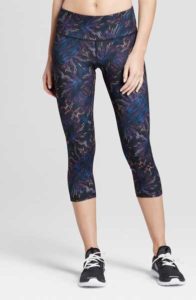 C9 Champion Women's Freedom All Over Printed Leggings ($24.99)
Body-molding fabric and strategic side seams hug your curves in all the right ways.
Promising review: "Very comfortable. Enough compression without feeling constricting. Great higher waistband that doesn't slip or roll. Bought every color option available!"
Active Yoga Stirrup Leggings ($17.90)
Take a note from the 80s and opt for some fun stirrup leggings, which have actually started trending again. Fun fact: They'll help slim and lengthen the appearance of your legs.
Promising review: "These are absolutely wonderful. These are great quality and are comparable to Alo Yoga leggings – just saying, save some money and have a great pair of leggings for yoga or dance practice."
Ivy Park Logo Mid Rise Ankle Leggings ($42)
Of course, anything that's associated with Beyonce has to be flawless – and these leggings are no exception.
Promising review: "I love these leggings…the mid-rise waist hits my mid-section where it should, and the length and overall fit are perfect. I love the material; it feels smooth but not slippery. The material also feels flexible and sturdy. It gives a nice structure and hold without feeling constricting."
Columbia Women's Luminescnce II Bootcut Pant ($39.90, originally $60)
If you're looking for a more relaxed fit that's just as durable, then these Columbia bootcut pants are for you.
Promising review: "These pants are awesome! They are like upgraded yoga pants. Look great and feel great."
For even more amazing athletic wear deals, check out Psst! These Are The Most Flattering Cheap Black Leggings Ever and This Adjustable Support Band Holds Your Sports Bra In Place During Even The Most Intense Workouts.
[Photo: Target]