I am still dreaming about last year's Burberry blanket poncho that every "it" girl had, including my all-time fave Sarah Jessica Parker! Not that I could even afford it if it were still in stock today, but the cost of this gorgeous colorblock poncho still hurts almost a year later… it was retailed at $1,395.  But, I've found the silver lining and it's a poncho by Joie that looks almost identical to the original. The best part? It's over $900 cheaper! Halle-freaking-lujah. And here's my question for you, can you tell which one is more expensive?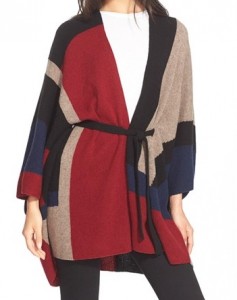 Did you guess correctly? Which one do you like more? Let us know in the comments below!
And don't forget to check out: Selena Gomez Opens Up About Her Lupus Diagnosis & Chemotherapy Treatment, H&M's Beauty Collection Is Finally Here!, and 14 Millennial Abbreviations You Need To Keep In Your Daily Vocab.