The Eva Fehren "X" Ring is so beautiful and a celeb favorite. But that $4,000+ price tag? Yeah, that's not exactly pocket change. But sometimes when you want something, you just have to have it. So I made it my mission to find an X ring that's a little more budget-friendly During my search, I came across this Michael Kors lookalike, and I have to say, it is just as stunning. But my question for you is, can you spot which one is the original and which one is $4,280 cheaper?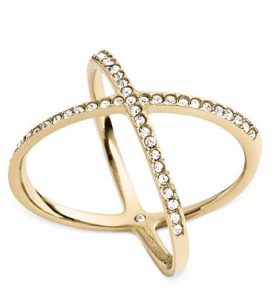 Did you guess correctly? Which one do you like more? Let us know in the comments below!
And don't forget to check out: Does The Sound Of Your Alarm Clock Dictate Your Mood For The Day?, The Best Colorful Suede Jackets, Skirts And Dresses For Fall–Because You Already Own Enough Black, and Can You Tell Which Pompom Beanie Costs $242 More Than The Other?