On Tuesday night, France's First Lady (and former model) Carla Bruni wore a dress with no bra to a state dinner–and now she's catching flack for the misstep. While the Rouland Mouret dress was beautiful, the Times Online suggests some people were a little distracted by the sight.
Rebecca Aspan, owner of NYC lingerie shop La Petite Coquette and major bra expert (she once determined my bra size just by talking to me on the phone) weighs in: "I think she can pull it off.  She is beautiful and can wear a dress without a bra.  But I guess married to a President and going to State Dinner she'd look better in any contour bra that would give her shape and hide the nipples.  It would be a very smooth look."
Here are two bras we think she should have considered: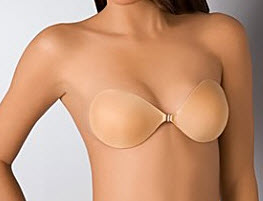 This Fashion Forms Nu Bra Divine Body ($65) has molded padded cups for support. As a seamless bra, it would have been barely detectable underneath Carla's formfitting dress.
This Fashion Forms Nu Bra Ultra Lite ($32) is strapless, backless, and super light-weight–she'd hardly feel it.
Learn more about undergarments in our roundup of the best sexy bras and the best strapless bras, then see which Spanx shapewear will work best for your next big occasion.