Jackie O carrying her Bernardo Miami Sandals ($109, left) and in her Jack Rogers Navajo Sandals ($98, right)
Jack Rogers Navajo and Bernardo Miami sandals were made popular by style icon Jackie O in the 1960s, and unlike most celebrity-inspired trends, these two sandals have withstood the test of time. Jacks became the unofficial footwear of resort towns like Palm Beach, Newport, and the Hamptons, while Bernardos remained an A-lister favorite (today they can be seen on Reese Witherspoon and Halle Berry). But what makes these $100 sandals worth the investment? They go with everything, especially if you choose a metallic. Pair either sandal with shorts for a day of running errands, with a pretty caftan and swimsuit for a day at the beach, or wear them at night with a maxi dress for drinks at the bar: the possibilities are endless!
Bernardo Miami Sandals, $109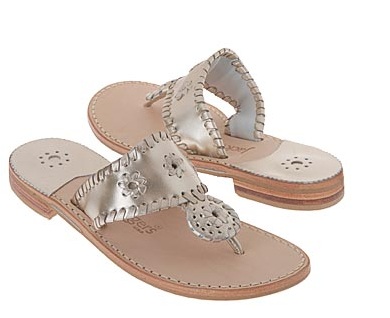 Jack Rogers Navajo Sandals, $98
Want more Jackie O style? Check out our guides to sheath dresses, flat sandals, and sunglasses.