Thanks to street style and the emergence of the athleisure trend, white sneakers have become super trendy in the fashion world. There's a bunch of white sneakers that we love, including hi-top Vans, Adidas Stan Smiths, and Nike Air Force 1s, but there is nothing quite like a pair of brand new, crisp pair of white Reebok Classics.
White sneakers, like Reebok Classics, should be an essential in everyone's wardrobe. Not only because they are timeless, but because they pair nicely with almost anything and give high fashion vibes to casual outfits–and they are super comfy! Not to mention that they are also affordable, unisex and will last for many seasons to come. There is just one little problem: They can get really dirty, really quick!
Here's how to keep your Reebok Classics looking fresh, clean, and brand spanking new!
What You'll Need:
1 medium size bowl
1 soft toothbrush
1 cup of water
5 tablespoons of baking soda
1-2 tablespoons of dish soap
1-2 tablespoons of hydrogen peroxide
Clear nail polish remover
Cotton balls
Step 1:
Untie and remove the laces and wash them in the washing machine. If it is laundry day and you already have your whites separated, just throw the laces in with it. Use hot water, bleach, and laundry detergent as you would with any regular load of whites.
Step 2:
Add 1 cup of water, 5 tablespoons of baking soda, 1-2 tablespoons of dish soap, and 1-2 tablespoons of hydrogen peroxide to a medium size bowl and mix. You can add less or more of the following ingredients depending on how dirty your Reebok Classics are.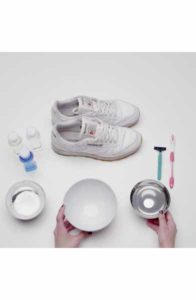 Step 3:

Dip a toothbrush (not the one you brush your teeth with!!) into the mixture, apply it to the shoes, and begin scrubbing. Remember: Reebok Classics are made with premium, soft garment leather, so you'll want to scrub gently. Once you begin to see dirt lift from the shoe, wipe them down with a damp cloth or a wet paper towel.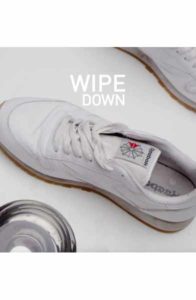 Step 4:
Moisten a cotton ball with clear nail polish remover (do not use a colored nail polish remover as it may stain the shoe) and swipe it all over the shoe. The nail polish remover should help remover any additional scuffs and marks on the shoes. Just be careful not to rub off any polish on your nails! Continue until the shoes are squeaky clean!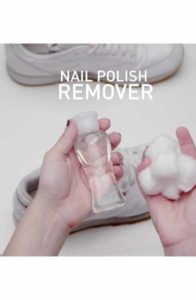 Step 5:
Re-lace your sneakers and marvel at your squeaky clean white sneakers!
If you are more of a visual learner, watch how to clean your Reebok Classics here!
Need more sneaker inspiration? Check out the new rose gold Vans that everyone is obsessing over at SheFinds.com!
[Photos: Reebok; @ReebokClassics]