Few things are sadder than busting out a glorious new pair of suede shoes, only to find that it's raining outside and there's no way to protect them from the elements. Or, you mistakenly wear them out with friends and get a drink spilled all over them. RIP. We've all been there. Suede is such a timeless look for our beloved shoes and bags (and even clothes), so that makes it even more unfortunate that the soft, luxurious material doesn't mesh well with liquids. That's where we come in. No more saying goodbye to ruined suede accessories! Once and for all, this is how to properly clean your suede shoes. Take note.
A lot of people don't know that suede is actually a type of leather, which should definitely make you rethink wearing suede shoes in wet or tumultuous situations. I mean, you would never in a million years get your leather wet either, right!? But, when the situation inevitably arises, don't fret—your shoes can be mended. Suede shows stains better than most materials (unfortunately), so you'll definitely be able to tell when your favorite pair of suede shoes has a new scuff. Once you notice one, you need to act fast so that's it not permanently embedded in your shoe. First, grab a cloth or toothbrush and rub your shoe in the same direction to get rid of any dirt and grime. You also might want to consider investing in a suede brush, which is specially designed for cleaning suede. You can find one at Target or J. Crew. Your shoes will already start to look noticeably cleaner after this step.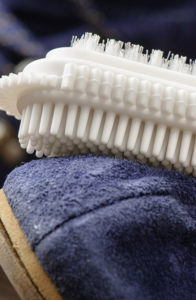 Next, according to Clark's, mix water (*GASP*) and a little bit of vinegar in a small bowl, and use a cloth to gently rub the solution all over the entire shoe. Don't freak out about the water part—just apply a small amount and make sure you cover every area of the shoes for a consistent clean. Then, take a dry towel or cloth and gently dab the shoes to soak up any extra water. Stick a few wads of paper inside the shoes to absorb any interior water, and let them air dry. They'll be ready to hit the town again in no time.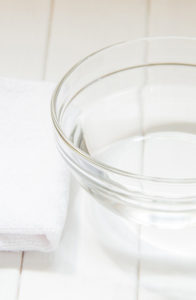 If a full-blown shoe crisis emerges and you get mud on your suede kicks, not all hope is lost, either. You can wipe off any large extra pieces initially, but wait for the yucky substance to dry and harden before you move forward. Once it's dry, use a suede brush to get rid of the mud chunks, according to WikiHow. As for those "I have no idea what that is" type of stains, your best bet is to apply a little bit of cornstarch or vinegar directly on the trouble spot with a cloth or towel. Then, use a suede brush or toothbrush to blend it in. You can even buy kits with solutions specifically made for removing suede stains, like the Angelus Easy Cleaner Suede Cleaning Kit from Etsy or the KIWI Suede and Nubuck Cleaner Spray from Walmart.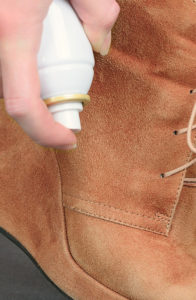 To prevent irreparable damage from the get-go, you should always spray your suede products with a protectant or waterproofing spray. You should also re-spray your shoes each time you clean them. Put your best foot forward in perpetually clean suede shoes!
[Photos: Shutterstock]