Your diet affects you more than you may realize. In fact, the foods you eat have a major impact on how your day will play out. Think about it: If you have a nutritious breakfast and stay hydrated, your day runs more smoothly than when you scarf down a sugary granola bar or pastry.
So, to ensure that you're going to have the best day ever, Long Island-based nutritionist Regina Fazzini suggests eating foods that are high in protein and fiber to keep you feeling full and energized. "The cliché is true: Breakfast is the most important meal of the day. It sets the tempo for how your day will go," she tells SheFinds. "It's important to keep your metabolism steady with wholesome, nutritious foods to prevent your blood sugar from spiking–and eventually, crashing."
Here are some nutritionist-recommended foods you should eat right when you wake up to have a better day:
Chia Seeds
Chia seeds are extremely nutritious and a great source of fiber--one ounce has 11g of fiber! Being that a portion of their fiber is considered to be viscous fiber and absorbs water, chia seeds increase the volume of food moving through your digestive tract and can help you feel more satisfied for longer. They're also high in antioxidants and protect your cells free radicals, too!
Not sure how to incorporate chia seeds into your morning routine? We suggest making Chia Seed Pudding and having a bowl before you leave for work.
Berries
Berries are also loaded with antioxidants and make for an excellent morning snack. What sets them apart from other fruits is their low sugar content and high fiber content. Plus, they've been shown to reduce markers of inflammation, prevent blood cholesterol from becoming oxidized and keep the cells lining your blood vessels healthy.
You can snack on these by themselves, or you can add them to your morning yogurt, oatmeal, or smoothies to reap their benefits!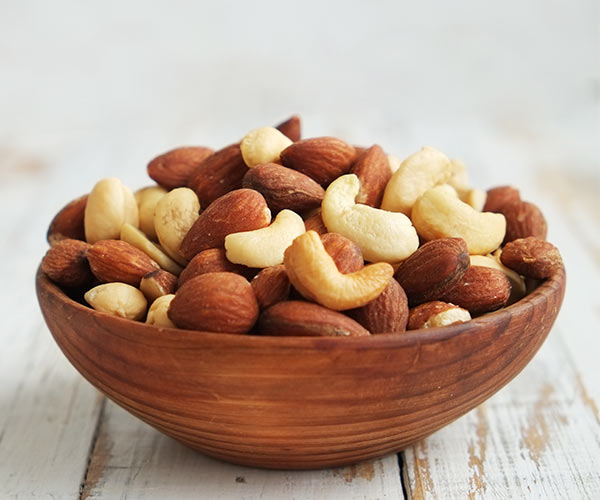 Nuts
Nuts make a great addition to your breakfast and can help you have a better day because they're filling and satisfying. They've been shown to improve heart disease risk factors, reduce insulin resistance and decrease inflammation, and high in magnesium, potassium and heart-healthy monounsaturated fat.
You can also have them as a midday snack when you're feeling hungry and need a little pick-me-up.
Cottage Cheese
Cottage cheese is high in protein which increases metabolism, produces feelings of fullness and decreases the "hunger hormone" ghrelin. It's also been proven to be just as satisfying as eggs! If you're watching your weight, full-fat cottage cheese contains conjugated linoleic acid (CLA), which has been proven to promote weight loss.
Add berries and flax seeds to your cottage cheese in the morning to make it more nutritious and have the best day ever!
Photos: Shutterstock