We love the fresh start that every new season brings–and spring is especially great. The warm season immediately following a long, cold winter is like a breath of fresh air. Nothing can beat it. As we get ready to head into the new warm weather season, light and healthy recipes are on our minds.
With Easter only a couple of weeks away, and the season of outdoor parties and get-togethers picking up, may of us are preparing our menus with new spring recipes. Whether you need a dish to bring to a friend's house for dinner, or are hosting Easter for the first time, it's important to have a stack of foolproof recipes in your back pocket that you can whip up at any moment.
We love appetizer foods. There's something so fun and special about eating food before the real food comes–isn't there? However, appetizers and diets rarely go hand in hand. With holiday parties, often comes cheat meals and consuming a shocking amount of calories. It's the only downside to Easter dinner, really.
While you're spending time with loved ones, the last thing you should be worrying about is how unhealthy you're eating, but that is often the reality. But it doesn't have to be! There are plenty of delicious and healthy spring appetizer recipes and Easter appetizer recipes that are sure to bring a smile to your face and peace to your mind as you indulge in them.
For five of our favorite healthy spring appetizer recipes, scroll down.
1. Bite-Sized Caprese Appetizers
It doesn't get any fresher than this spring appetizer. Made with just a few simple ingredients, this spring dish is sure to put a smile on your face. The plate is quick and easy enough to make--perfect for those last minute parties. This recipe is delicious, light, and pretty to look at. You won't have to worry about it breaking your diet at all. Even with mozzarella cheese added in, it's still considerably healthier than most Easter appetizers.
Ingredients:
--tomatoes
--fresh mozzarella
--whole basil leaves
--olive oil
--balsamic vinegar
View the whole recipe at Our Best Bites.
2. Roasted Asparagus With Parmesan Appetizers
The simple flavors in this recipe make for the perfect healthy spring appetizer. Even though this recipes calls for roasting your vegetables in the oven, it's still quick and easy to make. The light hand of Parmesan cheese in this dish is just the right amount for flavor. Because almost all of the ingredients are whole and healthy, this appetizer won't even come close to breaking your diet.
Ingredients:
--asparaguas
--olive oil
--Parmesan cheese
View the whole recipe at Cook The Story.
This spring appetizer is a healthier take on a fan favorite. Stuffed mushrooms often make an appearance at Easter, parties, and get-togethers, but they're often loaded with hidden unhealthy fats from breadcrumbs and butter. This dish will give you the same great taste without the unhealthy ingredients. They're packed with yummy ingredients and flavors that will have you going in for seconds--without the guilt.
Ingredients:
--Mushrooms
--Onions
--Garlic
--Spinach
--Feta cheese
View the whole recipe at To Simply Inspire.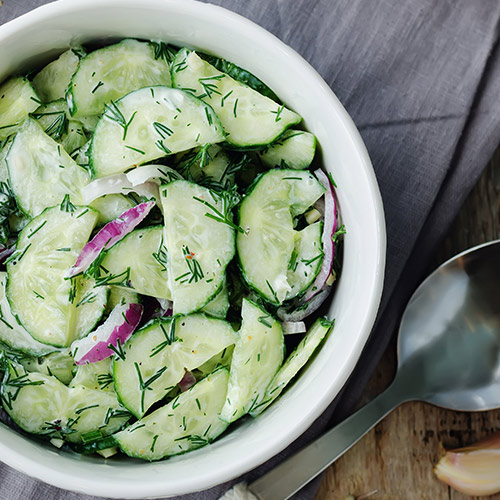 4. Easy Cucumber Salad Appetizer
Those says spring and warm weather like a fresh and light cucumber salad. This dish is a staple at all spring and summer get-togethers. With just a few fresh ingredients, it's easy to whip this salad up on the fly and impress guests with its delicious flavors. Cucumbers are extremely healthy for you and loaded with vitamins and nutrients, making this spring appetizer guilt-free.
Ingredients:
--Cucumbers
--Red onion
--Fresh Dill
View the whole recipe at The Stay At Home Chef.
Spinach artichoke dip is a party favorite and more often than not, has a place at the table, whether it be Easter or a regular old party with friends. Unfortunately, traditional spinach artichoke dip is loaded with melted cheesy goodness (stop drooling), and very unhealthy. We're talking an entire day's worth of fat intake in just an appetizer food. Yikes. If you love the taste of artichokes, were are other healthy spring recipes that you can make to satisfy your craving. This Artichoke grain is made with healthy ingredients that fit into your diet. MAke this dish for Easter or at your next spring party, instead of the cheese artichoke dip, and you'll be just as pleased.
Ingredients:
--garlic
--olive oil
--artichokes
--capers
--breadcrumbs
--lemons
View the whole recipe at A Beautiful Plate.