When it comes to losing weight, there's nothing more important than your diet. In fact, fitness experts say the best way to shed pounds is by following a high-protein diet as it promotes a fast-working and healthy metabolism, which is all thanks to its thermogenic effect on the body.
"The 'thermic effect of food' (TEF) is the energy we use to digest food into small, absorbable components. Protein has a higher TEF compared to carbs and fat meaning you're actually burning more calories to process protein than to process the other two," explains Trinh Le, MPH, RD for MyFitnessPal.com.
Despite its importance, most people aren't getting enough protein in their diets. This is especially true for vegetarians who need to find meatless, plant-based proteins to incorporate into their diet.
Looking for new weight loss-friendly recipes to start making to help kickstart your metabolism? Here are some of our favorite vegetarian Crock-Pot recipes that are not only super easy to make, but also super good for you:
Shutterstock
Fat-Free Vegetarian Crock-Pot Chili
This hearty bowl of chili is filled with nutrient-rich vegetables and is free of unwanted sodium and calories. The real fat-burning all-star is cayenne pepper, which helps speed up the metabolism.
Ingredients:
1 onion, diced
2 garlic cloves, minced
1 green bell pepper, chopped
1 cup fresh or frozen corn kernels
1 zucchini, diced
8 ounces mushrooms, sliced
3 cups diced tomatoes, fresh or packaged in BPA-free cartons
3 cups cooked kidney or pinto beans or 2 15-ounce cans low-sodium or no-salt-added kidney beans
½ cup water
2 tbsp chili powder
2 teaspoons cumin
½ tsp oregano
Dash of cayenne pepper or to taste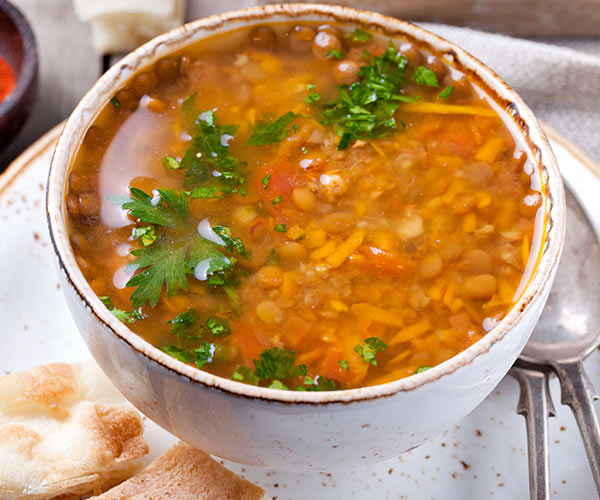 Shutterstock
Cooking lentils require very little effort, which is great because they're filled with so many amazing weight loss benefits. This is specially the case when they're paired with healthy ingredients like spinach, sweet potatoes, and onion.
Ingredients:
1½ cups Green Lentils (rinsed)
4 cups Vegetable Broth
1 Onion (diced)
2 small Sweet Potatoes (cut into large chunks)
4 tablespoons Green Curry Paste
2 cups fresh Spinach (tightly packed, any leafy green is lovely like swiss chard, or kale)
Salt (to taste)
Optional toppings: Coconut milk and fresh lime juice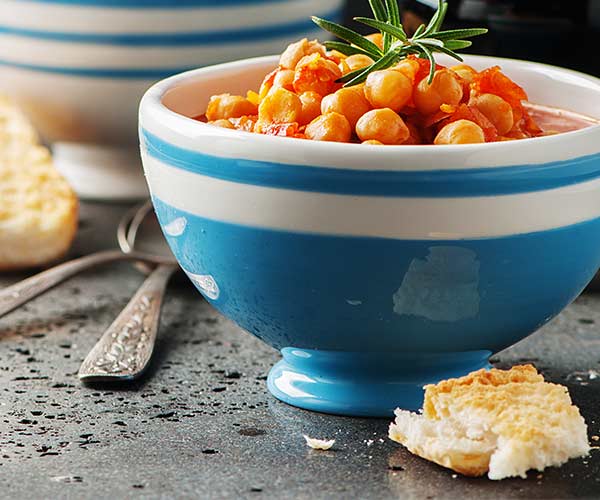 Shutterstock
Whether you're a vegetarian or just prefer a night off from meat and fish, this slow cooker crockpot chickpea stew is a hearty alternative. Cabbage, zucchini, and parmesan give it texture and zest — and you can use whole-wheat pasta to ground it.
Ingredients:
2 cans chickpeas 15 oz. each, garbanzos
6 cups diced "hard" vegetables E.g. carrots, celery, parsnips, onions, fennel, celery root
2-3 cloves garlic minced
1 1/2 teaspoons dried rosemary
1 1/2 teaspoons dried oregano
1 1/2 teaspoons dried basil
1 large bay leaf or 2 small bay leaves
4-6 inches Parmesan or Romano cheese rind tied in cheesecloth so it is easy to remove
1-28 ounce can ounce tomatoes with their juice whole or diced
4 cups vegetable broth
1 tablespoon olive oil
2 cups cabbage ribbons thinly sliced
2 cups zucchini diced or quartered and sliced
1/2 teaspoon Tabasco or similar hot sauce
3/4 cup small pasta
Parmesan or Romano cheese
Shutterstock
Slow Cooker Bean and Barley Soup
This healthy, light soup is filled with protein-rich ingredients that will help keep you energized and satisfied.
Ingredients:
1 cup dried multi-bean mix or Great Northern beans, picked over and rinsed
1/2 cup pearl barley
3 cloves garlic, smashed
2 medium carrots, roughly chopped
2 ribs celery, roughly chopped
1/2 medium onion, roughly chopped
1 bay leaf
Kosher salt
2 teaspoons dried Italian herb blend
Freshly ground black pepper
1/2 ounce dried porcini mushrooms, crumbled if large, optional
One 14-ounce can whole tomatoes, with juice
3 cups cleaned baby spinach leaves (about 3 ounces)
1/4 cup freshly grated Parmesan Balsamic vinegar, for drizzling
Extra-virgin olive oil, for drizzling
Shutterstock
Quinoa Black Bean Crock-Pot Stuffed Peppers
These Quinoa Black Bean Crockpot Stuffed Peppers can be made with or without meat. If you're going meatless, trust that you're in for a protein-rich meal thanks to the superfoods like quinoa and black beans. They get an extra healthy boost from its assortment of anti-inflammatory spices and vegetables.
Ingredients:
6 bell peppers
1 cup uncooked quinoa, rinsed
1 14 ounce can black beans, rinsed and drained
1 14 ounce can refried beans
1 1/2 cups red enchilada sauce
1 teaspoon cumin
1 teaspoon chili powder
1 teaspoon onion powder
1/2 teaspoon garlic salt
1 1/2 cups shredded Pepperjack cheese
toppings! cilantro, avocado, sour cream, etc.