If you want to achieve a radiant glow but don't have time to take a tropical vacation any time soon, then you need a quality self tanner.
As the weather gets warmer and we start to show a little more skin, many women want to look naturally bronzed. A self tanning product helps you look sun-kissed without spending a ton of money on a spray tan or risking damage from the sun's harmful UV rays.
Celebrities like Kim Kardashian and Emily Ratajkowski use self-tanners to get perfectly glowing skin instantly.
While you can shop for great drugstore self-tanners from places like CVS and Target, Sephora carries amazing, high-quality self tanners, as well.
The St. Tropez Tanning Essentials One Night Only Wash Off Body Bronzing Mist has a 5-star review on Sephora and will help you look tanner instantly, without committing to it for longterm. At the end of the day or night after looking like a bronzed goddess, you can wash it off.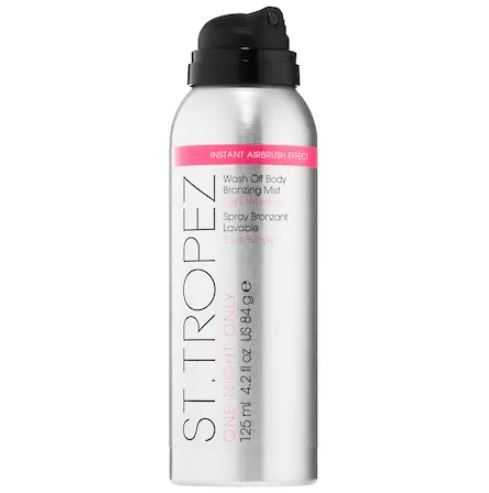 St. Tropez Tanning Essentials One Night Only Wash Off Body Bronzing Mist ($20)
The One Night Only Wash Off Body Bronzing Mist is suitable for normal, oily, combination, dry, and sensitive skin. It's cruelty-free, noncomedogenic, and made without parabens, sulfates, and phthalates. The mist delivers an airbrushed effect for a glow that lasts for up to 24 hours--but won't come off until you use soap and water to remove it. The formula will help smooth uneven skin tone and improve dullness and texture.
St. Tropez Tanning Essentials One Night Only Wash Off Body Bronzing Mist ($20)
The 360-degree spray nozzle provides you with flawless application for a tan that appears natural. There are two shades available: light/medium and medium/dark.
Promising customer review:
"So you know how summer can be. Sometimes your skin you can get a little splotchy. I also have a few psoriasis spots on my legs. Nothing major but I got this because I wanted my legs to look PERFECT when I wear a dress and that's exactly what this ish did!!!!I got the darker color and I freaking love it! It made my legs look like they were photoshop perfect! Also, I had gotten burned on my shoulders and chest so I put it on so it wouldn't look so Lobster-like. Made me look like a bronzed goddess instead of a cooked lobster! It stayed on, never came off even at the beach. Not until I showered did it come off. Amazing product."
[Photos: Splash]
SheFinds receives commissions for purchases made through the links in this post.