If anyone knows a thing or two about losing weight, it's your favorite celebrities. From Gwyneth Paltrow and Jennifer Lopez, to Meghan Markle and Kourtney Kardashian, these celebrities have gotten into shape at the drop of a hat and have enlisted some of the industry's best health and fitness professionals to help them do so.
So, what's the secret to a fast metabolism? Apparently, it all comes down to what you have when you first wake up! Your metabolism rests while you're asleep and you should fuel it with the healthiest ingredients to get it up and running to burn calories throughout the day. Here are the drinks that your favorite celebrities swear by to speed up their metabolism in the morning:
Jennifer Lopez
J.Lo swears by a body lab shake in the morning. She'll have a shake before hitting the gym to fuel her workouts. "It's not a solution-in-a-bottle. It's not a fad diet. It's part of a health regimen that makes your metabolism work as hard as you do. It's a way to love your body," Lopez says of the shakes.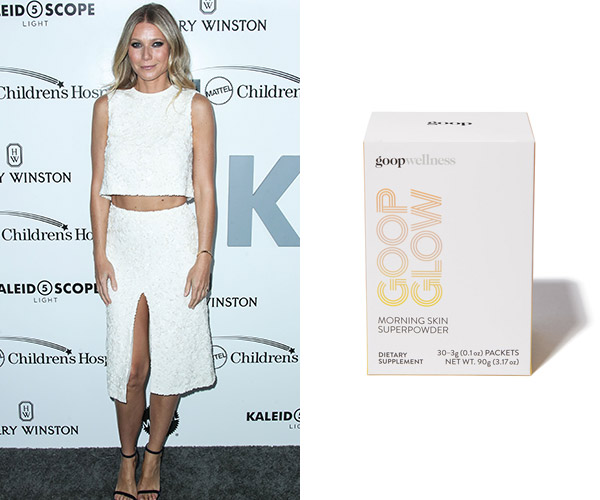 Gwyneth Paltrow
It's no surprise that the goop founder wakes up to a drink from her health and wellness brand, right? Paltrow swears by goopglow, a supplement loaded with skin-supporting ingredients to give you glowy skin. One of its main ingredients is vitamin C, which is known for its immune-boosting properties and has even been proven to help with weight loss.
Khloé Kardashian
One way the reality star gets her metabolism revved in the morning is with a refreshing glass of lemon water. She swears by fruit-infused water because it's a delicious way to get nutrients into your body without realizing it. She'll even add some cucumber and mint, too!
"Water does tend to get boring after a while so my current obsession is infused waters. Detox water, fruit flavored water, or fruit infused water; infused water can generally be any combination of fruits, vegetables, and herbs immersed in cold water. While infused water has the benefit of being full of flavor, it also has very low to no calories, making it a very powerful tool in your efforts to lose weight and gain better health," she wrote on Facebook. "Nutrients leak out of the fruit directly into the water. Some nutritionists estimate that you get as much as 20% of the vitamin content of freshly squeezed fruit juice, all without the extra calories or fructose."
Kim Kardashian
Khloé's not the only Kardashian that's got a morning drink that she swears by. Kim loves waking up to a Flat Tummy Co. Shake It Baby shake. These meal replacement shakes are packed with protein, vitamins and minerals, and the brand's Super Citrimax to help you lose weight.
"These meal replacement shakes are so good and it's helping me get my tummy back to flat in the new year. The results I'm seeing and feeling are amazing and I'm so excited for the next few weeks," the mom of three wrote on Instagram.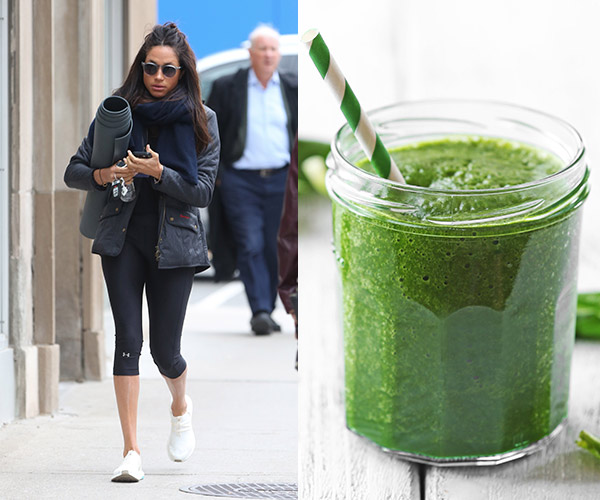 Meghan Markle
The royal-to-be loves to start her day with a green smoothie. In fact, she says her go-to smoothie recipe gets her more energized than a cup of coffee!
"If I blend some apple, kale, spinach, lemon, and ginger in my Vitamix in the morning and bring it to work, I always find that sipping on that is a much better boost than a cup of espresso," she told TODAY.
Kourtney Kardashian
Want to get a metabolism like Kourtney Kardashian's? Then, you need to have a glass of melted ghee in the morning! It's a type of clarified butter that's loaded with vitamins A,D,E and K and K2 and CLA antioxidants.
"Ghee is the first thing I put in my body every morning. I take one big teaspoon of ghee every morning, melt it on the stove in a pan and drink it out of a cute little ceramic white cup. After I take it, I don't eat anything for 20 minutes, and then I drink a glass of water before eating food," she explains on her website.
[Photos: Splash, Shutterstock]