Summer means entertaining for most people–whether you're having a backyard barbecue with 40 people for the 4th of July, or just drinking rosé on your balcony with four girlfriends. Throwing parties of any size can be stressful–especially for those of us who think a "charger" is something you plug your phone into, and who don't own a complete set of anything in the kitchen.
Ah, what did we do before HomeGoods? The home decor mecca has teamed up with lifestyle blogger Jenny Reimold to bring you the ultimate tip for setting a gorgeous place setting that will wow your family and friends every time. It's so good!
The 7-Layer Rule.
Jenny's signature 7-layer place setting rule of thumb works for any occasion, formal or informal. No matter what your budget, you want an Insta-worthy tablescape, right? (That's fancy speak for table, btw.)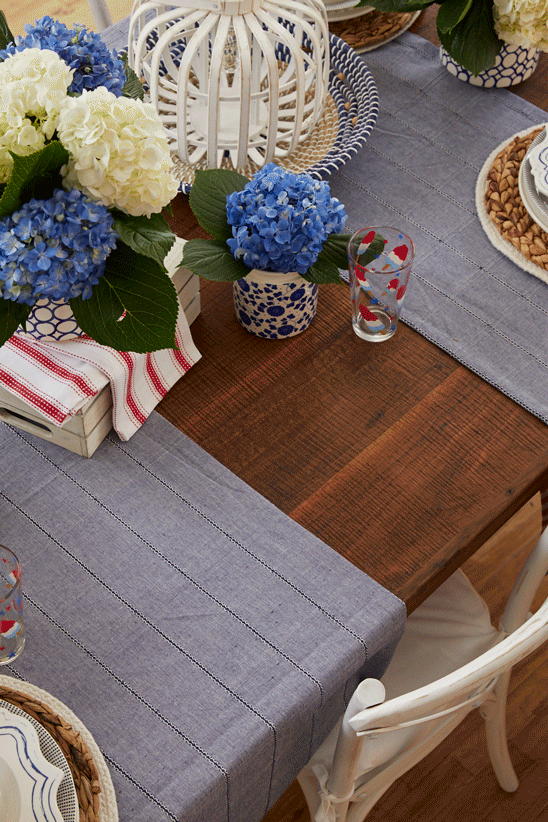 Jenny says that you can dress up your table by layering seven pieces total.
Typically, this is: one to two textured chargers, a large hobnail plate for a foundation, seasonal melamine or ceramic plate for color and style, a dish towel placed between two plates instead of a traditional napkin, a coordinating salad plate, and a small dish, bowl or bread plate on top (all of which can be found at HomeGoods, duh).
So--there you have it. You can add some creative license, of course. And while we're on it, here are a few more of Jenny's genius, and fuss-free tips for entertaining (fuss-free is the operative word, Jenny is a mom to 7!):
Place your tablecloth diagonally. For a major wow factor, Jenny suggests setting the table with table runners or Turkish towels diagonally.
Learn what a charger is--and use it. "Chargers always serve as anchors for my place settings. Use one that is textured like seagrass or water hyacinth that can be styled with coastal, boho or tropical themes." Don't own one? Luckily, they're sold for as little as $9.99 for a 4-pack at HomeGoods.
Dish towels aren't just for drying. "I consistently use dish towels as napkins and instead of placing to the left of the plate, I suggest layering in between dishware so it drapes off the center of the setting," Jenny says. "Towels with fringe, pom poms or designs add pops of color and are an easy way to incorporate seasonal themes." So fun!