"Making it a habit to add anti-inflammatory foods to your plate each day means controlling hunger over time and preventing weight re-gain," says Rachel Swanson, a RDN at Lifespan Medicine. This is the habit we're aiming for in 2018. When you have the right foods at home, it's simple to eat healthy. Add these to your shopping list!
[Photos: Shutterstock]
Kale
You've heard a lot about green, leafy veggies. And now you're going to hear some more. "Emerging evidence suggests the phytochemical composition of foods may also have a role in weight loss," says Swanson. Take kale for example. It contains polyphenols that have potential potent effects against fat cells.
Green Tea
Do you drink a lot of alcohol, high calorie sodas, sugar-laden sports drinks and fruit juices? Simply replacing these high-calorie quenchers with green tea will have a positive effect on your scale, says Swanson. On the science side, green tea contains the compound EGCG, a catechin "which shines as an anti-inflammatory superstar thanks to its proven effects on a wide ranging spectrum of conditions and diseases," she says. "Sipping on a beverage like green tea has the ability to raise your metabolic rate, too, allowing you to burn more calories – and who wouldn't want that?"
Flavonoid-Filled Fruits
"If this F word sounds foreign, don't fret - it simply refers to the bioactive component of fruits and vegetables which have the potential to influence weight," says Swanson. Upping your intake of flavonoid-filled foods like blueberries, strawberries, apples, pears and oranges is associated with preventing weight gain. Whole fruits are best: they have fiber and are low calorie.
Ginger
There's more to ginger than decorating a plate of sushi. This sweet and spicy, anti-inflammatory food aids digestion and helps metabolize excess adipose tissue (that's a fancy word for fat). "Ginger also decreases hunger and bloating," says Dr. Marizelle Arce, a naturopathic physician. Use fresh ginger to make tea or to add a kick to chicken salad.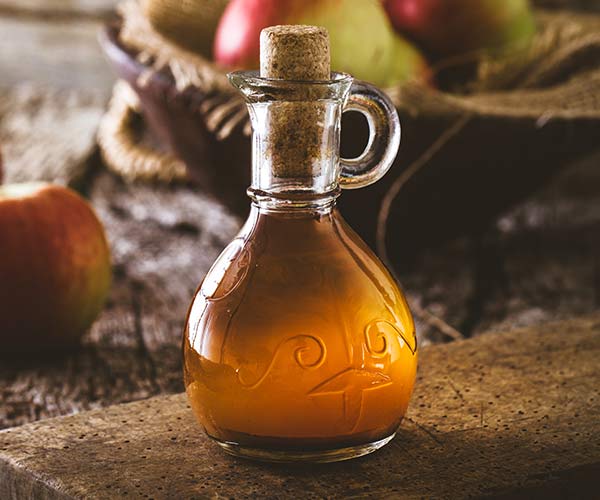 Apple Cider Vinegar
"Apple cider vinegar is a fermented food that aids digestion and promotes the growth of healthy gut flora," says Dr. Lisa Davis, chief nutrition officer at Terra's Kitchen. "Preliminary evidence also suggests that it may help with fat loss." Having a healthy gut with friendly flora can reduce inflammation and improve digestion! Mix a couple of tablespoons of apple cider vinegar with water and honey.
Turmeric
The fat that sits on your abdomen is no ordinary fat. Aside from being really frustrating, Dr. Davis says that abdominal fat is, "metabolically active tissue that unleashes harmful inflammatory molecules associated with cardiovascular disease and diabetes." Turmeric counters this. It contains curcumin, a natural anti-inflammatory and antioxidant compound. Brew up the gorgeous orange spice in a hot cup of tea.
Tart Cherries
A recent study found that tart cherries have the "highest anti-inflammatory content of any food". That's a major endorsement. The key is in the mighty antioxidant compounds that give tart cherries their red color. Have them as a snack, in smoothies, on top of yogurt and salads or even in protein bowls.
Coconut Oil
Dr. Arce suggests adding coconut oil to your cooking routine. Coconut oil helps decrease appetite and helps convert sugar stored by your body into energy rather than fat. It also maintains the condition of your gut by feeding healthy flora. Try this snack switcheroo: make popcorn using coconut oil!