We love a solid one-and-done meal. That's why our slow cooker gets a ton of use. It's a lot less tempting to order take-out when you can so easily whip up a delicious dinner while you Netflix and chill. Home cooking also allows you to choose fresh, healthy, low-fat ingredients and lots of protein. Protein is super important when your goal is to slim down your stomach. "Lean meats are a great way to get protein without excessive fat and carbohydrates," says Alix Turoff, a New York City nutritionist and trainer. The same with Pulses, aka, plant protein that includes dried beans, dried peas, lentils and chickpeas. All of these slow cooker recipes will give you the proteins and nutrients your body needs minus the carb and calories you're trying to avoid.
Sesame Chicken
There's something comforting about eating sesame chicken from a classic Chinese food container. We like how it feels in the moment but regret the choice when our pants feel too snug. Show Me The Yummy came up with a lighter twist on Sesame Chicken – it's low carb and gluten free. The base is a potent sauce made mostly from chicken broth, vinegar, tamari (that's GF soy sauce), honey and ginger. You can serve it over brown rice or even riced cauliflower.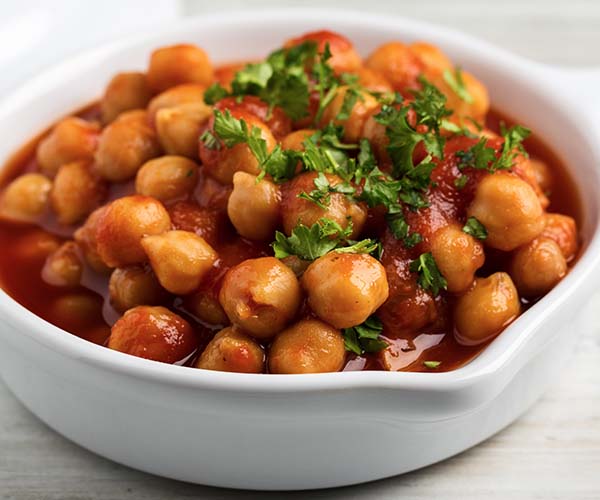 Chickpea Curry
Eating spicy foods can reduce inflammation in your body and kick start your metabolism. Why? Your body's temp rises when you eat spicy things. It's formally called, thermogenesis – the way your body's cells convert the energy from the foods you eat into heat. So it makes sense that eating spicy foods would speed up your metabolism. This Chickpea Curry from A Spicy Perspective contains the anti-inflammatory ingredient turmeric. It's the herb that gives curry its beautiful, deep golden yellow color. We love how the flavor combines with the sweet potatoes and the chickpeas.
Turkey Tacos
Taco night rocks and it's even better if you use low-fat, ground turkey. After browning it on the stove the meat goes right into the slow cooker and magically marries the spices and tomato sauce. Yum! Ambitious Kitchen keep these Turkey Tacos 100% by leaving out pre-made, sodium-filled taco seasoning we're often guilty of using. Once you realize how easy it is to make, you'll never use packaged spice mixes again.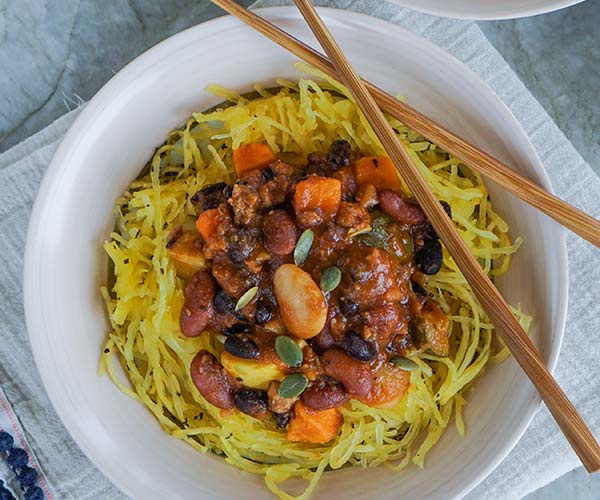 Lentil Sloppy Joes
This Lentil Sloppy Joe isn't too sloppy but it makes up for it in taste. Ambitious Kitchen chose lentils to replace traditional ground beef. It's a great idea: lentils are plant-based proteins that fill you up, help keep you regular and even help reduce cholesterol thanks to soluble fiber. Research has reported that people who eat pulses can experience significant weight loss even if they don't stick to a diet of restricted calories. Yes, please. While sloppy joes are usually served on rolls, this recipe calls for them to be served on a bed of spaghetti squash. Genius!
Banh Mi Chicken Tacos
Have you had a bahn mi yet? It's a trendy Vietnamese sandwich served on bread ("bahn mi" literally means bread!). But the flavors in these Banh Mi Chicken Tacos from Kelley And Cricket stand on their own minus the bun. The key to banh mi is the pickled veggies and spicy mayo. Really, who needs the empty carbs? Serve the chicken taco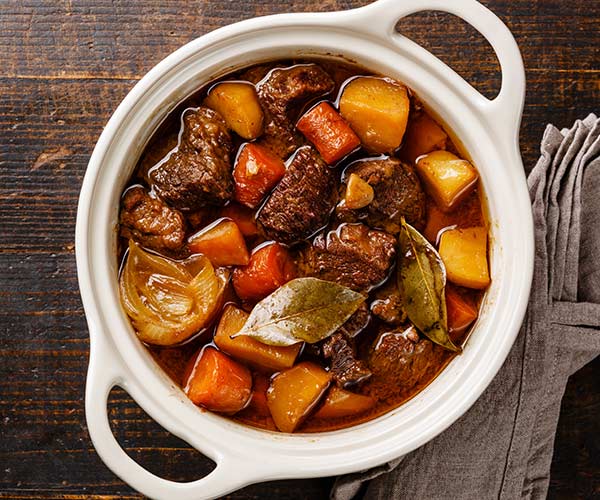 Sweet Potato & Beef Stew
There is nothing more synonymous with a slow cooker than beef stew. Kelley And Cricket's recipe swaps out starchy white potatoes and brings in healthy sweet potatoes. They're slow carbs, which means you digest them slowly and don't risk an insulin spike. The sweet flavor pairs incredibly well with the savory meat. We'll be making multiple batches of Sweet Potato & Beef Stew – one to eat and one to freeze.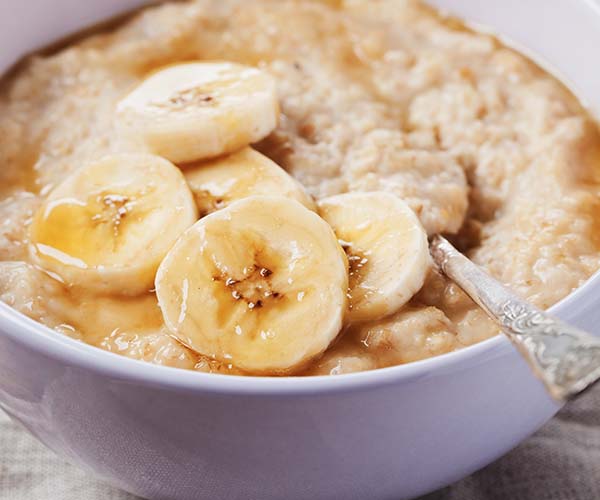 Banana Nut Oatmeal
The slower cooker is not just for dinner. Case in point, this Banana Nut Oatmeal from The Lemon Bowl. Mornings are often rushed and leave little time for a filling and healthy breakfast. But it's super important to get protein in the morning when you're trying to lose belly fat (so you don't binge on empty carbs!). Steel-cut oats have more protein and fiber than the instant version. People are hesitant to try the steel-cut variety because they need ample time to soak. That's why putting them in a slow cooker before bed – along with almond milk, flax seeds and cinnamon – is the easiest way to make breakfast.
Vegetarian Chili & Butternut Squash
Don't tell us you can't have chili without meat. Try this Vegetarian Chili & Butternut Squash from The Lemon Bowl and then decide. It's loaded with beans and veggies that provide you with protein and fiber. Doctor it up with your fave chili toppings like avocado, cheese or even jalapeno. It's all of these flavors – not necessarily the meat – that people love about chili.
[Photos: Shutterstock]