Kim Kardashian is always in front of the camera. So we decided to look at her most recent photos and made a major discovery: the majority of her clothes are see-through! We're not just talking about those sheer dresses she's so fond of. See for yourself in the slideshow.
[Photos: Splash News]
Kim wore a mesh top at the Lanvin fashion show in Paris, but nothing underneath? I wonder how Kanye feels!
This dress material is so thin, you can see a lot more than Kim's baby bump!
Kim, where'd your pants go?
Even when she's pregnant, Kim wears nothing but a see-through black lace dress.
Kim showed off some cleavage in a sheer top while running errands in New York City. Is that a bathing suit your wearing, Kim?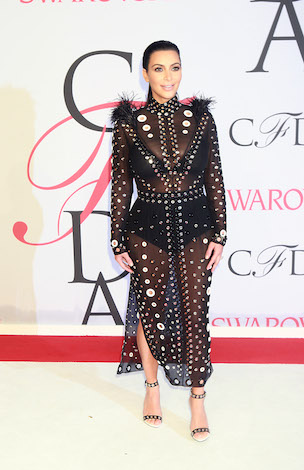 Kim cannot get enough of her bra and high-waisted bottoms. Does this even count as a gown?
Do you think she only owns really thin shirts?
I'm going to say the answer is yes, and wearing a bra isn't really her thing.
Kim, you forgot your pants again.
How many pairs of that bra and spanks combo do you think Kim owns?