Once thought of as a frivolous beauty item, eye creams are now regarded as one of the most important anti-aging products in your skincare regime. If you're not already sold on the whole eye cream phenomena, we're here to tell you yes, you do in fact need to be using one — every. day.
Dermatologists and skin care fanatics alike preach the benefits of using an eye cream. From its ability to fake a full night's sleep to its power to fade fine lines and wrinkles practically overnight, eye cream products are no joke.
Shutterstock
If you're new to the world of eye creams -- or just looking to switch things up and try a new product -- we recommend trying the Visha Skincare Advanced Bright Eye Booster. This eye cream is a unique, plant-based peptide formula that combines three key skincare ingredients to brighten and visibly improve under eye skin.
Visha Skincare Advanced Bright Eye Booster ($45)
The secret to the Advanced Bright Eye Booster formula is a blend of Emblica Extract, Hyaluronic Acid, and Caffeine to stimulate microcirculation in the skin. This helps reduce puffiness, and dark circles, in addition to fine lines and wrinkles. The eye booster also contains rice extract which acts as silicone in the product by filling lines and aiding in the appearance of wrinkle reduction. Forget about Botox!
Key Benefits To The Visha Skincare Advanced Bright Eye Booster:
-Reduces overall eye puffiness
-Diminishes the appearance of dark circles
-Improves the appearance of fine lines and wrinkles
-Softens the look of smile lines and lines around lip areaThe multitasking eye cream is paraben-free, sulfate-free, fragrance-free, hydroquinone-free, gluten-free, and cruelty-free, making it safe for all skin types.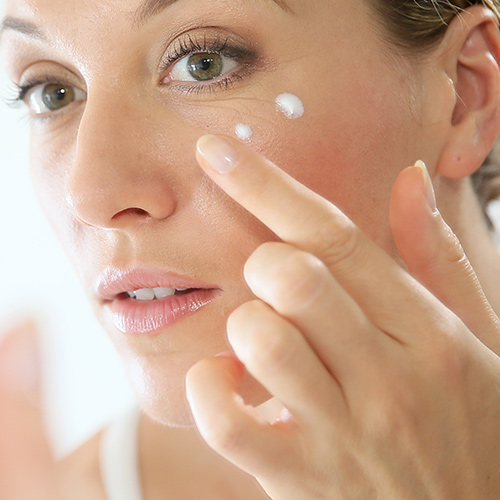 Shutterstock
Why You Should Really Be Using An Eye Cream?
Eye creams are not just for the over-40-crowd. Every woman (and man) should start using one as early as their early-to-mid twenties to reap the benefits of this product. Eye creams are designed specifically to target the sensitive skin underneath your eyes. Under-eye skin is much thinner than the skin on the rest of your face which is why it tends to show the signs of aging first -- hello dark circles, puffiness, and wrinkles.
An eye cream's formula contains ingredients that work their magic on this delicate area of your face to reduce puffiness, smooth lines and wrinkles, and even color correct dark circles.
SheFinds receives commissions for purchases made through the links in this post.