Women come in all shapes and sizes and we celebrate that diversity! But even the most body-positive among us has off days. If we had to pinpoint the one body part that can be really frustrating, it's the belly. "Abdominal fat is metabolically active tissue that unleashes harmful inflammatory molecules associated with cardiovascular disease and diabetes," says Dr. Lisa Davis, chief nutrition officer at Terra's Kitchen. Internal inflammation is directly linked to insulin resistance and weight gain. But starting the day with an anti-inflammatory drink can offload the inflammation that leads to abdominal fat.
Cinnamon Coffee
Eating spicy foods can reduce inflammation and kick start your metabolism because of the rise in your body's temp when you eat spicy things. It's formally called thermogenesis – the way your body's cells convert the energy from the foods you eat into heat. Studies show that the antioxidants in cinnamon have potent anti-inflammatory activity. "Cinnamon also slows the rate at which the stomach empties after meals, reducing the rise in blood sugar after eating," says nutritionist Alex Caspero of Delish Knowledge. Add cinnamon to your coffee grounds in the morning before brewing for a healthy burst of flavor. You can do the same with plain water: Add a cinnamon stick to a bottle of water and you'll instantly find it more appealing to drink.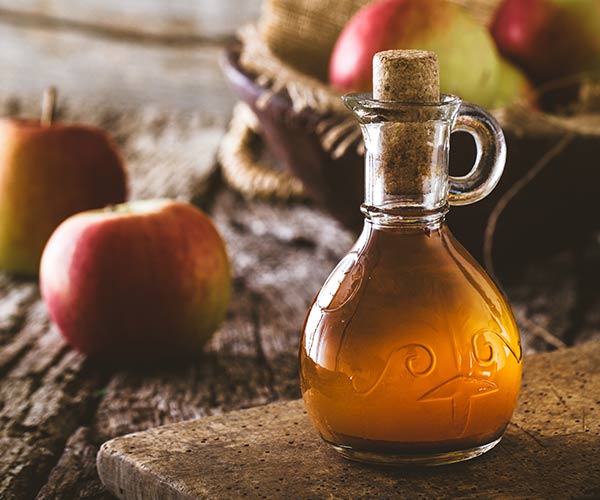 Apple Cider Vinegar
The acetic acid in apple cider vinegar gives it that funky smell but it's also what can help you lose weight. It suppresses hunger and keeps you feeling full after meals. Plus it stimulates weight loss and helps to maintain consistent levels of blood sugar. "Apple cider vinegar is a fermented food that aids digestion and promotes the growth of healthy gut flora," says Dr. Davis. A study found that people who took an apple cider vinegar supplement every day for 12 weeks lost more weight than those who didn't have any. You can mix a tablespoon apple cider vinegar with water and honey if drinking it straight isn't tempting.
Green Tea
A clinical study of more than 100 women with excess belly fat who drank green tea for 12 weeks had significant reductions in waist circumference and their BMI without any adverse effects. Yes, drinking green tea may be able to help nudge your metabolism, which in turn can help you shed pounds. The secret is a compound in the tea called catechins. "Green tea is naturally high in catechins which inhibit body fat from accumulating," says nutritionist Violet Santana of My Wellness Solutions. Green tea comes from the same source as black tea – the common type people drink with milk and sugar – but green tea is not as processed as black tea. Less processing is why green tea contains more catechins. Experts also believe the tea has a positive effect on hormones related to fat metabolism.
Hot Water & Lemon
What hot drink has zero calories tastes refreshing and spurs your metabolism to get moving? Hot water with lemon! A warm or hot cup gets your body moving at a rapid pace and that means your entire body is engaged in creating and using energy that leads to weight loss. "The more lemon water you drink the better for you since it helps food break down easily in your digestive system," says Suzanne Jezek-Arriaga, a nutrition and holistic health coach. Lemon has vitamin C to aid weight loss. A study found that people who have sufficient levels of vitamin C intake burned more fat than people who were C deficient. Another way hot lemon water helps is simply that people prefer the taste of lemon water to plain water. If the idea of water isn't appealing, you might have a glass of juice before breakfast. Juice is pure sugar with zero health benefits. But if you think hot water with lemon tastes great, then you'll have it instead of high-calorie, sugary drinks.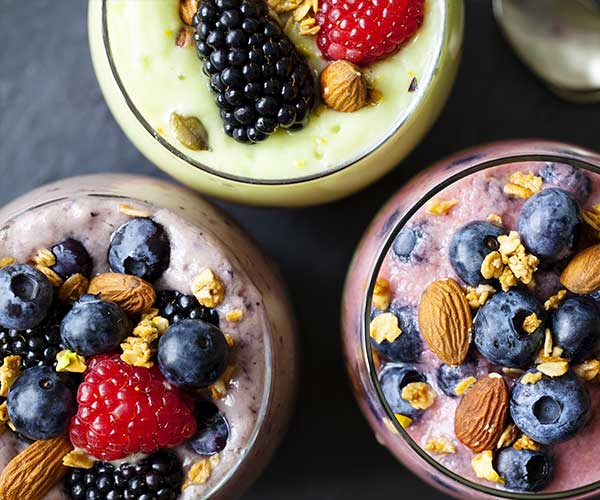 Blueberry Smoothie
If you have a sweet tooth at breakfast, a fruit smoothie will satisfy. We love the Avocado Blueberry Creamy Dream Smoothie from Dr. Luiza Petre, MD, director of the Medi-Weightloss Clinics. It uses anti-inflammatory blueberries that are bursting with natural sweetness. Next add avocado. It's an anti-inflammatory, antioxidant-packed, ingredient that thickens the smoothie. Avocados are naturally high in fiber and healthy fats that decrease your appetite and supply your body with a healthy balance of minerals. Finish things off with ground flax seeds. They have a high concentration of plant-based omega-3s that have been shown to increase good cholesterol and decease the bad. It also lowers inflammation and in turn reduces storage of fat. Flax doesn't have a potent taste so it won't compromise the flavor of your smoothie.
[Photos: Shutterstock]