There's no reason to run out of the house each morning without first eating a solid breakfast. Aside from feeling hangry, an empty belly can lead to a big belly. When you feel ravenous you'll eat the first thing you see even if it's totally fattening. We like to keep the fridge stocked with all the ingredients needed for anti-inflammatory metabolism-boosting smoothies. When your metabolism functions properly you have the energy to exercise and your body is more capable of burning fat. Using anti-inflammatory foods keeps your systems balanced and working for your weight loss goals – not against them. Get out the blender and try a smoothie.
Lemon Turmeric Smoothie, Evolving Table
Turmeric and chia seeds are both high-powered anti-inflammatory foods. The issue is how do you use them? It's not like you can easily sprinkle turmeric over veggies (too potent!). The key is to layer them in a smoothie with a melody of flavors. Dr. Lisa Davis, chief nutrition officer at Terra's Kitchen, says the fat that sits on your abdomen is no ordinary fat. Aside from being really frustrating, she says that abdominal fat is, "metabolically active tissue that unleashes harmful inflammatory molecules associated with cardiovascular disease and diabetes." Turmeric counters this. It contains curcumin, a natural anti-inflammatory and antioxidant compound. When turmeric and lemon meet in this recipe the flavor is dramatically delicious.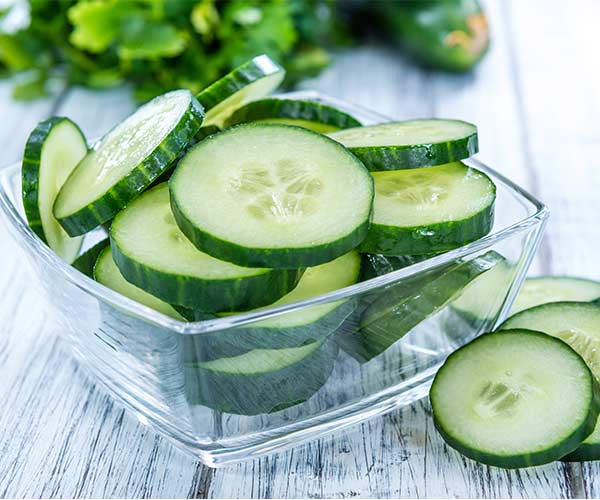 Cucumber Anti-Bloat Smoothie
"Excess salt leads to bloating but potassium relieves that puffy feeling by balancing and circulating body fluids," says Dr. Luiza Petre, MD, director of the Medi-Weightloss Clinics. The potassium-rich ingredients in this smoothie are coconut water, bananas and cucumbers. Cukes have also been shown to inhibit the activity of pro-inflammatory enzymes. Blend a half of a cup of coconut water with one banana and one cucumber along with a small piece of fresh ginger root and ice. The ginger will soothe your digestive track and alleviate bloat.
Cherry Almond Smoothie, Suburban Simplicity
If you don't eat tart cherries, please start. Many experts have coined them one of the most potent anti-inflammatory foods you can consume. Combine them with anti-inflammatory almonds that deliver a fiber and protein combo that keeps you full for the longest period of time and on the fewest calories. This recipe calls for protein powder. Always opt for one that is low-sugar, low-cal and with the fewest ingredients. It's basically like a cherry pie in a blender but way healthier...and with spinach. Oh we didn't mention that? You'll never even know it's there.
Peanut Butter & Jelly Date Smoothie, Minimalist Baker
Feel like a kid again when you drink this take on the classic peanut butter and jelly sandwich. Nut butters provide protein but we're often warned to stay away from them. Why? Some people (yes, us) can't help eating the entire jar in one sitting. This smoothie is a good way to have your nut butter without going overboard. The sweetness comes from pitted dates and anti-inflammatory blueberries (we love the frozen wild variety). Sub in any berry that reminds you of your fave jelly. And don't leave out the flax seeds. They have a high concentration of plant-based omega-3s that have been shown to increase good cholesterol and decease the bad. It also reduces inflammation and in turn reduces storage of fat. Flax doesn't have a potent taste so you won't compromise the flavor of your smoothie.
Morning Fuel, Simple Green Smoothies
This smoothie is packed with flavonoids. "If this F word sounds foreign, don't fret - it simply refers to the bioactive component of fruits and vegetables which have the potential to influence weight," says Rachel Swanson, a RDN at Lifespan Medicine. Upping your intake of flavonoid-filled foods like blueberries, strawberries, apples, pears and oranges is associated with preventing weight gain. Whole fruits are best: they have fiber and are low calorie. The recipes married oranges with avocados, which are anti-inflammatory and packed with antioxidant. They are naturally high in unsaturated fatty acids, fiber, vitamins A, C, E, K, and many B vitamins as well as potassium and magnesium. Much of it is composed of water and fiber, and both help keep you feeling full.
[Photos: Shutterstock]