Let's get something straight: "Studies show that people who eat breakfast are more successful at losing weight – and maintaining their weight loss – than those who skip it," says Colette Heimowitz, a nutritionist with Atkins Nutritionals. Now you need to figure out what makes the healthiest breakfast to get the flattest abs. Heimowitz says your goal should be to control carbs and sugar and get sufficient protein, fiber and healthy fats. This will make sure you stay satiated and energized. Make each item anti-inflammatory for an even better defense against weight gain. Anti-inflammatory foods help keep your metabolism in check so your hormones don't freak out and signal fat retention. These four foods make a delicious, happy and healthy morning meal.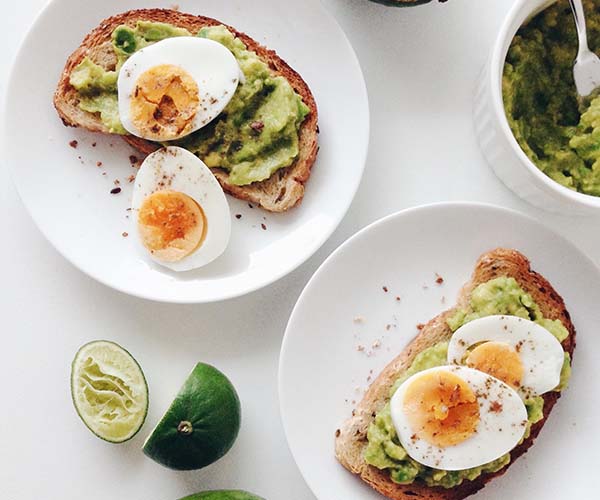 Eggs
Eggs are the real deal. Julie Andrews, The Gourmet RD, says they are a "complete protein," meaning they contain all 9 essential amino acids -the ones our bodies can't produce so we must get them via food. From eggs we get good fats, choline, selenium, biotin, iodine, phosphorus and vitamin A. Most of these are in the yolk so forget about making just the whites. An egg has 6g of high quality protein, only 70 calories and no carbs, "Eggs are inexpensive, readily available and very versatile," she says. Scramble up two eggs and mix in black beans, top a sunny side-up egg with avocado or just have a hard-boiled egg with a dash of sea salt.
Plain Greek Yogurt
What has major protein (some brands upwards of 20g per cup!) and is low in calories, sugar and carbs? We'll take plain Greek yogurt for the win! Stay away from flavored yogurts that are packed with sugar. Top a cup of plain yogurt with berries, nuts (see blow) and a little bit of a low sugar granola for a delicious breakfast parfait. We like using single serve yogurts to help with portion control. Even too much of a good thing can pack on pounds.
Berries
Enjoy a cup of mixed berries on the side or with yogurt, says Stacy Goldberg, a nutritionist at savorfull. "Blackberries, blueberries and raspberries are high in fiber and will make you feel full and satisfied," she says. Berries are bursting with natural sweetness and you can eat way more of them without worrying about the scale. For example, one cup of slices strawberries is only 50 calories. A half-cup of raspberries gives you 4 grams of fiber, blackberries 3.8 and blueberries or strawberries 1.7 grams. All berries are high in polyphenols, micronutrients that combat cellular stress by slowing down and blocking the inflammatory response in the body. When fresh berries aren't an option frozen is just as good. Defrost a cup in the microwave then use the tasty liquid that pools at the bottom of the bowl to sweeten the yogurt.
Nuts & Seeds
Almonds, walnuts, pecans, cashews and sunflower seeds, are packed with protein (about 4 to 7 grams per ounce), fiber and heart-healthy fats, a combo that keeps you full for the longest period of time. "Anti-inflammatory nuts and seeds are calorie-dense so it's important to pay attention to portion size," says Andrews. "Try adding 15 almonds to your breakfast. They contain less than 10 calories, 2g of fiber and 4g of protein. Add an apple and you have 180 calories, 6g of fiber and 4g of protein. The fiber content also works in favor of weight loss.
[Photos: Shutterstock]