Gut health is on everyone's mind these days — for good reason. Eating plenty of anti-inflammatory foods balances the levels of good and bad bacteria in your gut, which can boost your immune system, regulate hormones, improve digestion and your absorption of vitamins and minerals, and help you lose weight. And eating foods that are healthy for your gut doesn't have to be torture — or require that you spend countless hours in the kitchen. Grab your crockpot and get ready to whip up easy chicken recipes that are delicious, nutritious, and beneficial to the health of your gut.
These 8 anti-inflammatory chicken crockpot recipes you should make for weight loss are simple to prepare and contain a wealth of good-for-your-gut ingredients, including anti-inflammatory garlic, turmeric, leafy greens, and omega-3 fatty acid-rich avocado. And, like all good slow cooker recipes, they give you back the most valuable thing of all: Time.
Turmeric is a key anti-inflammatory spice that has been hailed as a gut health superstar. It also gives food an intense and lovely shade of gold-yellow and can be easily incorporated into many chicken recipes. This slow cooker turmeric chicken is creamy, healthy, and perfect with leaft green veggies like spinach. You'll need:
Chicken breast
Plain yogurt
Tomato sauce
Coconut milk
Turmeric powder
Garam masala
Curry powder
Corn starch
Salt
Ginger
Spinach
Cilantro
Photos: Shutterstock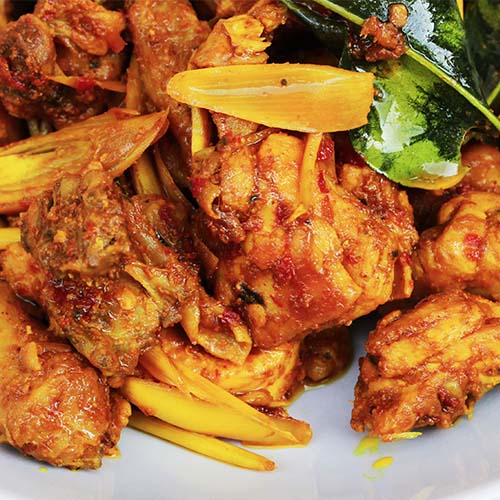 Slow Cooker Honey Lemon Turmeric Chicken
This simple, tasty crockpot chicken recipe has so many soothing, anti-inflammatory ingredients like turmeric, honey, and lemon. Even better: it's a one-pot meal that includes veggies so you can just come home from work and enjoy. Gather up these ingredients:
Chicken breasts
Golden potatoes
Carrots
Honey
Olive oil
Garlic powder
Turmeric
Dry mustard
Lemon juice
Thyme
Ground pepper
Slow Cooker Chicken and Sweet Potato
Another all-in-one-pot meal that's perfect for busy weeknights, this chicken and sweet potato dish takes 10 minutes to prep and requires just six ingredients:
Chicken thighs
Olive oil
Ghee
Garlic
Salt and pepper
Sweet potatoes
Fresh rosemary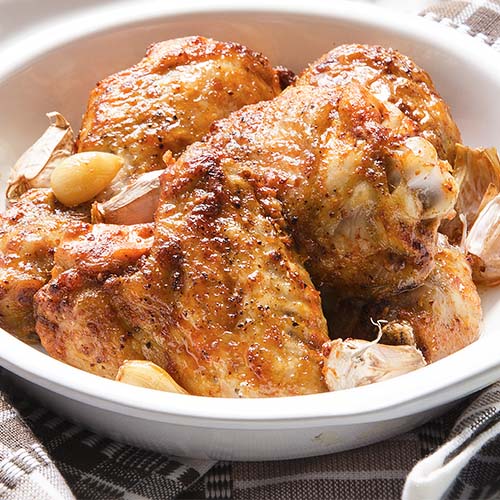 Slow Cooker Twenty Garlic Chicken
If what you really, really want in your chicken dinner is garlic and lots of it, look no further than this crockpot garlic chicken, which makes excellent use of 20 cloves of anti-inflammatory garlic. You'll need:
Chicken
Salt
Paprika
Pepper
Olive Oil
1 Onion
20 Cloves of garlic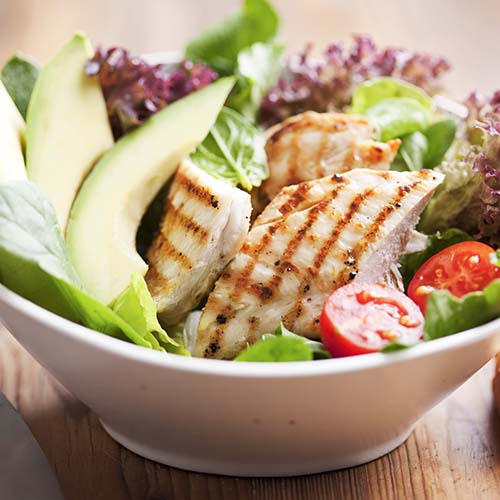 Slow Cooker Avocado Chicken Salad
Feel like having a light night of eating? Believe it — you can make avocado chicken salad in your crockpot (well, maybe leave out the salad part). This recipe saves you time and provides a healthy meal packed with antioxidants and omega-3 fatty acids. Grab these ingredients:
Chicken breast
Chicken broth
Avocado
Water
Butter
Parsley
Garlic
Thyme
Onion
Dijon mustard
Parmesan cheese
Lemon juice
Salt and pepper
Slow Cooker Chicken and Spinach Meatballs
Beef meatballs will always be classic, but if you're searching for a similar recipe, this slow cooker chicken and spinach meatballs recipe provides plenty of vitamins and anti-inflammatory properties, courtesy of baby spinach and garlic. Here's what you'll need:
Chicken thighs
Golden flax meal
Salt
Ground black pepper
Crushed red pepper flakes
Garlic
Yellow onion
Flat leaf parsley
Baby spinach
Marinara sauce
Zucchini noodles or spaghetti squash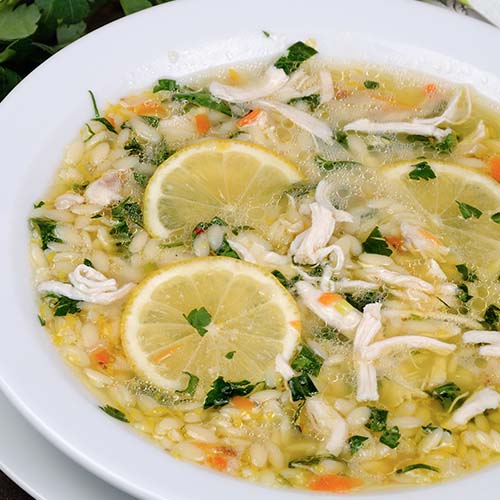 Crockpot Lemon Chicken Orzo Soup
The second you feel a sniffle coming on, stop everything and whip up this delicious, satisfying crockpot lemon chicken orzo soup. This soup is full of flavor and anti-inflammatory ingredients like celery, lemon, and garlic. Here's the full ingredient list:
Skinless chicken breasts
Carrots
Celery
Chicken broth
Vegetable broth
Garlic
Dried basil
Italian seasoning
Bay leaves
Lemon
Parsley
Orzo
Salt and pepper
Crockpot Coconut Chicken Curry
It doesn't get richer or more complex than this crockpot coconut chicken curry, which is bursting with sweetness and a little spicy kick to keep things interesting. Stock up on these ingredients to make this one-pot meal:
Vegetable oil
Chicken breasts
Potatoes
Onion
Coconut milk
Salt and pepper
Curry powder
Hot sauce
Chicken broth
Frozen peas
Toasted flaked coconut (optional)
For more anti-inflammatory recipes, check out 4 Anti-inflammatory smoothie recipes and The one anti-inflammatory ingredient you should eat this week for weight loss on SHEFinds.com.