One of the most powerful tools to combat inflammation is to eat! However, you can't just eat anything. Eating healthy is even easier in an Instant pot. A diet rich in anti-inflammatory foods will help reduce your risk of illness. Reducing inflammation will help you decrease the risk of cardiovascular disease and diabetes and it can help you shed extra pounds. Ready to combat weight gain and satisfy your cravings? These four instant pot-friendly recipes will curb your hunger and help make you slender and healthy.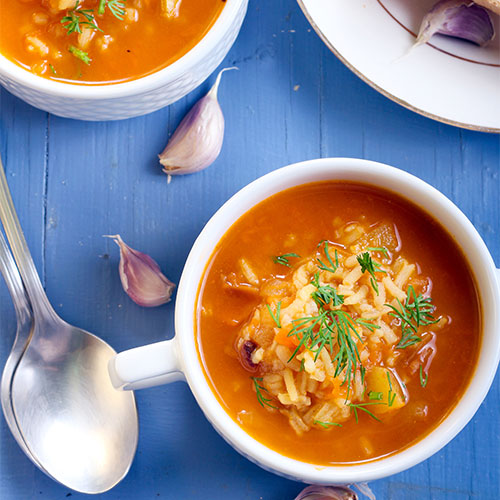 Butternut Squash and Turkey Chili
This not so average chili uses butternut squash, red lentils, and ground turkey simmered in a creamy coconut milk and tomato broth. It features anti-inflammatory powerhouses such as kale, tomatoes, and turmeric. It's perfect for any day of the week.
You'll need:
Olive oil
Onion
Garlic
Turmeric
Cumin
Chili powder
Cayenne pepper
Cinnamon
Sea salt
Black pepper
Ground turkey
Butternut squash, peeled, seeded and chopped (about 5 cups)
Vegetable broth
Diced tomatoes
Coconut milk
Red lentils, rinsed
Tomato paste
Apple cider vinegar
Kale or spinach
Cilantro
Sliced green onions
Brown rice or quinoa
This childhood favorite gets a healthy makeover and is vegan-friendly. Lentils take center stage in this dish as the main protein and anti-inflammatory ingredient. Lentils are high in fiber and magnesium, and magnesium has been shown to help reduce inflammation. Make a batch for lunch any day of the week.
You'll need:
Onion
Green bell
Carrot
Water
Tomato paste
Tomato sauce
Worcestershire sauce
White vinegar
Yellow mustard
Hot sauce
Garlic powder
Chili powder
Ground cumin
Salt
Green/brown lentils
Unlike white rice, wild rice doesn't cause blood sugar to spike nor activate pro-inflammatory compounds known as cytokines. Wild rice is an aquatic grass, not a grain, which is why it gets the green-light for an anti-inflammatory diet. Wild rice is full of fiber, rich in magnesium and alkaline-forming—a special anti-inflammatory feature that contributes to overall health. This soup is perfect for a cozy night in.
You'll need:
Carrots
Celery
Onion
Garlic
Wild rice
Mushrooms
Vegetable or chicken broth
Salt
Poultry seasoning
Dried thyme
Butter
Flour
Milk
Carbs are off the table in an anti-inflammatory diet. However, whole grains are encouraged because they are an excellent source of fiber. Steel cut oats, in particular, are healthier because they are the least processed forms available. Combine that with sweet potatoes, which is a great source of Choline—which assists in the absorption of fat, and reduces chronic inflammation. Normally steel cut oats require hours of prep. That's no longer the case with the help of an Instant pot!
You'll need:
Steel cut oats
Sweet potato
Golden raisins
Water
Vanilla extract
Cinnamon
Cardamom
Ginger
Salt
Almond/coconut milk