If you wake up feeling bloated, you probably consider your day over before it even began. And if that bloat lasts longer than a day, forget about it–you probably want to cancel all plans and crawl back into bed. We totally understand!
Even though you probably don't feel like eating when you're super bloated and trying to lose weight, sometimes that's the best thing for it! There are plenty of recipes you can make that have anti-inflammatory properties and promote weight loss.
Now, we know what you're thinking– "I don't have time to make dinner during the week." Well, these recipes can be made in a slow cooker. Just throw the ingredients together in the pot and let the machine do the rest of the work–amazing right? It's that easy!
1) Slow Cooker Indian Curry Chicken
Curry has the ingredient turmeric which is amazing for weight loss and preventing inflammation. The superfood also aids in digestion and speeds up your metabolism so you'll see the weight just melt off with this spicy dish.
Main ingredients:
Coconut milk, garlic, turmeric, onion, & tomato paste
Legumes, like the ones in this stew, are rich in vitamins, iron, folate, zinc, and more and are low fat and have antioxidant properties. With such a great variety of vegetables and beans, you've got yourself one great metabolism-boosting meal right here.
Main ingredients:
Chicken broth, mixed beans, onion, carrots, & celery
Vegetable soup is one of the best meals for weight loss! Because of all of the vegetables that go into it, it's full of antioxidants, minerals, and vitamins. This soup will keep you fuller, longer, to help promote weight loss.
Main ingredients:
Vegetable broth, mixed vegetables, tomatoes, potatoes & onion
Turkey and beans provide lots of important vitamins and nutrients that are essential for losing weight. Not to mention, this dish packs a lot of protein in every bite! It's an amazing meal for fueling a workout.
Main ingredients:
Beans, onion, ground turkey meat & garlic
5) Chicken & Rice Burrito Bowls
This dish is packed with protein and will keep you full for a long time. The greatest part of this basic dish is you can customize it however you want. Add in additional anti-inflammatory vegetables for flavor and nutrients.
Main ingredients:
Rice, chicken breast, diced tomatoes, black beans & chicken broth
6) Broccoli Ginger & Turmeric Soup
Turmeric is amazing for fighting inflammation. Add in broccoli, ginger, and leeks, and you've got yourself the perfect (and tasty) recipe for getting rid of inflammation and losing weight.
Main ingredients:
Broccoli, leeks, ginger, turmeric & vegetable stock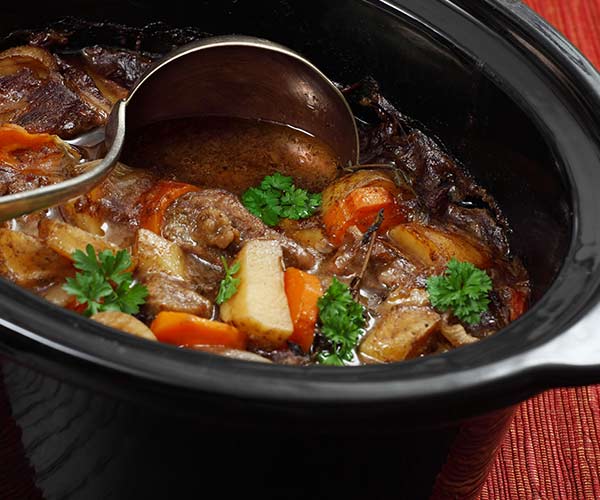 Lentils have a lot of protein and are lean in fat, making them great for weight loss. This soup should help reduce inflammation because the lemon in it decreases the level of acids in your body that cause it in the first place.
Main ingredients:
Onion, carrots, celery, garlic, ginger, vegetable broth, lentils & lemon
This soup is full of protein from the ham and white beans which will help with inflammation. It's also full of other healthy and weight loss promoting vegetables!
Main Ingredients:
Navy beans, ham, celery, carrots, garlic, & chicken broth
SheFinds receives commissions for purchases made through the links in this post.