Turmeric has been praised for hundreds of years for its healing properties and various cosmetic benefits. The yellow-orange spice is a relative to ginger and has been known to ease psoriasis, create glowing skin, reduce acne, and help heal wounds.
"It can prevent conditions, including skin redness, hair loss, and cardiovascular disease, which are caused by inflammation," Kavita Mariwalla, a dermatologist in West Islip, New York, told Allure.
Shutterstock
Because of its component of curcumin, the powerful spice has been proven to decrease inflammation in the body which often causing lack-luster skin and various issues. Luckily for those searching for the magic cure to youthful skin, turmeric has been proven to rev up tissue reproduction and collagen renewal, too.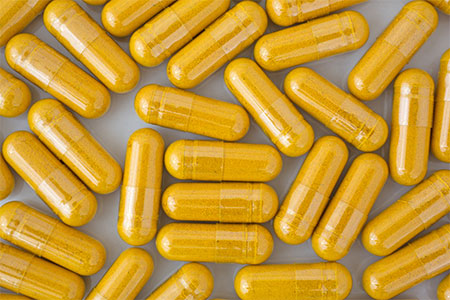 Shutterstock
The powerful spice can often be found packed in supplements and beauty products to give your skin a natural, radiant glow and nutrient-packed benefits, but one of our favorites is HUM Nutrition's Turn Back Time turmeric supplement.
TRY IT: HUM Nutrition Turn Back Time Turmeric Supplement ($40)
Shutterstock
Key Benefits Of Using The Tumeric-Packed Supplement:
-Packed with vitamin C, alpha-lipoic acid, green tea extract, and powerful Tumeric to rejuvenate and protect your skin
- Keeps UV damage under control and protects skin from environmental stressors.
- Slows signs of wrinkles and creates a youthful glow.
Promising Turn Back Time Turmeric Supplement Reviews:
"Everyone told me to start my skincare in my early 20s, and I'm so glad I did! I learned that I need to protect my skin, and there's not always a lot you can do once the damage is done. I love that this protects from the inside out! It has green tea which is so good for the body and skin! This product also protects your skin from UV rays from the inside! I had never heard of that until now. Amazing! I love the extra protection to my skin that I get with this vitamin!" - megandow
"This is some powerful stuff! I take it as a preventative, and also because I do the occasional lactic acid peel and need as much sun protection as I can get. I feel good knowing my skin is shielded from the pollutants in the air. I also have noticed an overall improvement in how I feel when I take this, I think it has to do with the green tea and turmeric." - fabwow
SheFinds receives commissions for purchases made through the links in this post.