She has loved and lost, but don't forget that she's grateful for her exes; and we're grateful for her 'Mean Girls'-inspired music video for 'Thank U, Next."
From the all-pink Regina George-inspired school girl outfit, to the cheerleader and the "Jingle Bell Rock" performance, our girl Ariana Grande gave us major Halloween costume vibes when her break-up inspired video came out last fall. It's so fetch!
The 'Thank U, Next' video came out in November 2018, but we're still bopping to the tune and loving the montage to some of the greatest rom coms of the early 2000s. Here's how to recreate it for Halloween. All you need is a pink cardi, school girl outfit–and of course Ari's signature long pony. Oh you like my costume? I just made it!
Pay attention to the instrumental bars in the opening of Thank U, Next. Sound familiar? It should, it's from her 7-Rings video! So if you're looking for an Ariana costume that screams, "all eyes on me", check out this double-duty DIY "7-Rings" costume.
Ariana Grande 'Thank U, Next' Costume DIY
This Ariana DIY costume is the amazing mashup between Queen Ariana and Queen Bee Regina George. Not only will you be able to use many of these pieces again in your real life, but you also won't have to spend a fortune. Here's the inspo:
How to DIY It: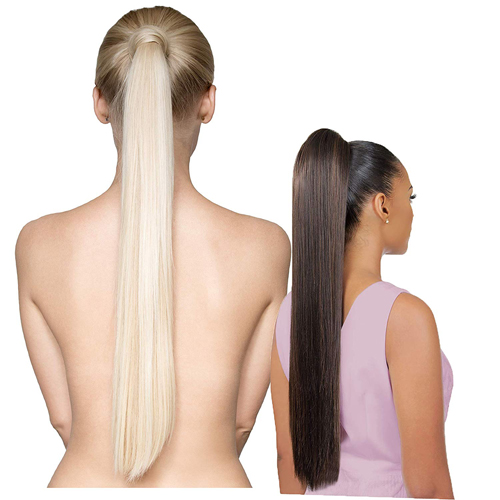 High Ponytail
Now, Ariana sported a long blond wig as she channeled Regina in Thank U, Next but Ariana's signature look is her amazing ponytail! Sporting this ponytail with the rest of the look is what will make this outfit owned by Ariana.
EVE HAIR Ponytail Hair Extension ($12.99)
Pink Cardigan
Staple wardrobe piece alert! You can never have too many cardis and cardis were all the rage in 2004. Check out this number for your Ariana/Regina ensemble.
GRACE KARIN Cardigan ($15.29)
Custom Text Tank
Every woman needs a sassy tank. "A little bit greedy" was Ariana's sassy saying in Thank U, Next. Make your own sassy saying with this customized tank for under $20!
O2TEE Custom Tank ($14.99)
Skater Skirt
Love a versatile skirt! It not only completes the most popular girl in high school, but you can also pair this cute skater skirt with leggings and chunky crop sweater after Halloween.
Urban CoCo Skater Skirt ($12.89)
Pink Pumps
Finish off your DIY with these fetch pumps. Yeah, we are bringing "fetch" back. Bye Regina. Hello Ariana.
DREAM PAIRS Pumps ($17.99)
Alphabet Pendant
If you're going to go as Ariana, you need Ariana deets in accessories. A for Ariana! Here's an initial necklace that gives your outfit that perfect finishing touch.
EVER FAITH Pendant Necklace ($15.99)
Pink Notebook
Ok, a long ponytail screams "I am Ariana". This pink notebook you can carry while wearing your costume will scream "I am Thank U, Next Ariana"! Hop on your computer and print out the words to glue on your new pink notebook!
Five Star Spiral Notebook ($7.49)
SheFinds receives commissions for purchases made through the links in this post.