If you enjoy watching the thrilling (and somewhat scary) show "Black Mirror" and happen to be a Miley Cyrus fan, we have just the right Halloween costume for you.
While her days on "Hannah Montana" are long gone, Cyrus is back on the TV stage; with wig and alternate persona in hand. In the latest 2019 release of "Black Mirror" (Netflix, season five), Cyrus plays pop-idol Ashley O.
In the show, her fan base looks to replicate her wardrobe, and we can't blame them. From the halo-graphic inspired pink wig, to the futuristic metallic and leather sheen, we too want to rock Ashley O's style. That's why for this Halloween, we're bringing you two different ways to recreate Ashley O's wardrobe in her "Black Mirror" music video: On A Roll.
For those of you who are familiar with the episode, no worries, this outfit comes free of a controlling aunt or an Ashley Too sidekick robot. However, it does come with its fair share of knee-high boots (which if you're walking around this Halloween, is scary enough).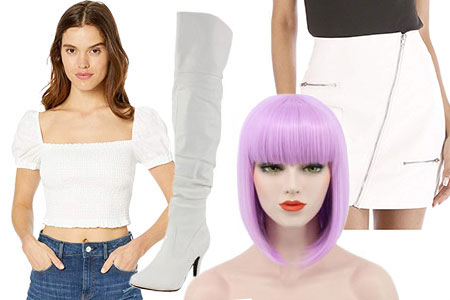 LOOK 1: White Leather
In the opening scene of the episode, we're introduced to the accompanying "Black Mirror" hosted music video featuring Miley Cyrus (aka Ashley O) dancing all in white leather. Everything from the boots to skirt and top, are a crisp white and contrast dramatically with the character's cotton candy themed wig. While we can't provide you with the dance moves, we have the perfect recommendation of products you need to recreate the all-white ensemble to wear to any Halloween party.
The most crucial element of any Ashley O recreation is the signature pink wig, try this Pink Halographic Wig ($17.66)
Next is the white top, while you might not be in the market to drop hundred of dollars for a white leather top, we have an excellent tee-dupe. This White Sweetheart Necklace Tee ($65.07) is not only comfortable, but is a great top to wear outside of Halloween.
Just like the versatile top, what we love about this White Leather Skirt ($9.99), is not only the incredible price point but the fact that it's faux leather and animal friendly!
If you're bold, confident, and feel comfortable enough to rock a pair of White Knee-High Boots ($14.10), we say go for it!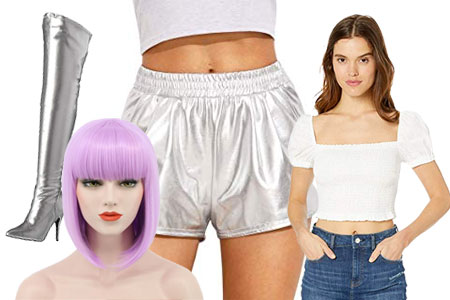 LOOK 2: Metallic Chic
Throughout Ashley O's On A Roll music video, you might notice a slight variation in her outfit. That's because she changes out the white for silver, and a skirt for shorts. Keeping the aesthic the same when it comes to wearing knee-high stiletto boots.
Having the products that roll over from LOOK 1, this outfit consist of the same Pink Halographic Wig ($17.66) and White Sweetheart Necklace Tee ($65.07).
Changing things up, we're going to swap the white (faux) leather skirt for these Silver Metallic Shorts ($13.99), and the white knee-highs with Silver Metallic Knee-High Boots ($59.95).
If you decide you want to make things a little more interesting at your Halloween party, try grabbing both looks and do a wardrobe change mi-party (and see who notices).
*Sidenote, Halloween (especially up north) isn't necessarily the warmest time of year. We recommend wearing tights underneath your shorts (and skirt in LOOK 1) to help keep you warm.
For more looks like Miley Cyrus' Ashley O costume, check out SheFinds.com for a complete haul of themed 2019 costumes for this upcoming Halloween.
SheFinds receives commissions for purchases made through the links in this post.