Ask any dermatologist and they will say the most important anti-aging product that you should be using is a daily sunscreen. SPF sunscreens provide your skin with the protection they need to block out the sun's harmful ultraviolet (UV) rays.
Why Use A Daily SPF Sunscreen Under Your Makeup
Sun damage is one of the leading causes to premature signs of aging. Aside from sunburn and skin cancer, overexposure from the sun's UV rays can cause wrinkles, fine lines, sun spots, and discoloration in your skin. It doesn't matter if you're just taking your dog for a walk around the block or driving with the windows down to work that day, the sun's rays can reach your skin and after prolonged exposure, start to affect it.
Whether it's winter or summer, cloudy or clear skies, the sun is always there. That's why using a daily sunscreen is so important–and let's be honest–so easy!
All sunscreens with SPF are powerful anti-aging products, but this one best-selling sunscreen from Sephora goes above and beyond in keeping your skin looking youthful and damage-free.
Algenist's Sublime Defense Ultra Lightweight UV Defense Fluid Spf 50 ($28)
Algenist's Sublime Defense Ultra Lightweight UV Defense Fluid Spf 50 is an ultra-sheer, weightless liquid sunscreen for everyday protection against broad-spectrum UVA and UVA rays. It's fast-absorbing and lightweight so the formula layers under makeup effortlessly. Made with Alguronic Acid and antioxidant-rich botanicals, this sunscreen delays the signs of aging caused by the sun and other environmental stressors.
The formula is also free of parabens, sulfates, synthetic dyes, phthalates, GMOs, and triclosan.
Shop More Best-Selling Sunscreens From Sephora
Shiseido Urban Environment Oil Free UV Protector Broad Spectrum SPF 42 For Face ($34)
Tarte Tarteguard 30 Vegan Sunscreen Lotion Broad Spectrum SPF 30 ($32)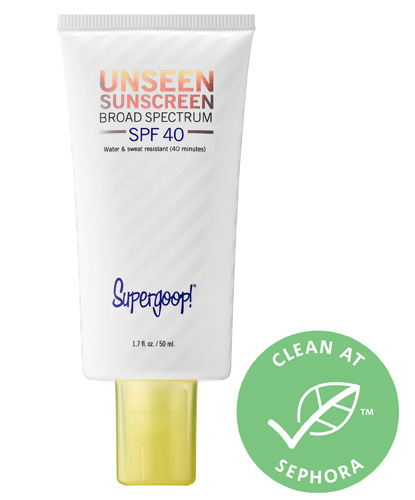 SheFinds receives commissions for purchases made through the links in this post.