Not loving the way your foundation looks anymore? Maybe you're not using the right formula! Those with mature skin often opt for foundations with heavier formulas in an attempt to mask fine lines and wrinkles, but experts say that they should be looking for lightweight products instead–particularly a CC cream. Sephora is filled with tons of amazing CC creams that not only help hide wrinkles but also lift and brighten the skin to make it look younger and more radiant. In fact, shoppers say that the IT Cosmetics Your Skin But Better™ CC+™ Cream with SPF 50+ is the best CC cream at Sephora. Some It Cosmetics CC Cream reviews say that it makes your skin look 10 years younger, too! Here's how it works:
What CC Cream Does
CC creams are designed to "color correct" the skin and improve the skin's overall tone and texture. Most formulas use brightening ingredients like vitamin C to help camouflage dark spots counteract redness in skin. They also offer more coverage and hydration than BB creams, making them excellent for those with mature skin in need of some extra moisture. "If it is more coverage that you need, then a CC cream is the way to go. CC stands for 'color correction,' and these products are better suited for most skin types as they are dewy and hydrating and cover imperfections impeccably," makeup artist Nicole Moleti writes for POPSUGAR.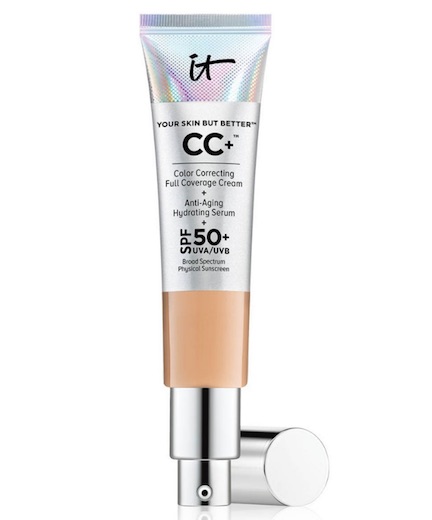 TRY IT: IT Cosmetics Your Skin But Better™ CC+™ Cream with SPF 50+ ($38)
Shutterstock
Everything You Need To Know About The Best CC Cream At Sephora
Key Benefits:
-Provides full, flawless coverage and protects skin with SPF 50+ UVA/UVB broad-spectrum physical sunscreen.
-Clinically tested to increase hydration, smooth texture, and enhance the look of brightness.
-Formula doesn't crease or crack and instantly camouflages imperfections, including dark spots.
-Infused with an advanced anti-aging serum made of hydrolyzed collagen, peptides, niacin, hyaluronic acid, vitamins, and antioxidants to diminish the appearance of wrinkles and pores.
-Creates a more radiant, supple, and flawless-looking complexion.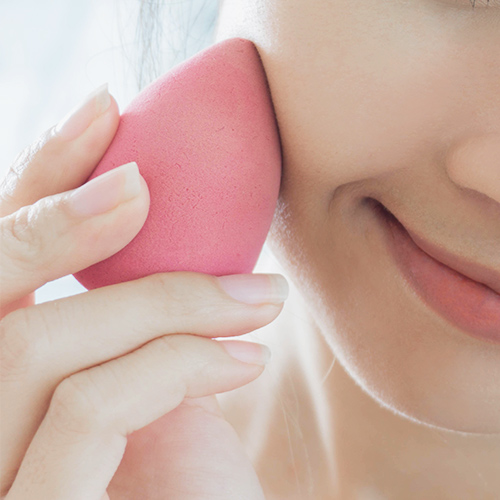 Shutterstock
IT Cosmetics CC Cream Reviews
"I've tried "good for your skin" foundations from Clinique and Bare Minerals, and this is totally different. The first thing I noticed was the smell. It smells like skincare, like a serum or high-end moisturizer and not like any foundation I've ever tried. After just a few days of switching my foundation for the CC+ cream, I noticed a substantial difference. I had less redness, more brightness in my skin. Basically, my face wasn't suffering from having concealer, foundation and power sink into my pores for 12+ hours a day as I attempted to cover up my acne scars, breakouts and redness. I've gone make up free for a week+ and didn't even see results like this. It's literally treating and improving my skin. Don't see how I can go back to regular foundation now. I wear it during the day and also out at night, and baby it stays put. Still need to powder my nose to reduce any shine, but that's just my combination skin coming through. Would absolutely recommend to acne sufferers." - mischanicole
"I am absolutely in love with this brand. I have lupus and suffer from photosensitivity and hyper pigmentation. This product evens out my skin tone and provides sun protection. I like that with the coverage you get with this product means I don't have to wear foundation or powder. A must-have product." - Stef4
"Really love how it makes my skin look. Doesn't settle in to pores or lines and nicely dewy looking with great coverage Best way to apply for me has been with a beauty blender. Really lasts through the day. Highly recommend." - mamaleigh
SheFinds receives commissions for purchases made through the links in this post.