Finding the perfect under-eye concealer that can brighten and lift the eye area without caking or creasing isn't always an easy feat, especially when you're shopping in the drugstore. It's even harder to track down a formula that won't settle into fine lines if you have mature skin. That's why Target shoppers are gravitating towards Revlon's new PhotoReady Candid Antioxidant Concealer, a liquid under-eye concealer that comes with an affordable price and is packed with skin-healthy antioxidants to help keep your under-eyes protected from the damaging effects of the environment. Don't believe us? Then you need to read some of the PhotoReady Candid Concealer reviews; some are even calling it the best concealer with antioxidants!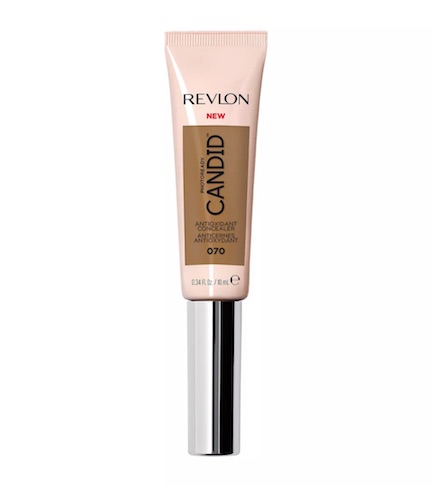 Where To Get The Best Concealer With Antioxidants
TRY IT: Revlon PhotoReady Candid Antioxidant Concealer
Shutterstock
Key Benefits:
-Camouflages under-eye puffiness, bags, and dark circles.
-Offers an ultra-blendable and ultra-buildable formula for creamy medium, natural-looking coverage.
-Features anti-blue light ingredients plus antioxidant and anti-pollution benefits.
Promising Revlon PhotoReady Candid Concealer Reviews:
"I bought this two weeks ago and I'm loving it! Really great coverage and makes skin look great!" - Elizabeth
"I'm in my 40's and this conceals without settling into fine lines and wrinkles and lasts 5-8 hours or so. I don't set it with powder because of my dry skin but setting spray seems to help make it last longer along with an eye primer. Thumbs up from me! I even found a good color match on the first try! I like the foundation of this type/brand as well. I love a nice natural skin-like finish. It blends easily with the fingers or a sponge. I love it! I will buy this one again for sure." - M_Spaeth
"The best concealer I have ever used! The perfect color match!" - Kay
Shutterstock
Why Do We Need Antioxidants In Makeup?
Products like the new Revlon PhotoReady Candid Antioxidant Concealer are making waves in the beauty world for their antioxidant-rich formulas. Antioxidants used to only be exclusive to skincare products, but experts are finding that adding a healthy dose of antioxidants to cosmetics can help change your skin for the better.
"Antioxidants protect the skin by limiting free radical production, which can damage the skin. With daily use, they can reduce lentigines (sun spots), help combat visible signs of aging and calm skin inflammation," board-certified dermatologist Rhonda Klein of Connecticut Dermatology Group tells Dermstore.
Here's how they can help your skin type:
Antioxidants For Aging Skin
Oxidative stress from the environment and sun's UV rays can cause the skin to age prematurely due to its ability to break down collagen. This loss of collagen hinders skin's natural repair process and triggers inflammation, contributing to concerns like wrinkles, loss of firmness, and dark spots, and more. Antioxidants can help neutralize this damage in the skin and prevent oxidative stress, free radicals, and UV rays from ruining your complexion.
"They blunt your skin's inflammatory response to the sun's harmful rays, preventing sunburn and providing enhanced protection against sun damage and photoaging," board-certified dermatologist Ashley Magovern says.
Antioxidants For Dry Skin
"Several antioxidants provide the skin with hydration and increase moisture retention to help revitalize dull-looking skin," Dr. Klein adds, listing antioxidants like vitamin E and niacinamide as the best antioxidants for replenishing the skin's moisture barrier and promoting a more hydrated and supple complexion.
Antioxidants For Stressed Skin
Frequent exposure to free radicals and the sun triggers inflammation in the skin, causing irritation, redness, and uneven texture and tone to appear. Antioxidants help the skin repair itself and provide a solution to these common signs of stress in the skin. "Some antioxidants, like vitamin C, can also stimulate collagen production, which is vital for youthful skin," Dr. Magovern points out.
Antioxidants For Dark Spots
Antioxidants role in preventing the signs of photoaging also help them prevent abnormal skin pigmentations as well. Free radicals can also cause an increase in melanin production, which results in dark spots and uneven skin tone. The brightening properties of antioxidants like vitamin C not only reduce the appearance of discoloration, but also ensure that the skin stays balanced and protected.
SheFinds receives commissions for purchases made through the links in this post.