Every woman knows just how powerful a good concealer can be, especially if you have mature skin. There are a lot of concealers out there that promise to lift and brighten the skin, but none work as well as Neutrogena's Hydro Boost Concealer. This popular drugstore product not only conceals dark circles and blurs fine lines, but it also plumps the skin using hyaluronic acid to create a more youthful and radiant complexion. No wonder people are calling it the best drugstore concealer for wrinkles!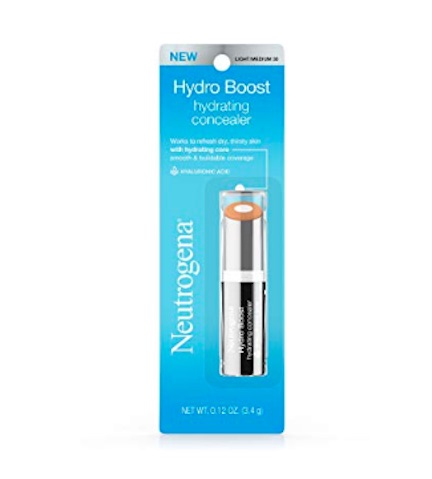 TRY IT: Neutrogena Hydro Boost Hydrating Concealer ($6.49) 
Shutterstock
Everything You Need To Know About The Best Drugstore Concealer For Wrinkles
Key Benefits:
-Refreshes dry, thirsty skin with its unique hydrating core.
-Offers smooth, buildable coverage with its lightweight formula.
-Designed to glide onto skin to create a natural-looking finish.
-Flawlessly masks imperfections without looking cakey.
-Blends effortlessly to conceal everything from dark circles to wrinkles.
-Available in six shades.
What does hyaluronic acid do?
This concealer uses purified hyaluronic acid to create its hydrating effect. Hyaluronic acid is naturally found in the skin and acts a sponge for dry skin cells. It moisturizes the skin with up to 1,000 times its weight in water, resulting in smoother, more supple skin.
Shutterstock
Neutrogena Hydro-Boost Concealer Reviews
"Great product. I can clearly see that this is way different than regular stick concealer. It's so smooth and soft and doesn't make likes look deeper. I have been using this product for a while now, and I can safely say, this is the best, most gentle (no pull or drag on skin), moisturizing concealer I have ever used. It doesn't accentuate fine lines, and it doesn't look cakey. It's almost the texture of face cream. So soft and smooth." - SomeGirlSomewhere
"I have trouble with a lot of makeups irritating my skin, but I love this one! I've been using it as concealer! It has moisturizer included running through the center which makes it easier to go on and much more comfortable also!" - Karla Andrew
"This performs exactly as advertised, it leaves your skin hydrated and minimizes imperfections. I bought the shade fair and its light enough to give a bit of brightening to my light complexion. I was really pleasantly surprised at how well this melds into the skin, it's so natural looking, not something I used to in a concealer." - Amazon Customer
SheFinds receives commissions for purchases made through the links in this post.