Eye creams are a skincare essential because of their nourishing properties. They're designed to deliver necessary hydration and nutrients to the eye area, which is extremely sensitive and often lacking in these basic elements. And, if they're a good eye cream, they have the power to restore your skin's radiance and reduce the look of dark circles and under-eye bags.
To do this, eye creams have to be formulated with the right ingredients. One of the most important anti-aging eye cream ingredients is retinol, which dermatologist Dr. Joshua Zeichner says is the best of them all. "Retinol stimulates collagen production to help firm under eye skin and strengthen the skin foundation," he tells Real Simple.
Eye Cream For Dark Circles
If dark circles are your top skincare concern, then you'll need an eye cream that contains brightening ingredients like vitamin C as well. Vitamin C is known for its antioxidant and brightening properties, which helps repair the skin from free radical damage and reduce any darkness.
The Best Eye Cream That Actually Works
Need help picking a new eye cream? Well, Sephora shoppers have spoken and they've named Drunk Elephant's C-Tango Multivitamin Eye Cream as the best eye cream on the market. It's SO good that it's practically sold out–and it's got plenty of 5-star reviews from pleased customers because of how fast and effectively it improved their under-eye area!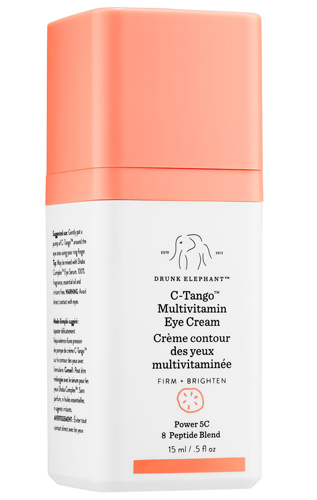 Drunk Elephant C-Tango Multivitamin Eye Cream ($64)
This restorative eye cream uses a blend of eight peptides, five forms of vitamin C, and cucumber extract to help reveal firmer, younger-looking skin around the eye area. It's gentle enough to be worn during the day and at night, but it's strong enough to improve firmness and elasticity, reduce the appearance of wrinkles, and improve stubborn signs of damage from environmental stressors.
What people are saying about it:
"This is the warrior for dark circles. I have had hereditary dark circles since I was like, eight. This is the only cream which makes me look like I am awake and I don't really have to put on concealer afterward if I use twice a day. I wake up and feel beautiful! I have had no problems with irritation and I have dry, itchy skin. I get allergy eyes and this makes me appear less puffy. Very expensive, but I use sparingly, so it should last ages. I also layer another thicker cream afterward for more moisture since my skin is very dry. 10 out of 10!" - lolz123
"This stuff is amazing!! It's on the expensive side but IT WORKS. I prefer to buy something expensive that really works to something that's kinda ok and just buy it because its cheap. I used the belief eye moisture bomb and it did nothing compared to this cream. This is way better! Apply a little (don't do the full pump) and apply gentle to under eye area (it also works on the lids). This goes well under concealer but you have to set it (I always set my concealer anyways) 10/10 recommended!" - mermeladazul
"Completely in love with this guy!! You only need half a pump or less for both under-eyes and I found it really did help with my minor dark circles. Layers great underneath concealer and color corrector." - MsCortni
Drunk Elephant Shaba Complex Eye Serum ($60)
People are also obsessed with the brand's Shaba Complex Eye Serum, which is formulated with a powerhouse of ingredients to tackle the major signs of aging under and around the eyes. It uses a potent dose of black tea ferment and copper peptides to firm the skin and a combination of edelweiss stem cells and niacinamide to blur wrinkles and fine lines. Plus, it also helps fade dark spots with Co-Q10, which also helps diminish the signs of premature aging from free radicals.
What people are saying about it:
"This has really helped the lines under my eyes and also corrected some bumps I had directly under the inner corners. I had one pretty pronounced line under my right eye that ran along the orbital bone. It has cut that line in half and really smoothed it out. That was something I thought would be well beyond any product. I am now targeting the outside corners of eyes in the crow's feet area. This line is the real deal. A little pricier than what I was using but I have seen real results from each product I've tried." - rivieragirl
"I've never used an eye product that made such a difference in my dark circles. Seriously amazing for that. I'm in my 20s so wrinkles isn't a huge concern yet but I'm hoping it will prevent them. I do find it can be drying so make sure to use a hydrating cream on top. But if you have dark circles you NEED to splurge on this." - GinaMayer

"I love this stuff. I have notoriously dry skin under my eyes and on my eyelids. I can never find anything hydrating enough. Surprisingly, this eye cream was incredibly moisturizing for me, despite how lightweight and fluid it seemed! It did wonders for me. I've had some minor lifting and de-puffing effects with it as well. I never try to expect miracles with my skincare products, but when something works for my needs, I'm happy! I've yet to find something better." - jlebs
Have you tried any of these amazing, fast-acting eye creams? Let us know in the comments below!
Photos: Shutterstock
SheFinds receives commissions for purchases made through the links in this post.