Don't even try to argue with us–there's nothing better than putting on a pair of leggings after a long day and just lounging around the house in your comfy stretch pants. Nothing. No matter what anyone tries to tell you, we all dread having to wear real clothes, like jeans, skirts, and dress pants. If we could live in our leggings 24/7, we totally would.
There's a reason no one comes home and puts on a pair of jeans to relax (and if you do, that's just strange). Leggings are the king of comfy bottoms. They don't feel restrictive or uncomfortable. Stretchy leggings are easy to move in, lightweight and soft–what more could you want out of an article of clothing?
When athleisure became a thing, we all did a happy dance–in our comfortable leggings, of course. From sitting on your couch, running to the grocery store, going to the gym, and even to work if you have a super nice pair, leggings are possibly the most popular piece of clothing, ever.
Leggings come in a very wide price range. You can get a super cheap pair for as low as $3, but those tend to turn see-through after only a few wears. Or, you can spend an upwards of $80 on a single pair (which no one wants to do), that looks pretty similar to its cheaper competitor.
Personally, if we can find a quality product for as little as $15, we're pretty happy with that. Which is why we found the best leggings under $15, so you can stop looking. You're welcome.
Forever 21 Classic Knit Leggings ($7.90)
This pair of leggings is made of cotton and has a mid- to high-rise elastic waistband.
Promising review: "I own many leggings from forever 21 and these are by far the best ones I own. I love that they're high waisted and they're not see through which some of my other ones are. The material is so comfortable. I'm for sure going to order more once they're in stock. I'm 5'4 and weigh 115 and a medium fits perfect."

H&M Jersey Leggings ($12.99)
These H&M leggings come in jersey with an elastic waistband for maximum stretch and comfort. They're a great basic.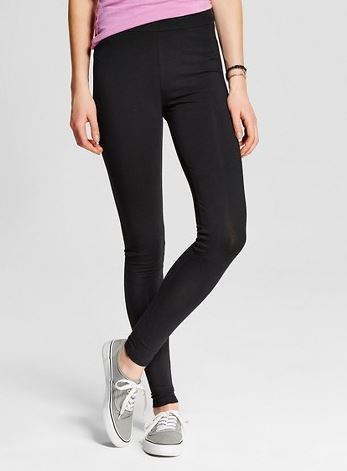 Women's Long Leggings - Mossimo Supply Co.™ ($10)
These leggings from Target are cotton, making them super soft and comfortable. They run long, making them perfect if you're on the taller side, and have a mid-rise waistband.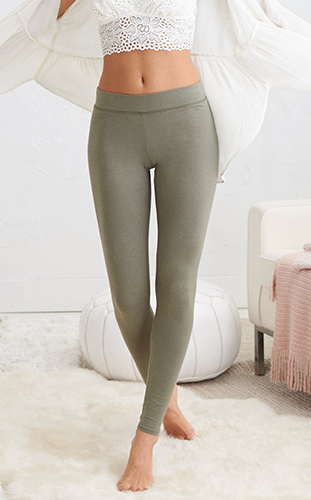 AE Aerie Chill Legging ($10)
Aerie makes such comfortable clothing for relaxing in--these leggings are no exception.
Promising review: "I bought these leggings in store when there was a buy one get one free deal and they are so worth while I would have bought two pairs for full price!! They are super soft and fit perfectly, I was really hesitant about the color because I haven't worn color leggings since like 5th grade but I'm so glad I got them."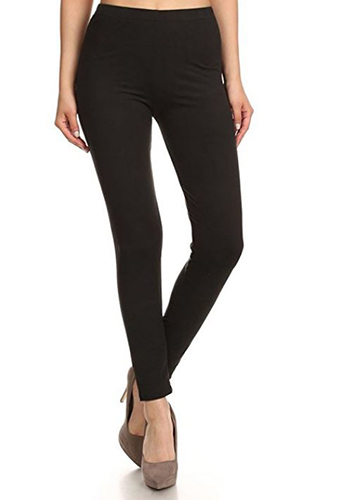 Leggings Depot Buttery Soft Basic Solid ($10.99)
This pair of leggings sold on Amazon is made from a polyester and spandex blend, giving them maximum stretchiness.
Promising review: "So I was dragged to this lularoe party and felt obligated to buy a pair of those way overpriced leggings. These are the exact same if not better! Super soft and seem a lot better quality! It does say hand wash and hang dry. However, I washed and dried them in the washer and dryer to do a deep clean before wear and they came out perfect. Can't beat the price and quality."
For more comfortable clothing, check out the best yoga pants, according to customer reviews on SHEfinds.
SheFinds receives commissions for purchases made through the links in this post.