We can all thank flawless singer-songwriter Lizzo for our favorite women empowerment anthems like "Juice" and "Truth Hurts." Honestly, who doesn't belt those bops out every single time they come on the radio?
It comes as no surprise that Lizzo absolutely nails every look in both her music videos and during live performances when she isn't busy topping the charts. Her style is just as fierce and bold as her lyrics. Let's face it, we all want Lizzo's style and confidence, and this Halloween we can have it. If you're loving Lizzo as much as we are then you'll be sure to love our Lizzo DIY Halloween costume creations.
The R&B queen had not one but five iconic outfits during the 2019 VMAs. So don't fear, there's definitely plenty of inspiration to get from these five looks thanks to Lizzo for pulling out all the stops from 80's fashionista to red hot stunner. You can even get Halloween DIY costume ideas from one of Lizzo's many music videos like "Truth Hurts" or "Juice". These music videos have raked in millions of views, so everyone will be sure to recognize and love your Halloween look this year.
The best part is you won't have to break the bank to create a last-minute Lizzo Halloween costume– Amazon will truly be your best friend this year. Let's dive into four different ways to DIY the best Lizzo Halloween costume: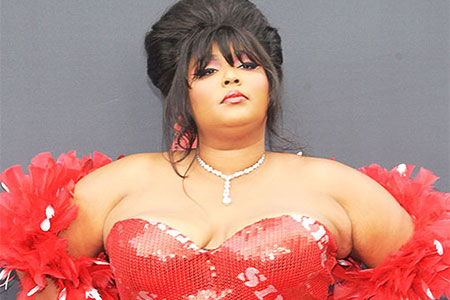 1. 2019 VMA Red Carpet Costume
Let's start with Lizzo's red carpet dress at the 2019 VMAs. You'll just need three simple pieces to complete your look. You may even have some of these items in your closet: long red strapless dress, sparkly jewelry, and feather boa. Stick with a classic red lip and sweep your hair into an updo to complete your DIY Lizzo 2019 VMAs red carpet Halloween costume.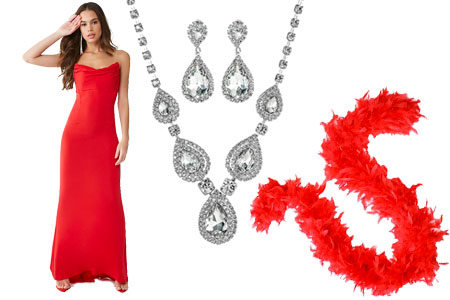 How to DIY it:
Start with this staple piece to recreate Lizzo's 2019 VMAs red carpet look: Strapless Ruched-Bust Gown ($55.00). Next, you'll need to grab some flashy accessories to polish off your costume. Some feathers and jewels will do the trick. Add Cynthia's Feathers 65g Chandelle Feather Boas ($8.49) and Miraculous Garden Crystal Rhinestone Necklace Jewelry Sets ($10.99) and you'll be ready to go.
2. 2019 VMA "Good As Hell" Performance Costume
Another one of our favorite Lizzo styles from the 2019 VMAs is the bold yellow outfit she wore while performing her hit song "Good As Hell." You can easily put your own twist on this fun costume. Grab a yellow bodysuit and you can also pair it with a yellow skirt if you prefer more coverage. Oh, and of course you can't forget Lizzo's iconic flute!
How to DIY it:
You can easily pay tribute to Lizzo with just a few simple pieces from Amazon: Ancapelion Women's Off Shoulder Short Sleeve Bodysuit ($14.99), Made By Johnny Women's Basic Versatile Stretchy Flared Casual Mini Skater Skirt ($11.45), Shoe Dezigns Declyn 01 Womens Patent 2 Color Sets Lace Combat Boots ($43.99), Yamaha YRS-23Y Soprano Recorder ($7.49).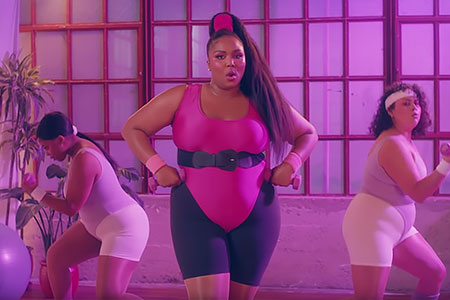 3. "Juice" Music Video Costume
Now, let's move onto Lizzo's style in her music videos. One of our go-to Halloween looks for this year is Lizzo's 80's vibe in her"Juice" music video. This hot pink costume only requires a leotard, bike shorts, scrunchies, and a belt to cinch the look together.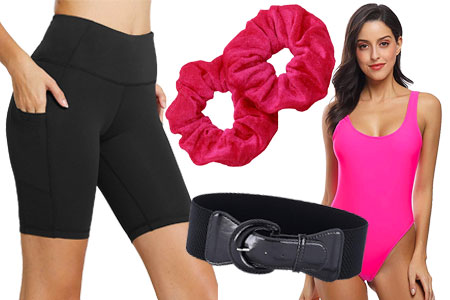 How to DIY it:
First, grab this MIAIULIA Women's Retro 80s/90s Inspired High Cut Low Back Padding One Piece ($21.99) to style the main piece of your costume. Next, you'll have to remember Baleaf Women's 8" / 5" High Waist Workout Yoga Running Compression Shorts ($17.99). Lastly, pick up these two accessories for your last-minute DIY: GRACE KARIN Women's Wide Stretchy Cinch Belt Vintage Chunky Buckle Belt ($10.99) and Kenz Laurenz Scrunchies for Hair ($5.95).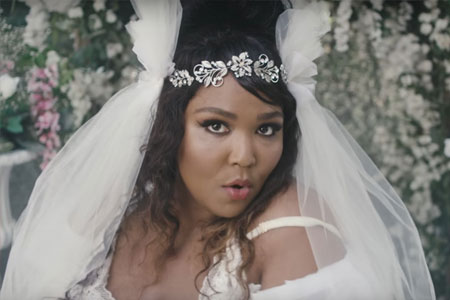 4. "Truth Hurts" Music Video Costume
Another great Lizzo Halloween costume idea for this year is her bridal outfit from her "Truth Hurts" video. This DIY costume will put a modern twist on the classic bride Halloween costume. The floral headpiece is our favorite part of this costume, and we found the perfect dupe for you!
How to DIY it:
You'll be guaranteed to look just as fierce as Lizzo come Halloween night in this stunning CMZ2005 Women's Sexy V Neck Backless Maxi Dress Sleeveless Spaghetti Straps Cocktail Party Dress ($20.00). Top off your look with this KLOUD City White Double Ribbon Edge Center Cascade Bridal Wedding Veil ($7.99) and this SWEETV Rose Gold Wedding Heaband Bohemian Headpiece Crystal Pearl Hair Vine Flower Halo ($16.99) to complete your "Truth Hurts" Lizzo Halloween costume for under $50.00.
SheFinds receives commissions for purchases made through the links in this post.